Posted by Best Access Doors on 10th Aug 2022
Best Access Doors provides quality products designed for safety and performance. With Invisa Hatch™, you also get aesthetic appeal! Add it to your must-buy list for your next commercial construction project!
Our customers are buzzing with great reviews of this product, and here's why!
Why Do Our Customers Love Invisa Hatch™?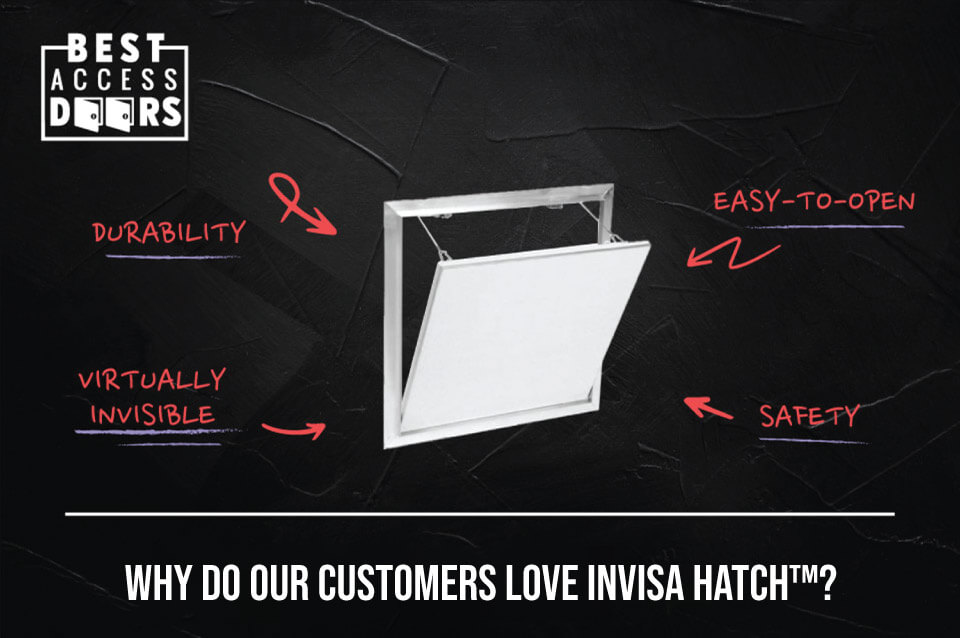 Safety: Invisa Hatch™ is equipped with a safety system and non-snag removable cable to prevent accidental opening. (Remember to re-attach the safety system if you remove the hatch.)
Easy-to-Open: If accessibility is your main priority, you will love this door's quick-to-open and close mechanism with concealed snap locks that pop open when you press the spring-loaded latch side.
Durability: Invisa Hatch™ will stand the test of time! With high-grade aluminum construction, it's bonded with a unique welding process joining the inner and outer frames. The door has a foam perimeter seal that acts as an extra protective barrier protecting delicate building components behind the door.
Virtually Invisible: Once this access panel is installed and finished, the door is practically invisible with a concealed frame, latch, and hinges leaving only a 1/16" reveal between the frame and the access door.
Let's Check Out Those Customer Reviews!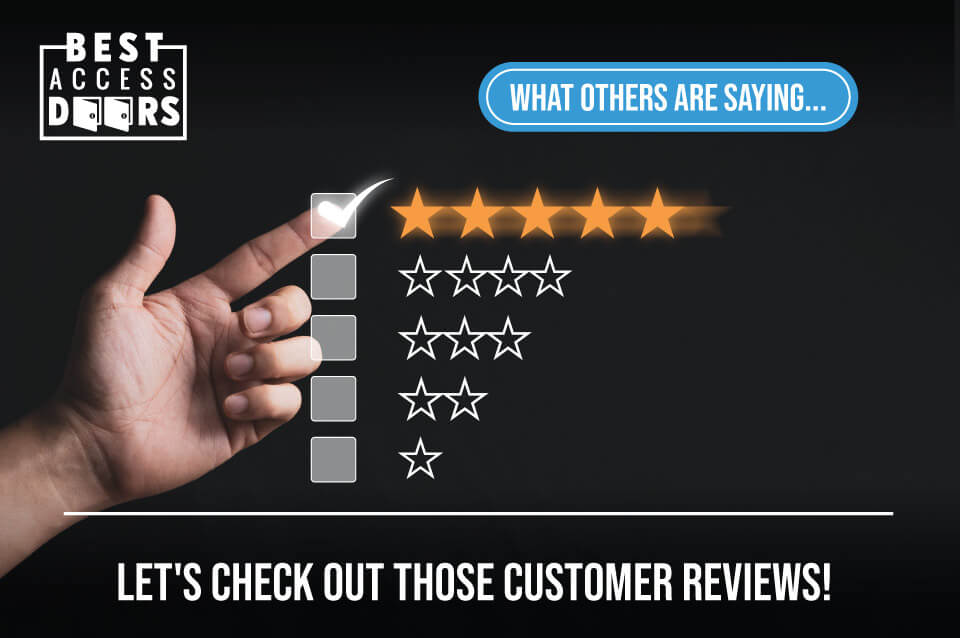 Here is what our verified buyers say about Invisa Hatch™:
"Very well made. I would give it more than five stars if I could. Great product and very well described."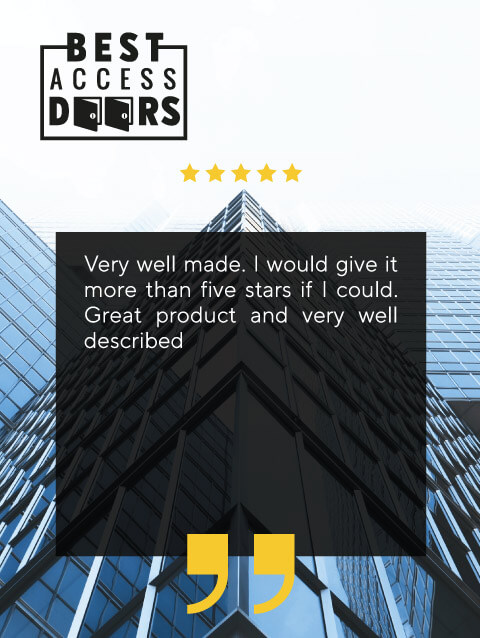 Due to its versatility, durability, accessibility, and sleek finish, it's no wonder our customers give Invisa Hatch™ a 5-star rating! Best Access Doors works hard to build relationships and trust by delivering on our promises and providing industry-leading products every time.
"The team did an excellent job with my order - this is the fourth order I've made, and they handled them all efficiently. I got a shipping invoice for ocean freight immediately when I needed it. Thank you!"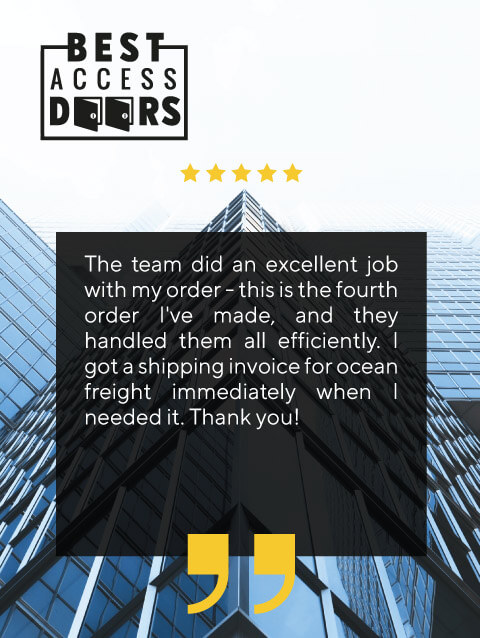 Not only do we provide excellent products, but our team of highly knowledgeable industry experts undergoes full product training to provide the quality of service you deserve.
"When I saw this product at the International Building Show (IBS), I thought the door was pretty slick. I ordered two for a project we are building in Vermont. It was great to see customizable sizes. Installation was simple and fast. The doors were presented very nicely, with only a small visible seam around the perimeter. The cost of the doors was quite reasonable, and they are more rugged than the plastic options. I would certainly recommend the doors and will be purchasing them again!"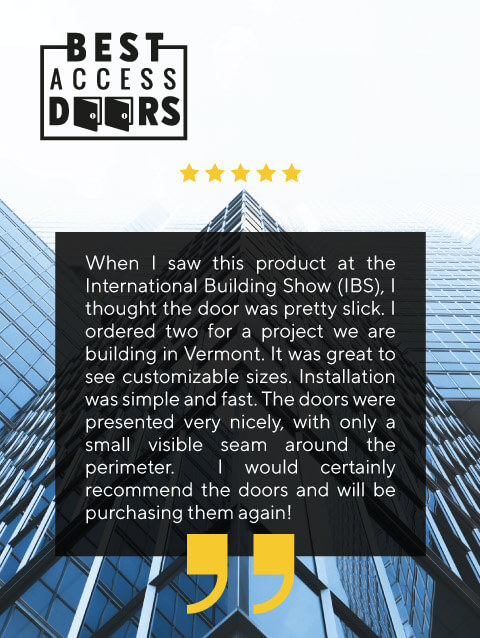 Along with a range of sizes, you can also request a quote for a customized product cut to your precise measurements. You'll hear back from us within 30 minutes!
"Our firm placed a second order based on the first one. Consistency!"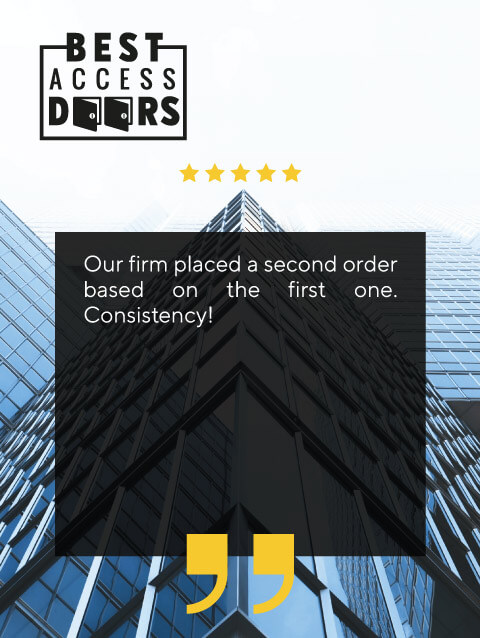 "Arrived on time. Once installed, it looks like what I ordered; it perfectly suits our needs."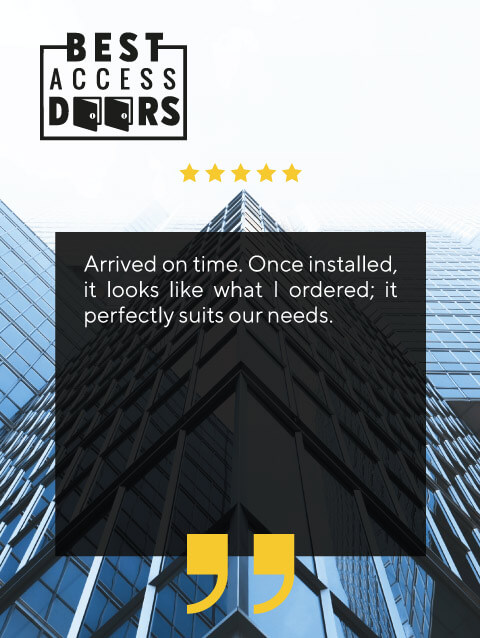 Here at Best Access Doors, we provide you with quality products, fast! We value our loyal customers, and we practice consistency across the board. From product manufacturing, purchasing, and delivering, Best Access Doors will never miss!
Invisa Hatch™ has several variations. Choose the one that's right for your next project, including our drywall inlay access panel for tiling, a fully detachable hatch with mud in a flange, or a drywall inlay access panel with a fully detachable hatch. With so many options, you are sure to find the perfect access door for your commercial building.
Ready to Order?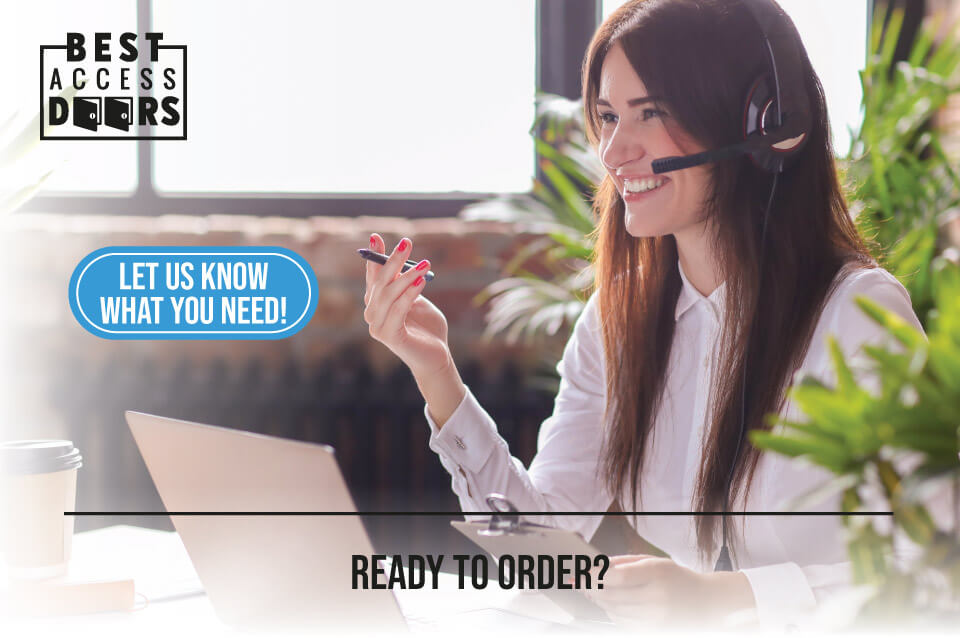 Contact our team to order one of our customer favorites: Invisa Hatch™!
We can also request a quote for almost anything! Let us know what you need, and our customer service team will be happy to guide you through your purchasing journey!
Share our story - get our 2022 Catalog for FREE!