Posted by Best Access Doors on 9th Nov 2022
Purchasing access doors can be a challenging decision-making process, especially if you're worried that your access panel will turn out to be an unwanted eyesore inside your establishment.
With the BA-DW 5040, you won't have to worry about this problem because durability and aesthetics are what this access door is all about!
Why Do Our Customers Love The BA-DW 5040?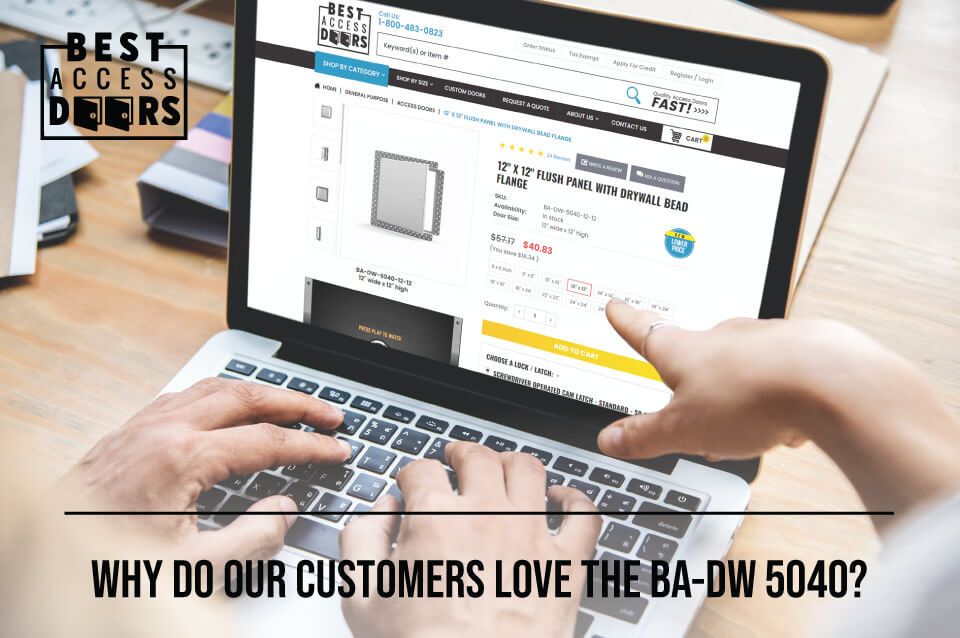 Here at Best Access Doors, we ensure to meet our customer's expectations. This is why we continuously provide top-quality access doors for any construction application, and one of our most opted drywall access doors and panels is the BA-DW-5040 Flush Access Door.
This access door flawlessly combines strength and aesthetics because of its stainless steel hardware and unique concealed hinge, allowing the door to blend seamlessly on its surrounding surface.
It has a perforated door flange, a textured galvanized steel taping bead, and pre-punched holes. Its door frame is manufactured with galvanized drywall taping beads on all sides, allowing a "concealed appearance" once the drywall compound is applied.
What Benefits Should You Expect When Installing The BA-DW 5040?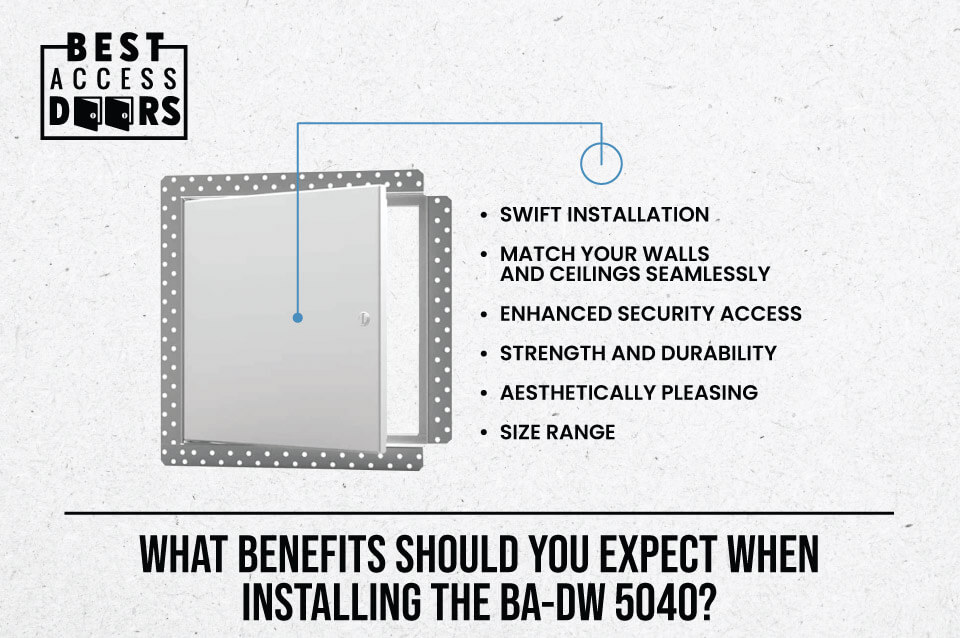 Swift Installation
Best Access Doors always develop products that professionals can easily install safely and fast! The BA-DW-5400 is specially designed for installation in walls and ceilings after the drywall installation. This access door's beaded edge allows for tape and assembling on-site.
Match Your Walls and Ceilings Seamlessly
Typically, access doors can be an eyesore in any room. But with the BA-DW-5040, you won't have to worry about fixtures ruining your interior design. This access door has a flush finish when installed on drywall. Its hidden hinge allows the door to match your walls or ceilings seamlessly. Furthermore, it also has a blended taping bead after drywall compound application.
Enhanced Security Access
Vital systems such as industrial, mechanical, electrical, plumbing, and other fixtures may require extra security to prevent unauthorized entry and accidents. The BA-DW-5040 access panels provide efficient and fast service access to critical areas behind the drywall. This access door is available in different lock mechanisms, such as:
Cylinder lock & key
Allen head cam latch
Spanner head cam latch
Torx
Torx head with security pin
You will always guarantee safety and security with its wide variety of lock options.
Strength and Durability
Best Access Doors always manufacture top-quality products from high-quality materials. The BA-DW- 5040 contains a formed door panel with flanges on every four sides, a galvanized frame, and added multiple bends for extra strength. Its integral perforated taping bead adds rigidity. You can trust this door to last!
Aesthetically Pleasing
Because of its one-of-a-kind concealed hinge, the BA-DW-5040 flush access door for drywall provides a pleasing visual solution that incorporates aesthetics and robustness with its flawless stainless steel hardware.
Size Range
Like all access doors, we produce various sizes to fit any construction application. Not only that, you will always get the accurate sizing you need here at Best Access Doors because we also offer customization. If you need more details on the BA-DW-5040's specifications, click here.
Don't miss the chance to get the quality access door you need! Get the BA-DW-5040 Flush Access Door now. If you need to request a quote or require assistance, contact us, and our world-class customer service team will take care of your purchase journey!
Share our story - get our 2023 Catalog for FREE!