Posted by Best Access Doors on 18th Jan 2023
Global warming has pushed countries to innovate building materials, systems, and processes for residential, commercial, industrial, and other building structures to meet the UN Campaign to lessen greenhouse-gas emissions by 2030. The call for a more livable environment requires everyone to work hand in hand, from tech to the construction and architecture industry.
This article will show the best world architecture news for architects in 2023 as they play a vital role in the construction industry.
Massive Opportunities for Architects
Countries worldwide are slowly introducing timber and hybrid construction materials to the construction industry. Shifting typical materials to wood requires technological advancements and exemplary design skills to guarantee that these materials function when constructing mid-rise and tall buildings. The sudden change in building materials from typical concrete and steel to much more efficient materials means massive opportunities await architects in the following years.
Also, the United Nations' call for immediate action to lower the carbon footprint rate on or before 2030 will change the structure's materials. The challenge is now in the architects on how they will guarantee the building designs' sustainability.
Moreover, the government must also address the large housing scales aside from climate change. The population will grow over time, and to maximize the available space for housing, the government and property owners will need architectural services, especially if they are considering the vertical construction concept.
Additionally, we are already in the age of technology. In some ways, owners may upgrade their buildings into intelligent buildings to maximize the materials' energy efficiency, like an architecture magazine feature. Using architectural skills and technology will significantly benefit the owners as prototypes can be 3D-printed on a 1:1 scale, which owners can go through before building the structure. With this, architects, building contractors, and their clients can physically see where the essential building systems sit.
With all these happenings, forecasts show that the architecture industry will bloom next year and the following years. As the demand for architectural services is increasing, people consider making architecture their career and wonder, "do architects need to be good at physics"? Somehow, architects need to understand the fundamentals of the laws of physics. But most of the time, engineers will be more likely to do complex scientific calculations, especially if it involves multifaceted designs.
Copenhagen was named the 2023 World Capital of Architecture.
Copenhagen and its citizen-centric and sustainable architectural designs have created a green environment everyone can enjoy. Audrey Azoulay, Director-General of UNESCO, named Denmark's capital the World Capital of Architecture for 2023.
The International Union of Architects highly recommended the city's world-leading architecture scene. As a result of naming Denmark's capital as the World Capital of Architecture for 2023, Copenhagen will showcase its best architectural designs for some architecture news 2023. In their themed in Sustainable Futures – Leave No One Behind-themed events, they will review how techniques will help the country meet the nation's goal of sustainable development.
Sydney Modern Project Now Opens to Public
The newly opened Sydney Modern Project in Australia shows that creating a world-class sustainable design is possible. Designed by Pritzker Prize-winning architects, SANAA, the art museum gets Australia's Green Building Council 6-Star Green Star design rating making the museum the first art museum in Australia to get the highest rating for sustainable design.
The company managed to build modern sustainable rectangular-shaped designs that overlap each other, which SANAA intentionally made for the building to connect with nature. Though located in the city, the art museum's design ensures that guests will see the park's beauty and timeless harbor.
The $344 million cultural development project is an example of unifying architecture and environment simultaneously, which is vital to the visitors. Strategically positioning the overlapping rectangle designs to face the harbor and the park showcase not only what is inside the museum but also the area's natural topography and scenic view.
This modern approach to architectural designs is one of Australia's most significant transformations. Fortunately, they delivered a unique perspective and more inclusive approach showing the world the importance of architecture and the global understanding of art. SANAA's success in building the Sydney Modern Project made a buzz and will be in architecture articles as one of Australia's most unique architectural designs in decades.
Architects the Key to Sustainable Future
Building hotels, condominiums, skyscrapers, and even stadiums require a well-planned design. Here is where an architect is needed. Architects and their skills and techniques can help solve a country's large-scale housing problems, conserving the heritage and reducing greenhouse gases emission while preserving the structure's aesthetics. Meeting all these will establish real success in architecture.
Architects are capable of helping countries to achieve their 2030 environmental objective, which is to decrease greenhouse gas (GHG) emissions. This objective is possible to reach with innovation and technology.
The role of architects in the building industry is also vital as the industry is now producing a massive amount of waste products. Today, building owners and contractors are constantly looking for top-caliber architects to plan and design their buildings to meet specific building codes.
Post-Pandemic Word Class Architectural Designs
The pandemic has urged architects, interior designers, and building contractors to value spaces as much as they love styles in their designs. Conversely, maximizing the areas will also create a more engaging work environment for the employees, which plays a big part in their motivation to work every day.
Maximizing outdoor areas like rooftops and courtyards are also important. A utilized and well-designed exterior part of the building will also benefit employees by improving their mental and physical health through smelling fresh air. The extra space, whether newly built or modified, can also serve as a buffer zone. However, this extra space may only be beneficial in places with a mild climate. Best exterior areas are functional all year round, regardless of the weather condition.
Brighter Future for Architects!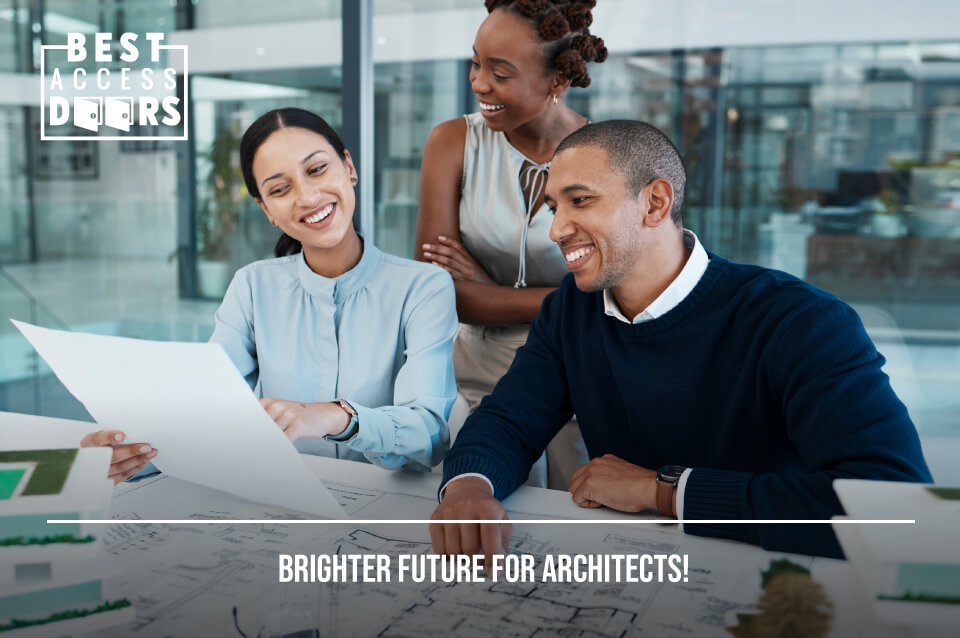 Most people often overlook the importance of architects when building or renovating their residential, commercial, and industrial buildings. Until the building owners embrace the new perspective, the construction industry uses hybrid materials, and most importantly, the government calls to take action for a sustainable future. As we come close to 2030, expectations for countries like the US and Canada to have more world-class sustainable buildings are rising.
Get LEED Certified!
Are you ready to purchase for your next project and feel missing something? Trust your gut! Our LEED Certified access doors are the ones you need. Check our best-selling LEED Certified access doors and panels and increase your building's LEED rating!
Take advantage of our LEED V4 Compliant products and other product lines! Ask our product experts through this hotline at (800) 483-0823. If you have the list of materials with measurements, you can quickly request a custom quote and get your quote back in 30 minutes!
Share our story - get our 2023 Catalog for FREE!