Posted by Best Access Doors on 8th Feb 2023
Winning a government construction contract can open up many opportunities for contractors. Census data from 2021 suggests that federal, state, and municipal agencies spent around $345 billion on construction alone. As long as you have the right skill set to take on such projects, it could be an incredibly profitable venture for you. 
Navigating the bidding process for any government construction project can be tricky as it involves increased regulation and payment rules that are distinct from private works. In this article, we'll be going through the essential requirements to bid on government contracts.
Government Contract Bidding
Public agencies often hold a bidding competition on contractor selection if the value exceeds a certain threshold.
The FAR (Federal Acquisition Regulation) is a set of guidelines that govern the federal construction process. These regulations specify the criteria for selecting contractors and the process that government organizations must follow when making those selections. 
Contractors looking to work on federal jobs must enroll in the SAM (System for Award Management) database. This registration is a prerequisite to qualify for any federal project.
For state or local government projects, businesses must have a valid contractor's license in the specific state or municipality, allowing them to work on the project at hand.
Searching For Bidding Opportunities
One of the primary government bidding websites that contractors often access is SAM.gov. It's a fantastic resource for searching federal contracts worth more than $25,000. Contractors can discover a list of open government contracts and those that will be available in the future. 
Looking for state and municipal projects can be more challenging. However, the good news is that government bodies publish contracts on their respective departmental sites and contain information for any prerequisites before bidding. For example, the TxDOT (Texas Department State of Transportation) has a set process for ensuring you are eligible for construction and maintenance projects. There are currently three different levels of qualification, and you must requalify for these each year. 
Methods of Procurement
You can acquire government contracts through several procurement methods, but the two most common ones are Invitations to Bid and Request for Proposals.
The purpose of an invitation to bid is to guarantee a transparent and fair process. This method eliminates any chance of contracting firms manipulating the results and gives all participants equal opportunity.
Government bodies typically issue public invitations for bids, allowing companies enough time to submit their proposals before the deadline. Participants then send submissions in sealed envelopes, which the contracting department will open at a designated time and place. Following this, the respective government bodies will publicly announce the bids, which will follow an evaluation by the contracting entity. Finally, the award will go to the bidder based on the lowest price.
An alternate approach to sealed bidding is the 'two-envelope' system, which can be helpful in specific scenarios. The bidding process remains the same, except that all the necessary information gets divided into two envelopes. One envelope contains all the technical details, while the other has all the financial information. The respective authorities carefully assess technical information and give a score before analyzing the financial bid estimates. If the data does not pass the technical standards, authorities remove the bid and will only consider compliant ones for further analysis or finalization.
Requests for Proposals (RFPs)
An RFP (Request for Proposals) is a common practice for complex and dynamic projects that require a custom solution. It begins with the publication of an invitation to submit proposals in response.
The RFP outlines the agency's needs and the criteria they use to evaluate the received bids. Agencies may invite potential bidders to participate in a pre-bid conference to gain additional information.
The first step of the process is to submit all bids & have them evaluated by the agency. Afterward, if your bid is viable, negotiations on pricing and technical details begin. Finally, after the best and final offer has been submitted, the agency awards a contract to either one bidder or multiple bidders.
Construction Bonds
Government agencies often request contractors to provide construction bonds as a form of security for the bid, construction work, and payments to subcontractors and suppliers. This method ensures that businesses fulfill all contract conditions.
In construction bond cases, three parties are commonly involved; the principal, the obligee, and the surety. The principal is the one responsible for managing the entire construction process. The obligee is usually a governmental body that puts out tender bids for the project. The surety, however, is an external agency that provides insurance-like coverage if the contractor fails to meet their obligations to the obligee.
You'll need to obtain bid bonds as a contractor from a surety for the penal sum. These three commonly required bonds for construction projects come with protection up to the maximum amount set by the surety company.
It's necessary to submit a bid bond with your proposal to become eligible for a contract. You must ensure that the details in your bid are genuine and that you're willing to complete the project should you be chosen as the winning bidder. 
Bond obligees can take advantage of the bid bond if the contractor declines an award, renounces their bid, or doesn't have the financial capacity to do the job. You can file a claim if the obligee doesn't sign the contract within a particular time after accepting the bid. 
You'll typically see bid bonds set to 5% of the total bid amount.
Companies often require performance bonds to guarantee that their contractors will fulfill their contractual obligations in construction. This practice ensures all parties are held accountable. These bonds protect government agencies from financial losses if the contractor fails to meet the contractual obligations. 
Usually, the performance bond amount is equivalent to 100% of the contract bid amount.
Payment bonds protect the interests of subcontractors and suppliers by guaranteeing that general contractors pay for their services and materials. This bond provides the necessary assurance to settle all dues on time. If a contractor fails to pay or goes bankrupt, the payment bond ensures that the proprietor can claim and use that money to cover any due amounts. 
A payment bond usually covers 100% of the bid amount.
False Claims
The False Claims Act is essential to fight fraud against irresponsible contractors. The Act holds people accountable if they present false, fraudulent, or deceitful claims for payment from the government. Regardless of the payment authorization status, those who make fraudulent claims are subject to civil and criminal repercussions. The False Claims Act is a powerful weapon that helps protect taxpayer dollars from dishonest individuals and organizations.
All payment applications need to be as precise and accurate as possible. Unjustified overbilling of the government can lead to severe consequences; currently, there are 31 states with laws on false claims.
Inspection & Acceptance
When completing a project, the contracting agency must take the necessary steps to ensure that contractors perform all work according to the contract specifications. 
As part of this process, the contracting agency may conduct a final inspection walkthrough to verify that all work has been completed and meets its standards. This step is vital to help guarantee that projects meet the desired expectations and are up to standard.
To ensure your work quality always stays the same, check out our recommendations on the Top Apps for Contractors and Those in the Industry
Work With Best Access Doors Today!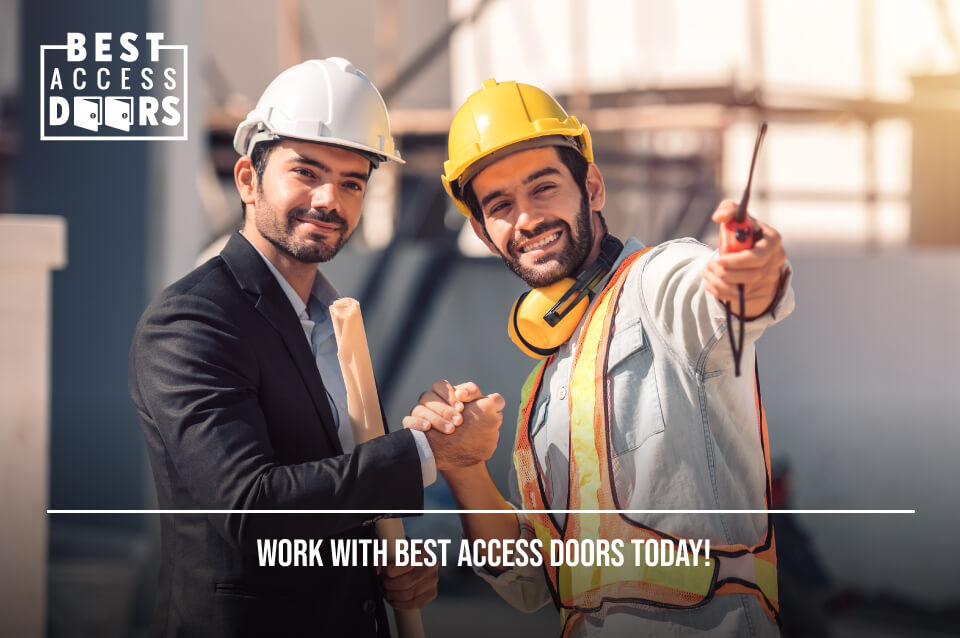 Are you looking for superior access doors to complete your project? Look no further than Best Access Doors! We ensure our access doors have top-notch quality and durability in mind, so you can rest assured that your next project will run smoothly and without issue.
To help you choose the right access door, check our product catalog to see the newest access doors. And, if you want more information or ask us any questions about our products, call us at (800) 483-0823 – we have a team of product experts ready to help you out 24/7.
Share our story - get our 2023 Catalog for FREE!