Posted by Best Access Doors on 1st Feb 2023
Whether large-scale or small-scale structures, the general contractor handles all construction project's fundamental roles and responsibilities from start to finish. Hence, these individuals or companies need to familiarize themselves with the essential phases of construction to manage all the necessary tasks with flying colors and satisfy the demands of the clients.
Overall, contractors must learn the six vital stages of construction projects by heart: Pre-construction, Sitework and foundation, rough framing, Exterior construction, MEP (Mechanical, Electrical, Plumbing), and Finishes and fixtures. In this feature article, we'll discuss the step-by-step process in detail so that professionals can get a good overview of the duties, obligations, and even potential risks they'll face as the team works on completing each task at hand.
What are the stages of construction?
1. Pre-construction
The first construction stage involves more planning, designing, surveying, engineering, bidding, and so on. In this step, it's crucial for general contractors, along with its number of building partners, including architects, engineers, and the property owner, to develop an efficient structural framework that will guide the entire team to follow. However, remember that the proposed plan can change along the way, depending on the circumstances.
Pre-construction is like the preparation phase of every structure project, which can also be broken down into construction planning stages, ensuring that contractors have meticulously thought of every building field. Here are some pre-construction phase activities general contractors will encounter:
Pre-design:

In this planning step, general contractors first reach out to the client or property owner regarding the structure idea they have in mind considering the location and valuation that the property owner desires. Usually, the team has not contacted an architect or design firm at this early stage.

Design:

Here, the team will work on fine-tuning the construction designs. Thus contractors should have already selected the pool of architects and structural, mechanical, and electrical engineers that can precisely visualize the dream structure of the property owner.

Design development:

At this stage, the partnered design firms are finalizing the building plans and design along with the suggested product specs. Remember that the proposed ideas are still subject to approval or completion depending on the agreed terms. The procurement process can start at this phase as the team attempts to gain conductory product specifications that the project uniquely demands. Are you looking for custom-size access doors? Our efficient team and top-quality products at Best Access Doors can grant your wishes!

Negotiating:

Architects and property owners can discuss with general contractors to open the project for negotiation, especially if it isn't competitively up for bid. On the other hand, the contractors' team will disseminate information to its trusted sales force that the project is in "negotiating" status, along with complete details about the building plans and preferred specs so that manufacturers can present their cost estimates and quotations. With Best Access Doors, you can get free quotes for your desired products in as quick as 30 minutes!

Bidding:

When a project is open for bidding, subcontractors, suppliers, and manufacturers compete to snatch the project the owner presented. They will provide the plans and specs that they can provide, and it's up to the construction team to decide which they think can best deliver the structure they envision.
For concerned companies in the pre-construction stage, like design firms, subcontractors, suppliers, manufacturers, and many more, there's a high potential for financial risk as the project has yet to start.
2. Sitework and foundation
The second construction phase starts once the project groundbreaking kicks off—this means that the building works officially begin. At this stage, you can expect a lot of digging or drilling work as builders prep up the property by foundation grading. Apart from that, the crew will also bore well holes and place vital underground sites utilities such as electricity and gas, making their products more efficient.
In the site work and foundation stage, professionals like engineers, architects, surveyors, and general contractors are still around, although a variety of subcontractors will also start appearing from this phase. The risk of site conditions can also disrupt your project's timeline, including the inevitable weather delays.
3. Rough framing
After sturdily setting the building's foundation, the construction stage will go vertical or upward. In rough framing, cranes will help transport the structural steel so that steel builders can attach them accordingly to the foundation and footings. Once all intended floors are steel-built, the construction team will begin pouring to establish the floorings of the commercial building.
After forming the floors, the construction workers can now proceed with framing by building its walls, creating the primary structure of the establishment. The necessary actions in this phase include cranes, welding, and metal framing. General contractors are still expected here, along with valuable subcontractors for scaffolding, structural steel, and metal.
4. Exterior Construction
The exterior construction stage, also known as the "drying in" building phase, is where the construction team installs important sealing utilities, like the windows, doors, siding, roofing, brick, plaster, and more, constructing the external facade of the establishment.
The same weather and schedule delays are still one of your biggest concerns at this stage. However, as the building crew works on highly elevated exteriors, their safety is also at risk. Hence, it would be best to equip them with safety equipment to assist the builders as they reach the highest point or hard-to-reach areas, like our standard retrofit safety railing best fit to accompany construction workers and maintenance personnel.
5. MEP (Mechanical, Electrical, Plumbing)
After sealing the entire building, installing the necessary utilities and exceptional facilities is time. General contractors are still present to oversee the complete operation, ensuring everything functions well. Subcontractors specializing in mechanical, electrical, and plumbing will do their tasks and apply building necessities, including boilers, ductwork, generators, and water supply.
Consider installing access doors and panels to ensure the lasting value of your newly installed facilities. Trust our premium and cost-efficient products at Best Access Doors to give you a wide range of expert and high-quality access panels. Browse our 2023 Catalog to find the panel type that can address your needs!
6. Finishes and fixtures
Once building work reaches the finishes and fixtures stage, the team is nearing the final construction push. Whether inside or outside, the finished outcome of the crews' months of work now appears in front of them. Nonetheless, the general contractors must stay focused and abreast of every structure move, ensuring the necessary tasks run seamlessly.
At this phase, the number of subcontractors doubles as you need more specialists for door and window, masonry, plastering, elevator, insulation, drywall, painting, tile, finish carpentry, flooring, and landscaping. If you're searching for an available and architecturally-pleasing access door to hide your fixtures, check out our aesthetic door with hidden flange models!
Trust Best Access Doors With High-Quality Products!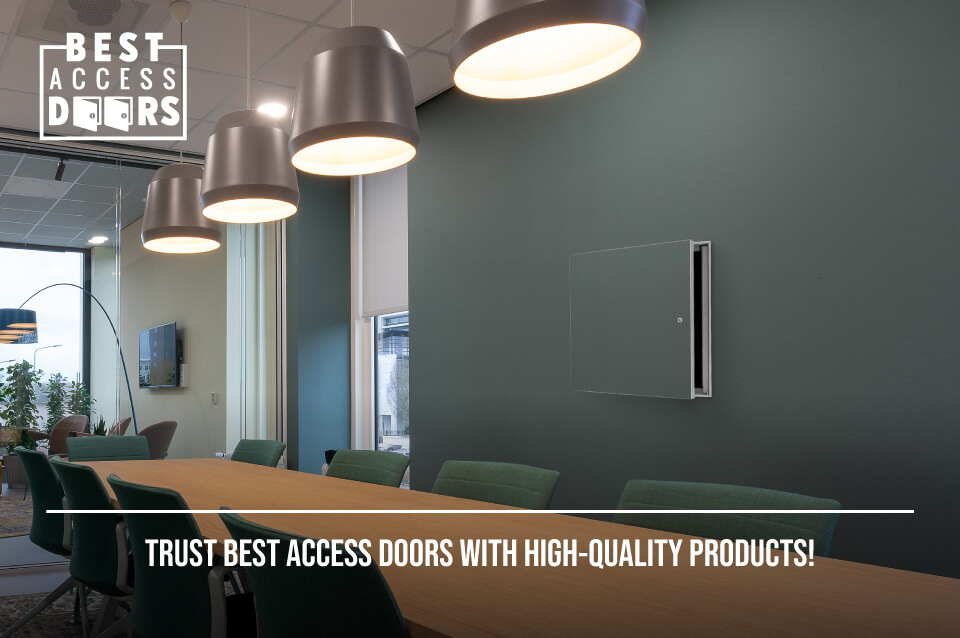 Visit and explore Best Access Doors for superior quality products matching your building facilities' needs and wants. We guarantee to give you the most sought-after functionalities and aesthetic features that can significantly contribute to your building's lasting value. Call us at 800-483-0823 to inquire about a specific product. We're always happy to help 24/7!
Share our story - get our 2023 Catalog for FREE!