Posted by Best Access Doors on 9th Mar 2022
General-purpose access doors and panels are seldom noticed but perform an essential job. These doors provide access to spaces located behind walls, doors, floors, and ceilings concealing electrical wires, pipes, HVAC systems, and other building components sit. Commercial construction professionals install access doors, roof hatches, and floor panels throughout new construction projects and major renovations. Most hotels, airports, stadiums, restaurants, retail spaces, and commercial buildings have access doors - keep an eye out, and you might notice one!
These panels are usually inconspicuous and blend with the surface, creating a convenient opening while maintaining the original appearance of the wall. These access doors conceal critical business systems from unauthorized tampering while providing safe and secure access for maintenance and repairs. General contractors, drywall installers, electricians, plumbers rely on access panels in their everyday work, recognizing the many benefits of general-purpose access doors and panels .
Understanding the purpose of access doors is just the beginning. Educating yourself on their application, including best installation practices, is also essential.
One of the most popular general purpose access doors and panels is our BA-AHD model which is a multipurpose door that many contractors keep in stock due to its versatility. It can adjust to many environments, not to mention it has customizable sizes, suitable for a whole range of access door ideas . This door is a multipurpose access panel that you may use for either ceiling or wall or if you have other creative access panel ideas. This type has more options compared to different selections of specific access doors.
You can install the BA-AHD quickly and easily on almost any non-rated vertical or horizontal surface including drywall, brick, wood, and many more.
Before attempting to install this access panel, make sure to check your building code requirements. Once you are sure you have the right door for the job, you can assemble your tools and materials.
Typically, the tools you will need include:
Caulking gun
Drywall tape
Glue
Pencil
Safety goggles
Saw
Sandpaper
Screwdriver
Self-tapping screws
Stud-finder
Tape measure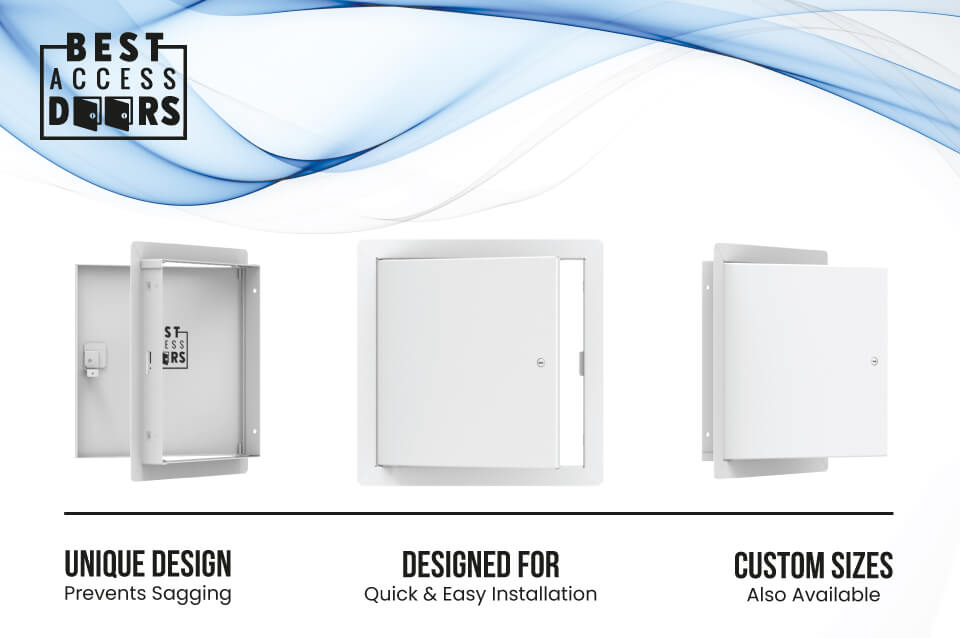 STEP ONE: Find the Right Spot
Determine where your building components are located. A stud-finder can be useful in this process. Once you are sure of the location, take meticulous measurements and mark where the cuts will be. Taking accurate measurements is crucial – if you make the cuts in the wrong place, you'll end up having to patch up the hole.
However, always double-check your measurements before ordering to avoid unnecessary difficulty and time spent returning the door for an immediate modification. The flange mechanism guarantees a stable and snug fit in the appropriate location. The diameter of a flange can vary, and a deeper flange renders an access door extra robust. Ensure to choose which flange size is suitable for your project.
Label your positions or outline the panel size onto the drywall with your pencil. Draw a 3/8-inch larger opening than the door size, with a minimum adjustment of 1 1/2-inch between each surrounding stud. Always keep in mind that precise marking is critical in this process.
STEP TWO: Trace the Frame
Once you have marked where the general-purpose access panel should go, it's time to trace the door frame. Hold the panel up to the drywall. Carefully trace around the edge of the frame – this is where you will be cutting. Get someone to hold the door while you trace to know its level and will stay in position.
STEP THREE: Cut the Hole
After you've marked your drywall, it's time to cut it out. To prevent errors, begin cutting your drywall from the borders with a saw, carefully following the lines you've traced. Trim the cut-out drywall with care and sand the corners to a smooth finish.
STEP FOUR: Install the Frame
Put the frame through the hole and slowly pull through the drywall after removing the cut-out. Screw on the access panel by driving self-tapping screws through the drywall and into the frame every four inches to secure it in position.
Next, test the frame to ensure a snug and secure fit. If you find that the gap is smaller than the frame, you will need to cut out more of the drywall. If the hole is too big, this will be a bigger job and you will have to patch or replace the drywall and start over.
STEP FIVE: Secure the Panel
Once you're confident the panel fits appropriately, you'll need to secure it with glue. Run glue around the frame's surface with a caulking gun so that it sits flush on the drywall. Once the glue is applied, put the panel into the hole and press the frame against the drywall. Check that all sides press down, so it dries evenly.
Once the glue is dry, tape the frame so that it bonds to the wall. Then attach the door and stand back to admire your handiwork!
Tape the frame to the wall while the glue is drying. After the frame has bonded to the wall, you can attach the door.
Tips to Keep in Mind
Remember to inspect the door by opening and closing it to ensure it works correctly.
Also, see that the screwdriver cam latch works as intended.
After completing your testing, create your drywall mixture and apply it to the frame's corners.
For a better and cleaner finish, sand the compound until it resembles the drywall.
Cover the screws with white plastic caps to secure them in place.
Grab your paint and apply a new coat to your freshly installed general-purpose access door!
SEE BA-AHD in Action!
If You Get Stuck
he BA-AHD installation method is relatively straightforward, making this access panel very popular with commercial construction professionals, but if you get stuck, be sure to consult a professional with any questions!
Feel free to contact our team of product experts if you would like to know more about the benefits of installing BA-AHD or if you need a custom access panel. Buying general-purpose access doors and panels makes sense for almost any large commercial construction project!
If you want to buy in bulk, call now to see if your purchase qualifies for a discount. BA-AHD is so versatile many commercial construction professionals choose to keep this door in stock!
Call (800) 483-0823 – and if you have special shipping requirements you don't see on our website, just let us know! Best Access Doors product experts can take your call 24/7.
We Help You Build Better
Share our story - get our 2022 Catalog for FREE!