Posted by Best Access Doors on 23rd Nov 2022
Security is an element in your building that you should never neglect. Keeping your breaker box or HVAC equipment from tampering could be the difference between tremendous productivity and waiting for maintenance crews to finish repairs.
For access doors such as the BA-DW-5040, you should install the proper locking mechanism appropriate for the area you'll be installing. There are a variety of locks for access doors out in the market. This article will review some of the lock options you could have with this flush access door for drywall.
Why are Locks Critical?
A lock usually refers to a physical device that prevents unauthorized access to certain areas. They come in many shapes and sizes, and you most commonly unlock them with a physical key, RFID card, or a pin combination.
For access doors, locks are of utmost importance to protecting your utilities, as anyone could switch off your electricity and potentially take down your other security systems. Additionally, your access doors could lead to areas where people could get easily injured.
Having the necessary security for access doors is of utmost importance for your safety and the safety of others.
What Is Key Control?
Before delving into the type of locks you can choose with access doors, security control should be another aspect you should investigate.
Key control refers to the procedure to ensure that only authorized people have access to the keys in your building. Ideally, it should also be a structure where you keep tabs on who is carrying what keys and ways to prevent keys from being copied.
Depending on the level of security you want, key control can range from a paper list to employing computers and software to do it for you.
Which Lock Do I Choose?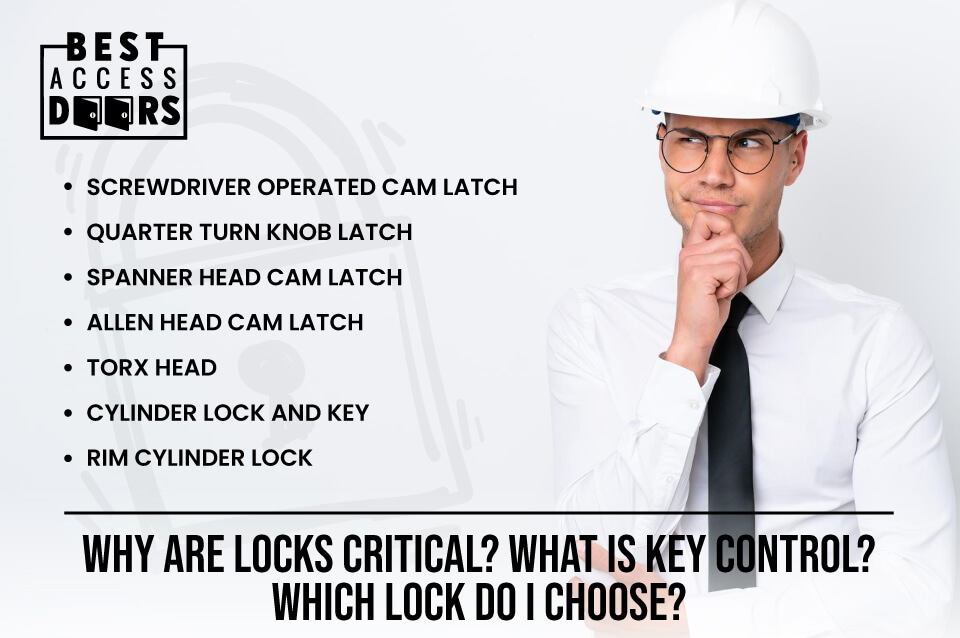 Now that you understand why locks are critical and ensure you have a method of controlling access to authorized personnel, you can start to choose which lock you would like for the BA-DW-5040. Here are the seven types of lock/latch available and a short description of what they are:
Screwdriver Operated Cam Latch
The screwdriver-operated cam latch is the default option for the BA-DW-5040 Flush Access Door. This option is the perfect solution for lower-level security, as it needs a screwdriver to operate the latch but is still very accessible to the average maintenance person.
If you value quick accessibility and security isn't an issue, perhaps the quarter-turn knob latch is your preferred option. You can select this option at no additional cost. However, we will add five days to the delivery time to accommodate the lock change.
Moving on to more secure options, we first have the spanner-head cam latch. To operate this latch, you'll need to utilize the tip of an appropriately sized wrench. Because of this, it's harder for the average passerby to come in and operate the lock. Going for this option is an additional $16 to the standard retail price and adds five days to the delivery time.
Another tamper-resistant latch option for the BA-DW-5040 is the Allen head cam latch. As the name suggests, you'll need an appropriately sized Allen key for the lock's operation. The added $24 and five days of shipping are worth the increased security this lock provides.
The Torx head is one of the most secure options without relying on a lock and key. Its unique shape allows you to tighten the fastener more than your average Flathead or Philips screw without damaging the lock. The added security will be an extra $16 and five more days to the shipping time.
Nothing beats the standard lock and key when it comes to security. The cylinder lock and key are among the best options if you only allow authorized personnel into your access door. In case the lock is compromised, you can easily change out the lock without the need for a locksmith.
Lastly, we have the rim cylinder lock. This option is undoubtedly the priciest compared to the others, setting an additional $104 and ten-day added shipping time. However, what you get in exchange is a top-of-the-line security option for the BA-DW-5040.
The lock is secured with two screws, making it difficult to break off forcefully. Rim Cylinders do not rely on a cam to lock the door, so you can't forcefully open the door with a thin bar. If your access door hides critical equipment or utilities to protect, the Rim Cylinder lock is your go-to choice.
Why Choose The BA-DW-5040?
The BA-DW-5040 is one of Best Access Doors' most refined products, combining various features, aesthetics, and security in a single package. You benefit from the added durability of a 20 gauge door panel and 26 gauge frame. In addition, you can also choose your perfect balance of accessibility and security with the wide range of lock options.
Best Access Doors Is The Place To Be!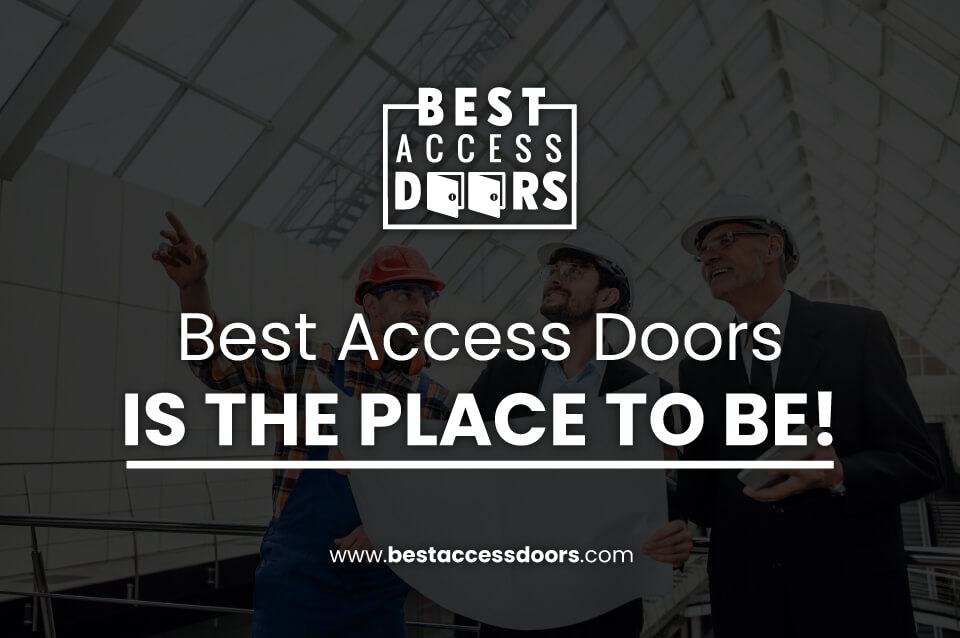 Best Access Doors is undoubtedly the most reliable and trustworthy partner for many access doors and panels. We've provided over 30,000 customers (and counting) the satisfaction they look for when getting an access door.
Are you looking to finance a more extensive project? You want Apply For Credit directly with us to finance your next project and get it off the ground ASAP.
If you have any questions, you can reach out to our product specialists 24/7 at 800-483-0823. We'll take care of any questions you have on all things access doors and panels.
Share our story - get our 2023 Catalog for FREE!