Posted by Best Access Doors on 11th May 2022
Drywall access panels are small doors that provide entry to a space or compartment behind your walls, floors, and ceilings. They provide easy access to plumbing components, electrical outlets, circuit boxes, HVAC systems, valves, meters, and faucets. When correctly installed, they remain inconspicuous and blend seamlessly with the surface, creating a convenient opening while maintaining the original appearance of the wall. After installation, you can apply the same paint of the installation surface to the panel door to preserve aesthetics and give your space a cohesive look.
We have updated our popular Contractor's Guide with some great reminders of the benefits of installing drywall access panels, the variations you can choose from, step-by-step instructions for installation, and a look at one of our most highly recommended products - BA-F2A.
To begin, let's run down the benefits!
Benefits of Installing Drywall Access Panels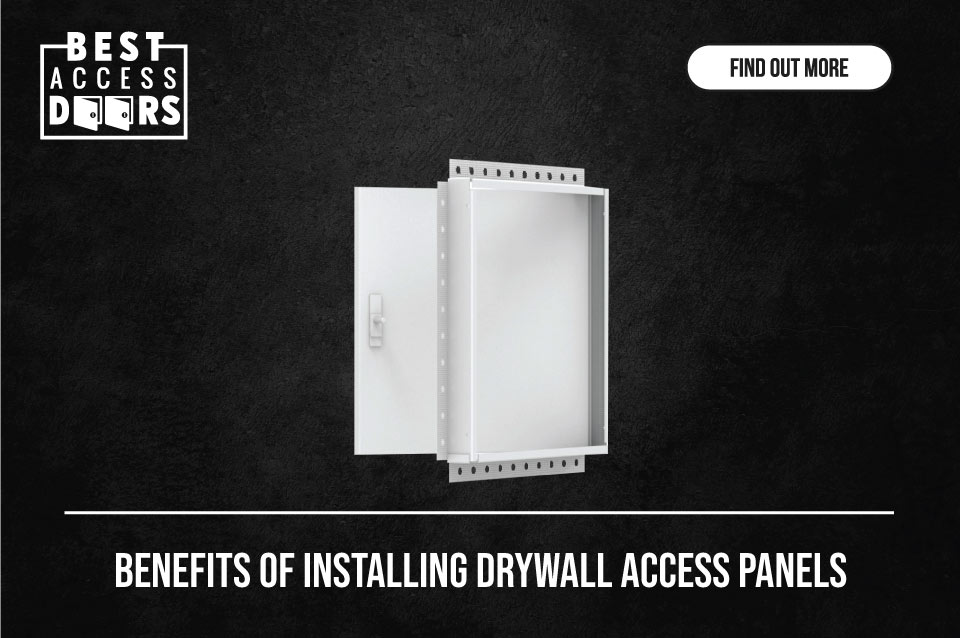 Provides easy access for repairs and maintenance
It prevents the inconvenience of wall demolition and patching
Seamlessly blends with the surface to preserve aesthetics
It gives your space a cohesive look
Protects your commercial building components from unauthorized tampering
Compatible with green building designs depending on the type of door you choose
Can fit into existing walls and ceilings
Next, let's look at the different drywall access panels to know which variation to choose for your next project.
Types of Drywall Access Panels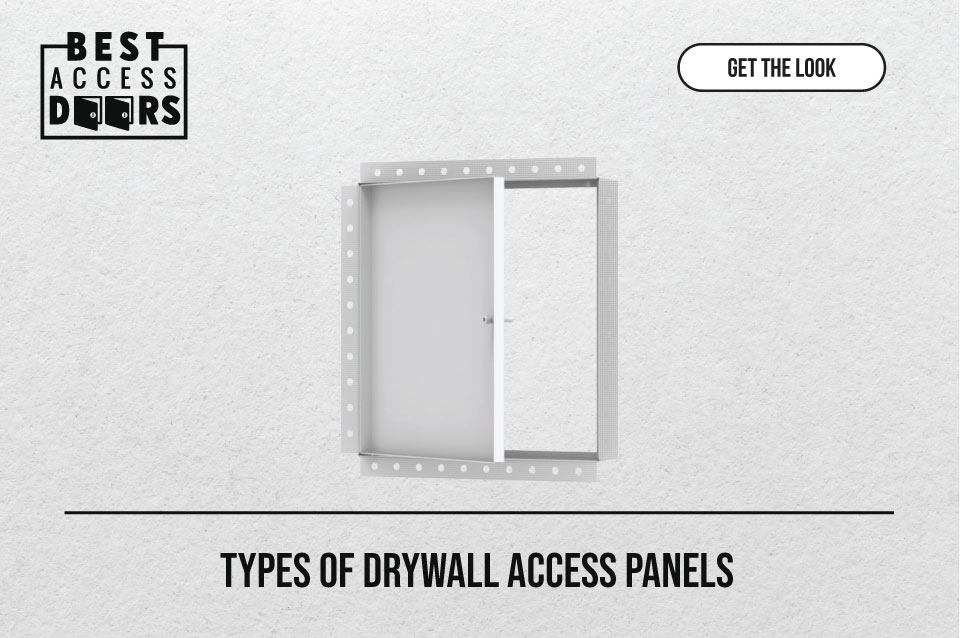 One of the primary reasons why there are various types of drywall access doors is to address the distinct access requirements of the construction industry. Identifying your building's access requirements and the kind of drywall must be considered to determine which type of panel you need.
Plastic Access Panel: If you want to save on costs, consider purchasing lightweight plastic access panels for drywall applications. These doors provide an economical solution featuring high-impact styrene plastic with U.V. stabilizers to prevent corrosion and fading.
Glass Fiber Reinforced Gypsum (GFRG) Access Panel: One of the primary benefits of a gypsum drywall access panel is sustainability. Manufactured directly from GFRG/GFRC & 70% post-consumer recycled glass, the gypsum drywall panel aims to achieve a unique GREEN design matrix with a near-invisible finish.
Drywall Panel with Detachable Hatch: For improved access to equipment located behind the wall, a drywall panel with detachable hatch is a great choice. These doors come equipped with a safety-system to prevent accidental opening. As an added bonus, the air/dust resistant gasket, provides added protection for delicate building components.
Beaded Flange Access Panel: The beaded frame panel for drywall comes with beaded edges and a unique concealed hinge that allows taping and jointing on site. Thanks to its perforated pre-punched frame, only the door will remain visible after installation.
Browse through our collection of drywall access panels to better understand the key features, specifications, and proper applications of each type of drywall access door so that the product you choose will function as you intend after installation. If you are unsure which access panel to purchase, ask our professional product specialists.
Steps to Installing Your Drywall Access Panel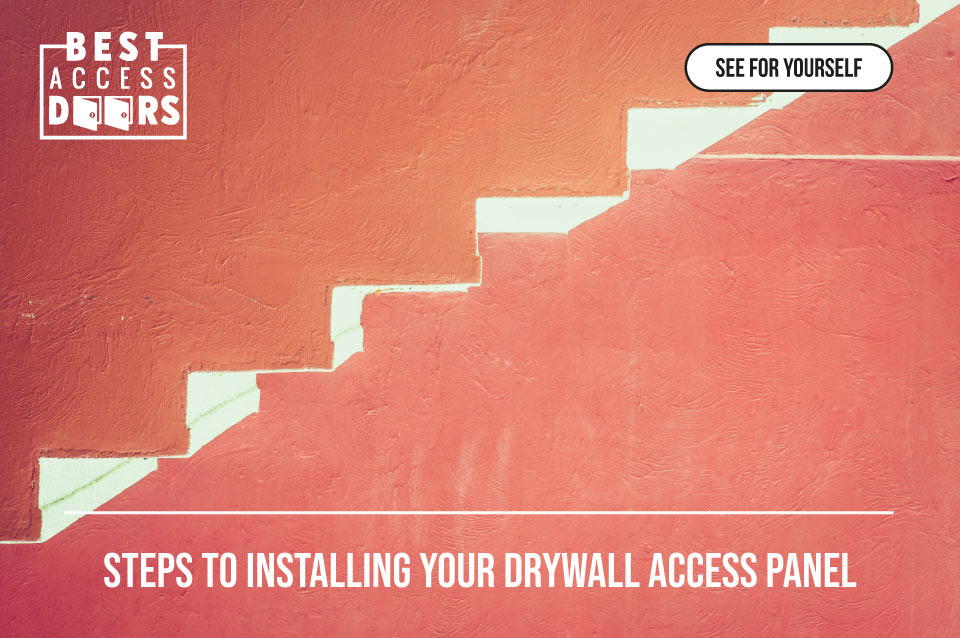 When putting up drywall, it is crucial to mark the exact spot of the component to determine where you need to place the access door. Identifying its precise location prevents back jobs and delays to the project. Before purchasing the panel, choose the size you need, depending on the location and desired purpose.
Let's go over the steps to successful installation next!
Steps to Installing Your Drywall Access Door
Tools You Will Need:
Measuring tape
Pencil
Drywall saw
Sandpaper
Caulking gun
STEP 1: Locate the Components
As a contractor, you understand the importance of avoiding double work. Careful measuring can reduce your time and labor costs significantly. By pre-marking the exact spot of the component located behind the surface, you reduce the risk of cutting a hole in the wrong area.
STEP 2: Trace the Frame
After determining where to install your drywall panel, level the panel's frame over the marked spot and trace the edges of the frame using a pencil. Have an assistant hold the frame for you as you draw its outline to ensure precision.
STEP 3: Cut the Hole
Add no more than ¼ inches to the original outline on all sides. Carefully cut through using a drywall saw to ensure accuracy. Ideally, the hole must be slightly larger than the frame for a snug fit.
STEP 4: Fit the Frame
Before placing the frame, smooth out the hole's edges using sandpaper. Hold the frame against the opening to ensure it fits. If not, cut a little more of the drywall and measure the frame again until you get the right size.
STEP 5: Secure the Panel
Once the frame fits, it's time to use your caulking gun to spread a bead of glue along the wall surface and hold the frame and panel into the drywall. Press all sides to allow the adhesive to dry evenly. To reinforce the bond, have the frame using spring clamps or tape. As soon as the frame sits steadily against the wall, you can install the door.
Installing our drywall access panels is remarkably easy, especially for a professional contractor. But when it comes to functionality and unmatched product features, the BA-F2A model stands out among the rest. Here's why:
BA-F2A - Our Most Popular Drywall Access Panel
With its innovative design and superior versatility features, the BA-F2A Drywall Inlay Panel stands out with its unique, fully detachable hatch. It is a drywall access door that guarantees excellence and durability with its high-grade aluminum frames, foam perimeter seal, and air and dust resistant gasket.
Unique Benefits of Installing BA-F2A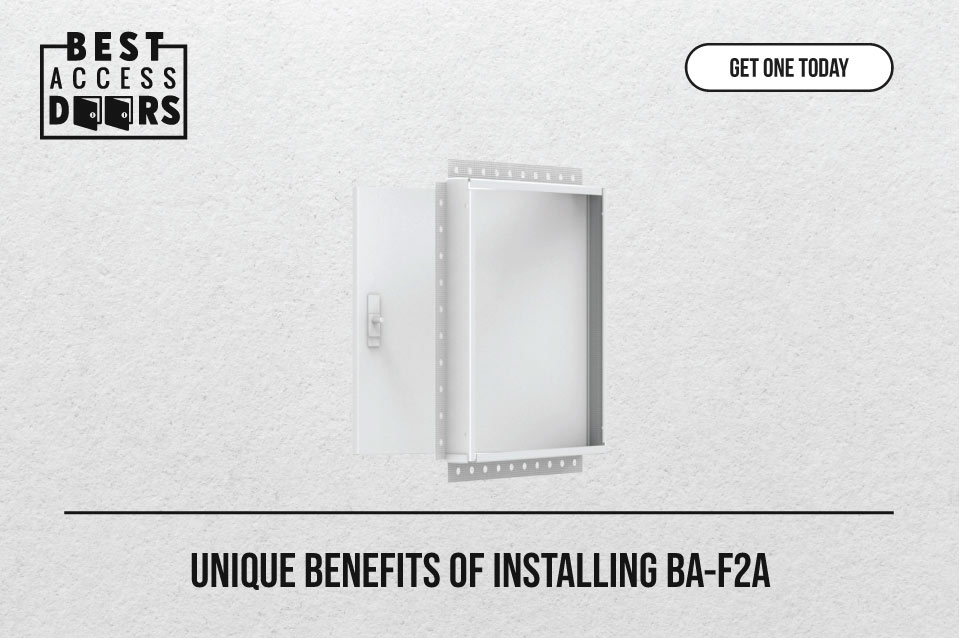 Versatility: With a strong, welded frame and touch latches, this panel stands out due to its versatility and design with a fully detachable hatch.
Safety: BA-F2A is equipped with a safety system and non-snag removable safety cable to prevent accidental opening. Remember to reattach the safety system if you remove the hatch.
Easy-to-Open: This door is quick to open and close with concealed snap locks that pop open when you press the spring-loaded latch side.
Durable and Solid: Constructed from high-grade aluminum and bonded with a unique welding process joining the outer and inner frames, the door has a foam perimeter seal and air and dust-resistant gasket.
Virtually Invisible: Once this access panel is installed and finished, the door is practically invisible as the frame, latch, and hidden hinges leave a 1/16" reveal between the frame and the access door.
Check out BA-F2A's complete specification list!
There is no need to worry about the panel standing out after installation. Its latch, frame, and hinges are all inside the unit, showing only a reveal of 1/16″ (1.59mm) between the frame and the door.
Not only does the BA-F2A have a near-invisible finish, but it also has a reliable security system with pressure-sensitive touch latches and a non-snag removable safety cable to prevent accidental opening. If you need to heighten security, we can add a locking mechanism to the unit at an additional cost.
There are several reasons why the BA-F2A inlay panel is the leading drywall access panel in the North American market, but one of the best things about it is that it is easy to install.
Nothing But the Best from Best Access Doors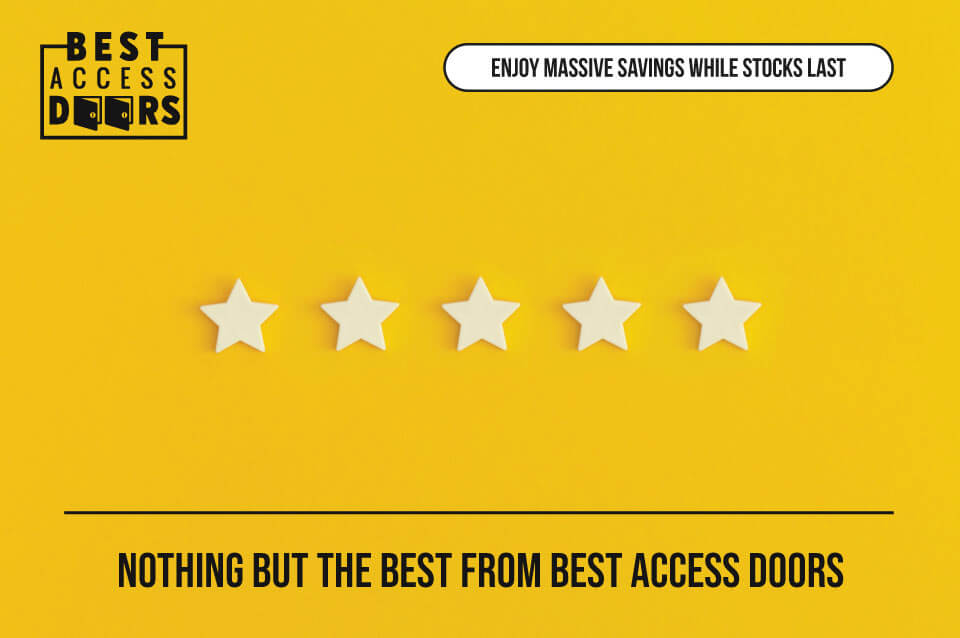 With over 17 years of expertise and hands-on experience, trust us to create high-end solutions for your every commercial access door needs! We pride our loyalty on providing industry-leading products and professional customer care because we value you and your confidence in our services.
Not sure on which access panel to order? Our skilled sales experts are always available 24/7. They are most willing to answer any questions regarding a particular product — from features to delivery and installation. Receive a personalized quotation in just 30 minutes!
We also have an extensive product catalog and an impressive project list! Aside from convenient access, we can also help your business enhance insulation, safeguard critical components, and improve safety. Whether you're a general contractor, a technician, or a building manager, you can expect to receive excellence with our stellar staff!
Contact Us Today!
If you want to order the BA-F2A drywall panel or other access doors, reach us via chat, email, or call our hotline at (800)-483-0823. We are looking forward to working with you!

Share our story - get our 2023 Catalog for FREE!