Posted by Best Access Doors on 29th Mar 2023
The plumbing system is an integral part of every household or commercial establishment. It's an essential building facility that efficiently delivers hot or cold water to and from anywhere inside the vicinity. Most of the time, people use the water flowing here to wash dishes, take a bath, or even make themselves hydrated.
In this blog post, plumbers will discover more about the access panels they can install to make an entry point for plumbing facilities. Furthermore, we'll also share the step-by-step application for our most in-demand plumbing access door product, the BA-UF-5000-SS Universal Flush Stainless-Steel Access Panel.
Plumbing Access Doors
Below are some of the plumbing panels plumbers can consider installing depending on the nature or purpose of their plumbing job:
Plastic access doors: If the client's short on budget, plumbers can rely on budget-friendly plastic panels designed with high-impact ABS plastic materials containing UV stabilizers. Moreover, it's rust-free and fade-resistant. It also has a paintable surface that they coat to match the surrounding.
Stainless-Steel access doors: The metal panels are famous for their durability features that withstand various environmental issues, like corrosion and rust, and boost the establishment's lasting value. Hence, it's a famous plumbers' pick when concealing the plumbing systems in industrial and commercial buildings. Different metal access door types, including aluminum and stainless steel access doors, are available in the market. The BA-UF-5000 is our most sought-after universal flush stainless steel panel, famous for its elegant, rounded safety corners.
Wooden access doors: Plumbers can suggest installing wooden panels if owners aim to have a rustic appearance in their plumbing facility areas. However, remember it offers less sturdiness and longevity than plastic or metal doors. Nonetheless, it's still paint-ready to blend seamlessly with the area's environment.
Drywall access doors: On the other hand, if the surface you'll install is drywall, it also requires a drywall access door which can perfectly conceal your water valves in an architecturally pleasing way.
Plumbing access doors: These plumbing-specific panel types typically grant access through a solid door behind bathtubs, a shower, or under a sink, making repair, maintenance, or cleaning tasks much more feasible to finish.
Check out our 2023 catalog to explore more door types suitable to hide and protect your plumbing features. Our customer hotline 800-483-0823 is also reachable 24/7, ready for any product-specific inquiries.
What is the BA-UF-5000 Stainless-Steel Access Door?
The innovative stainless steel universal flush economy access panel exhibits a rack, sag, and distortion-free one-piece trim flange, granting sturdiness, easy access, aesthetic appearance, and many other impressive features.
Here's a quick overview of what BA-UF-5000-SS contains and is made of, so you can anticipate the benefits it can provide to your plumbing space:
Designed with materials up to 16" X 16" - 16 gauge, 18 gauge mounting frame, over 16" X 16" - 14 gauge door, 16 gauge mount frame
The door contains a flush-to-frame with rounded safety corners.
One piece outer flange welded to a mounting frame.
Continuous and concealed hinges.
Stainless Steel screwdriver operated cam latch with optional locking mechanisms, such as Cylinder lock and key, Allen head cam latch, and spanner head cam latch.
Finished with a 5-stage iron phosphate preparation with a prime coat of White alkyd baking enamel steel or type 304 - #4 stainless steel satin polish.
The BA-UF-5000-SS is available in different sizes, fitting the plumbing system requirements, needs of the area, and requests of the plumbers and owners. View its complete specification list and check if the standard door dimensions match the essential demands.
How to Install the BA-UF-5000-SS
While the BA-UF-5000-SS is compatible with masonry, tile, and flush surfaces, here's our easy and comprehensive guide to ensure that you make the most of this access door:
Here are the tools you need:
Measuring tape
Electric screwdriver
Screws (usually included on your purchase)
Drywall cutter
Drywall compound
Paint
Step 1: Identify and locate the specific area wherein you can smartly place the panel's entry point, granting instant and secure access to the building facilities. Use a measuring tape to get accurate measurements of every corner.
Step 2: Get the stainless-steel panel product's mounting frame and attach them to the metal studs supporting the drywall using an electric screwdriver and the screws in your frame. Make sure that it matches the intended size of your opening.
Step 3: Afterward, install the drywall surface and mark the square framing you built behind by applying screws to each frame corner. Then, you can cover the screw point with a drywall compound to create a seamless appearance. From here, you can make an opening hole using your drywall cutter and cut the established square frame following the crew points you marked.
Step 4: You can then install the door frame along its leaf. Ensure that all required screws are attached to ensure proper and tight application of the BA-UF-5000-SS. Use an electric screwdriver for a much quicker screw attachment. Don't forget to seal the screws on the door leaf for the facility's security.
Step 5: Once you securely install all screws and ensure proper performance, you can paint the drywall surroundings with the BA-UF-5000-SS stainless steel panel, boosting the area's functionality and aesthetically pleasing look.
With a single purchase of the Best Access Doors' BA-UF-5000-SS, you're bagging its essential but necessary functions, including ease, safety, security, and safe access. On top of that, it can also guarantee you an aesthetically pleasing design and a long lifespan. If these are the features you want to conceal your plumbing system, what are you waiting for? Add them to your cart now before the stocks last! Remember to check out our shipping terms to estimate the total costs of your order.
Buy the BA-UF-5000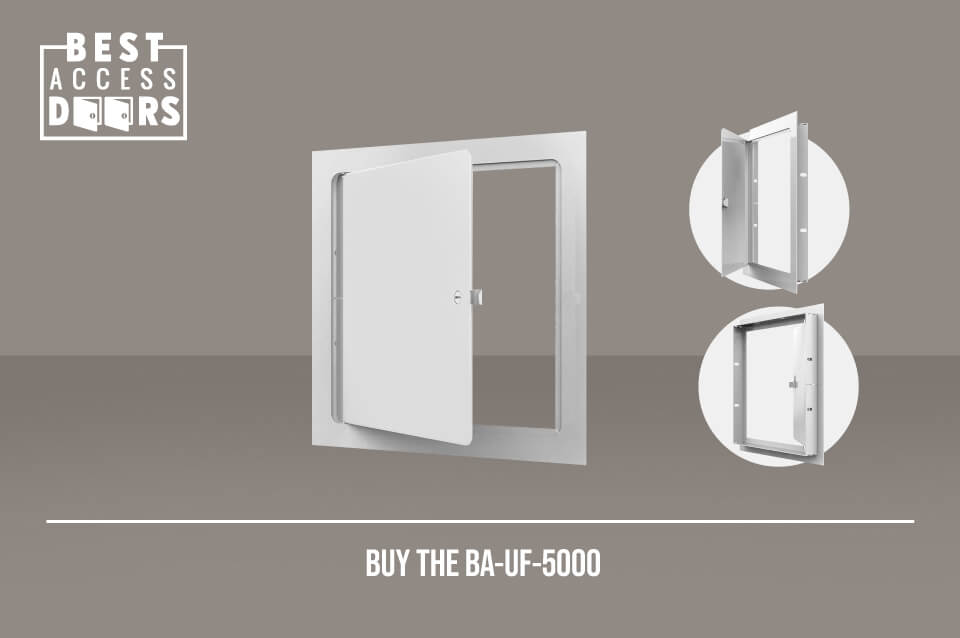 Best Access Doors offers industry-leading products backed by first-class customer service. If you need assistance or have questions about installation, contact us through our hotline at (800) 483-0823. We can also assist with financing, and you are welcome to apply for credit, especially if you would like to place a bulk order.
Share our story - get our 2023 Catalog for FREE!