Posted by Best Access Doors on 8th Mar 2023
An access panel is an essential component of any plumbing system. Access panels provide a way for you to access the internal parts of the plumbing system, such as pipes and fixtures. 
Not only that, but they come in various sizes and materials, so you can find one that fits your needs perfectly. This article will explore the advantages of installing plumbing access panels and highlight one model that excels among them.
What Exactly Is A Plumbing Access Panel?
Typically, pipes are hidden in wall cavities and between floors to maintain a clean aesthetic indoors. While the indoors look better with all the hidden pipelines, they become hard to access when you need to repair them. Moreover, where do you place shut-off valves? 
This application is where plumbing access panels shine and become essential for any home or business.
They help ensure that the plumbing system is properly sealed and insulated, preventing water damage and energy loss. With an access panel in place, plumbers can quickly shut off the supply to the pipes, diagnose problems with the plumbing system and make repairs quickly and safely.
Lastly, reputable access door providers give you the best options. One such product is the BA-UF-5000-SSstainless steel access door, available on our website today! 
What Makes The BA-UF-5000-SS Special?
#1 Broad Applications
The BA-UF-5000-SS is the perfect solution for quick and easy installation on any flush surface. 
Whether working with drywall, plaster, masonry, or tile, this versatile product allows you to mount items in a matter of minutes securely. With its unique design and simple instructions, anyone can complete a professional-looking installation in no time.
#2 Aesthetically Pleasing 
Another highlight of the BA-UF-5000-SS is the safety and aesthetics serving as the primary basis for its design. 
Its rounded safety corners provide increased protection from injuries, and its unique continuous concealed hinge ensures a sleek, architecturally pleasing appearance. The result is a great door panel that provides an extra layer of protection for those who come into contact with it.
Its concealed hinge allows for a seamless finish in any interior or exterior décor, making it an excellent choice for residential and commercial applications.
#3 Durable Construction
In addition, the BA-UF-5000-SS door frame possesses strength and durability.
You can expect the door to feature 16ga stainless steel (For sizes up to 16" X 16") or 14ga stainless steel (For sizes above 16" X 16"). All sizes come with a 16ga mounting frame. The BA-UF-5000's stainless steel construction provides ultimate corrosion resistance and rigidity.
Adding to the upsides of the BA-UF-5000-SS is the one-piece trim flange that prevents racking or sagging, ensuring a tight seal and maximum security for a long time. The BA-UF-5000-SS also features a unique hinge design that makes the door easy to operate while providing a superior look and ensuring longevity. 
The BA-UF-5000-SS features a Type 304 stainless steel #4 brushed finish. Number 4 finish stainless steel, often referred to as "satin" finish, offers a range of benefits for architectural applications. This bright polish is the most popular choice due to its general-purpose nature and offers superior corrosion and wear resistance. It is ideal for many architectural projects requiring a beautiful and durable finish.
#4 Multiple Lock Options
The BA-UF-5000-SS is a versatile and secure storage solution for any environment. Its standard lock option is a sturdy and reliable stainless steel slotted screwdriver cam latch that provides maximum security against break-ins. 
Additionally, the BA-UF-5000-SS also offers optional latches/locks such as cylinder lock and key, Allen head cam latch, spanner locks, and more to further enhance the security of its contents. With these enhanced locking solutions, the BA-UF-5000-SS ensures that your plumbing and valves remain secure and accessible.
#5 Flexible Sizing
Purchasing the BA-UF-5000-SS ensures maximum flexibility. You can find the perfect size to suit your application with a wide range of standard sizes from 16" x 24" to 36" x 36". And if you are looking for a unique size, we also offer custom sizing to ensure this access panel meets your needs.
Plumbing Access Panels Are Great For Plumbers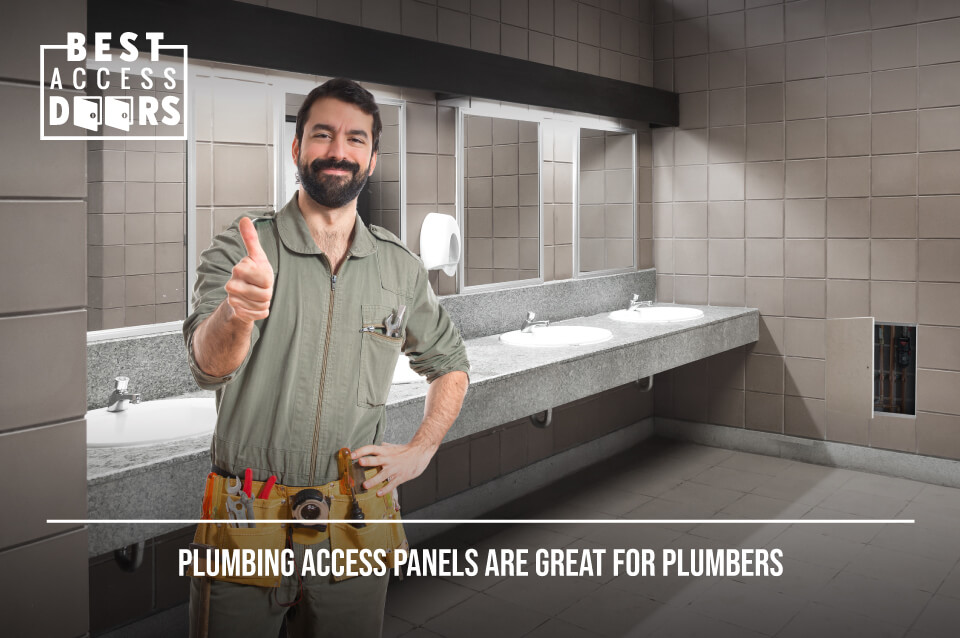 Regular plumbing system maintenance is essential to ensure its reliable and efficient functioning. Installing access doors for your plumbing needs reduces the chances of unexpected and costly repairs. Access doors provide an easy and convenient way to inspect, clean, maintain and repair the plumbing system without tearing down walls or floors. They also help prevent water damage from leaky pipes or fixtures by providing easy access to detect any problems quickly.
Partner With Best Access Doors Today!
Look no further than Best Access Doors for your high-quality access door needs. We offer competitive rates and ensure you get your price quotes in 30 minutes or less. You can also pick from various price points that fit your budget. Call us at (800) 483-0823 for product-related questions or inquiries.
Share our story - get our 2023 Catalog for FREE!