Posted by Best Access Doors on 22nd Mar 2023
Stainless steel is a well-known, reliable construction and renovation companion for access doors and panels. It's a unique and feature-packed type of metal that brings so many benefits to the building project. Apart from construction professionals, this element is most favorite by plumbing specialists. Here, you will discover deeply the huge perks that stainless steel access door installation brings to many plumbing jobs:
1. Durable
Stainless steel is famous for its durability and sturdiness over time. Compared to other metal kinds, it exhibits low susceptibility against brittleness, regardless of location—whether exposed to the harshest weather or high temperatures.
Stainless steel is rich in alloying elements, including 10.5% chromium, less than 1.2% carbon, and many other metal mixtures that help boosts this metal type's resistance to corrosion and enrich its mechanical properties further. No wonder it's the plumbers' favorite material to install in wet areas, as it can withstand various environmental issues, like rust, mildew, and moisture.
Moreover, stainless steel access doors are an impressive weapon to contain a widespread fire in case of a breakout. Among the steel family, it showcases the best fire-resistance characteristics that can stand firm above 800°C critical temperature without emitting any toxic fume.
2. Weather and temperature-resistant
As stated in the first stainless steel panel benefit, stainless steel access panels are an effective solution to protect the facilities against the harshest weather and the highest temperature. If the plumbing system area is vulnerable to these concerns, plumbers often recommend that business owners or homeowners safeguard their property utilities with an appropriate stainless steel access door.
As many of you know, changes in weather and temperature are significant factors in deteriorating your facilities' and even house value. Hence, if long-term functionality is an aim of an establishment, stainless steel doors can best address these worries, aiding in reducing more complicated plumbing work.
3. Highly secured
If a plumbing job requires high security, stainless steel access doors are also one of the best panels to lean on. These doors often come with a tightly secured stainless steel screwdriver-operated cam latch.
However, if more intense security is necessary, you can optionally purchase much sturdier locking mechanisms, such as cylinder lock and key, Allen head cam latch, or spanner head cam latch. All of these latch options are strong and efficient to install, so you can just pick the lock that will best fit in addressing the space's security demands.
If you have a specific latch request, call us at (800) 483-0823, so a trusted product experts can recommend the perfect product matching your needs.
4. Flexible to install anywhere
Stainless steel access panels are a versatile tool suitable to install in different establishment areas, like:
Walls: Stainless steel access door can provide safe, secure, and easy access to many property features, including a breaker box, pipes, or wires. At times, it can also lead you to an extra crawl space.
Ceiling: Most of the time, stainless steel panels are installed in the closet or garage ceiling leading to the attic or additional crawl or storage space. It's a panel type you can overlay with drywall, granting a seamless result.
Roof: For commercial buildings that often call for roofing works, stainless steel doors are a great choice to assist the cleaning, repair, and maintenance specialists in safely reaching the topmost part of the establishment.
Ducts: The duct utilities in kitchens, laundry rooms, and central air installation need regular cleaning and maintenance to keep the optimal airflow inside the vicinity. Thus, partnering them with functional and fire-resistant doors is crucial so property owners can prevent tragic circumstances.
Outdoor and indoor plumbing: Panels are plumbers' best friends, efficiently securing the structure's pipes and other essential plumbing equipment from many risks—unwarranted access, safety hazards, weather and temperature exposure, and many more. With those concerns, stainless steel access doors are the most suitable, addressing all equipment woes owners have in mind.
5. Professional finish
With stainless steel door types, plumbers can architecturally finish their plumbing tasks. They can opt for a 5-stage iron phosphate preparation with a prime coat of White alkyd baking enamel or type 404 - #4 stainless steel satin polish, giving off a clean, elegant, and professional appearance.
Now that you're familiar with stainless steel's excellent list of benefits for plumbing works let's get to know the most suitable stainless steel panel product to install and conceal plumbing fixtures.
Introducing the BA-UF-5000-SS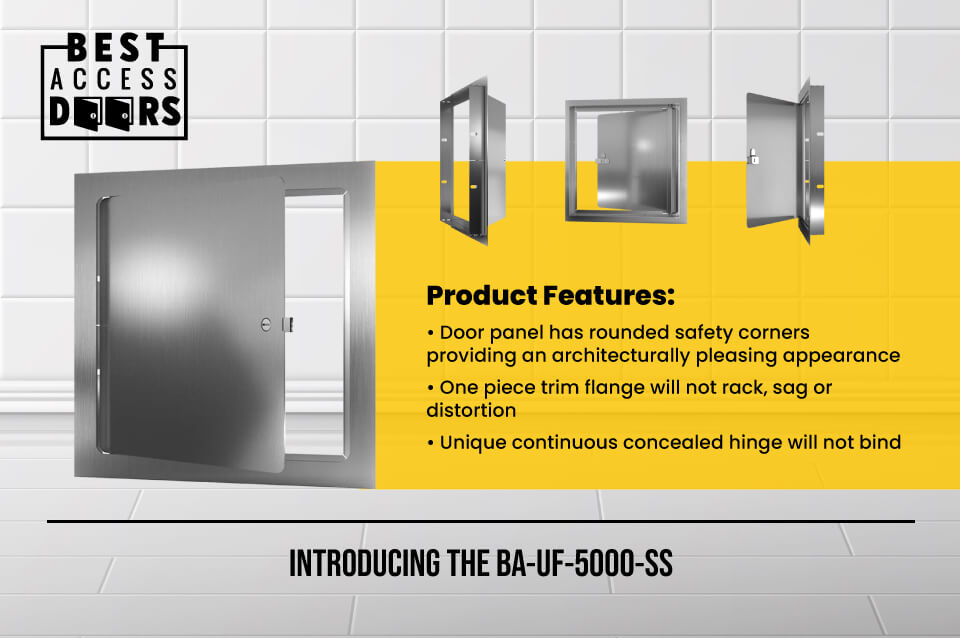 The BA-UF-5000-SS Universal Flush Premium Access Door With Flange - Stainless Steel is one of the North American plumbing industry's most loved panels to provide easy access and securely hide unsightly plumbing works. Looking closer at its superior features, here's the secret to the product's popularity among plumbers:
Filled with materials up to 16" X 16" - 16 gauge, 18 gauge mounting frame, over 16" X 16" - 14 gauge door, 16 gauge mount frame
The door contains a flush-to-frame with rounded safety corners.
One piece outer flange welded to a mounting frame.
Continuous and concealed hinges.
Stainless Steel screwdriver operated cam latch with optional locking mechanisms, such as Cylinder lock and key, Allen head cam latch, and spanner head cam latch.
Most often finished with a 5-stage iron phosphate preparation with a prime coat of White alkyd baking enamel steel or type 304 - #4 stainless steel satin polish.
In addition, BA-UF-5000-SS is available to purchase in different sizes that plumbers and owners can choose from according to the plumbing system or area's demands. Check out its complete specification list and see if the standard door dimensions suit the plumbing facility's demands.
With a single purchase of the Best Access Doors' BA-UF-5000-SS, you can ensure easy, safe, secure, safety access, along with an aesthetically-pleasing design and long lifespan. If the stated features and advantages can solve your concerns, then it's time to add them to your cart now! Remember to check out our shipping terms to estimate the total costs.
Trust Best Access Doors With Superior Quality Products You Can Rely On!
Visit and explore Best Access Doors for high-quality products satisfying all your building facilities, precisely the plumbing systems' needs and wants. We guarantee to give you the most sought-after functionalities, durability, and aesthetic features that can significantly contribute to your structure's long-lasting value. Reach us online to inquire about a specific product or request a personalized quote. We're always here to help!
Share our story - get our 2023 Catalog for FREE!