Posted by Best Access Doors on 9th May 2022
Building a structure is one of the biggest investments you can make. You need the best components and top-quality materials to stand up to the rigors of a commercial environment. Having a strong foundation is where it starts but keep in mind that your structure will also need regular maintenance and repairs to prolong its functional lifespan.
Having the right access doors and panels installed will give you convenient access when your plumbing, electrical, and ventilation systems need attention. Having a safe and convenient entry point will make it easier for your building personnel to conduct checks, perform upgrades, change filters and make adjustments when needed.
When choosing access doors for your facility, the right product will depend on where access is needed, the type of surface where it will be installed, and taking into consideration any special requirements. If you are looking for a product that is easy to install, is fire-rated, and can be used throughout your building, BA-PFI is probably the right one for your project. This fire-rated insulated door is one of the popular choices on the market today. BA-PFI is an industry favorite because it's built tough from quality materials and is made to last. It offers great value and can be easily customized to meet your exact measurements and configuration requirements. BA-PFI also has several variations so you can get the exact access door you need for your project!
Let's take a closer look at the choices BA-PFI has to offer!
Discover BA-PFI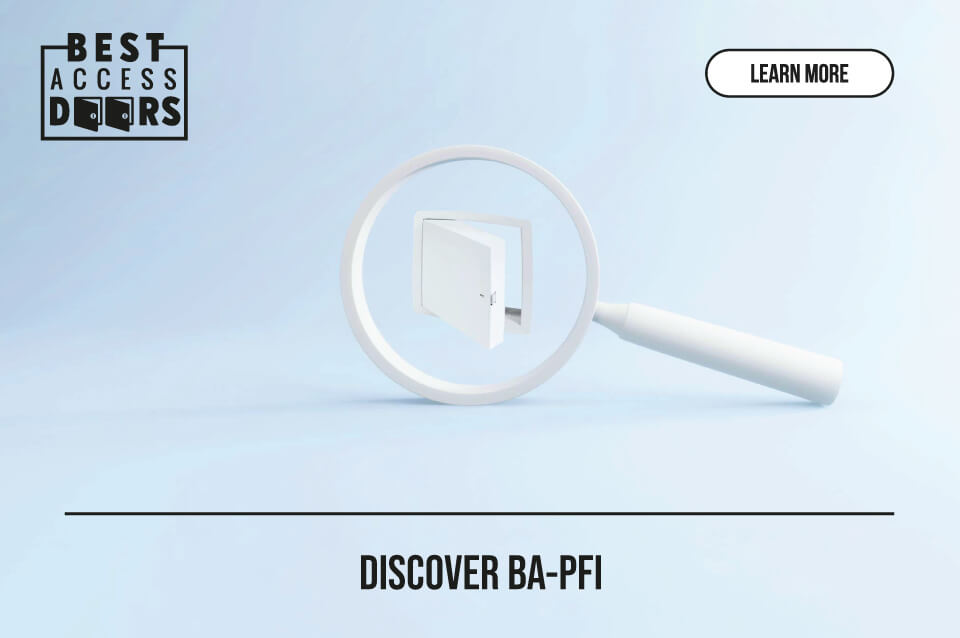 Our BA-PFI model is one of the most sought-after fire-rated insulated doors today. It has a two-inch thick mineral wool insulation and is suitable for fire-rated installations in walls and ceilings. It is self-closing, self-latching and offers an inside latch release for easy entry on either side. The largest PFI doors available for vertical and horizontal installations with temperature rise are respectively: (48" x 48") and (24" x 36" or 864 sq inches). This applies to all variations.
This model includes a tool key and ring to open the door—designed with a one-inch flange for easy installation on any surface. Let us know the exact size you need, and if we don't have it in stock, we can customize it!
Features of a Standard Fire-Rated Insulated Panel With Flange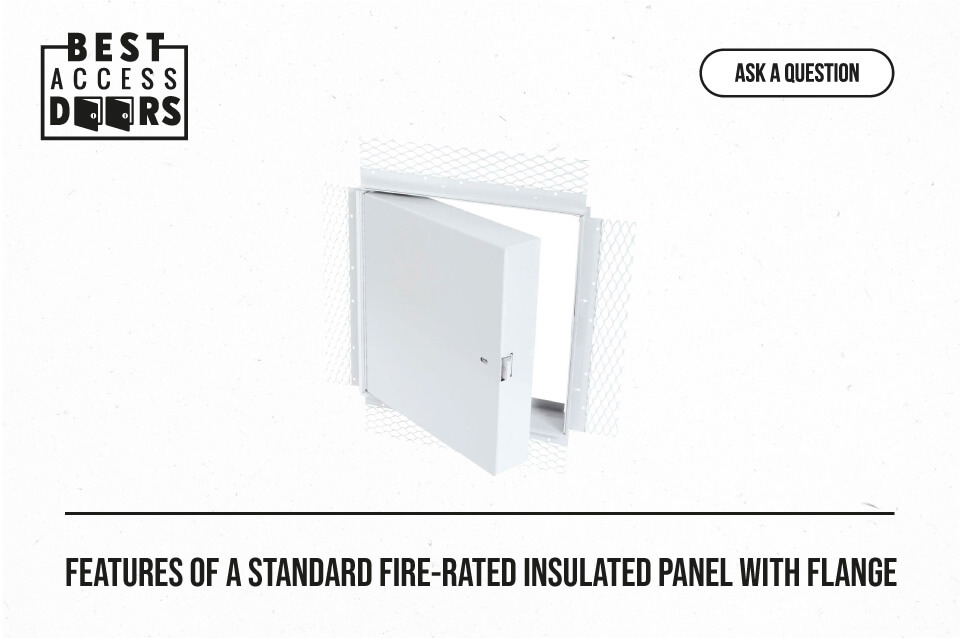 Installation: Walls and ceilings
Material: cold-rolled steel frame and galvanneal steel door
Insulation: 2" mineral wool
Sizes: Ranges from 8" x 8" to 48" x 48"
Hinge: Continuous piano hinge
Lock/latch: Self-latching tool-key operated slam latch or ring operated slam latch, both included
Automatic panel closer: Standard on all doors
Inside panel release: Incorporated on all slam latch fire doors
Finish: DuPont high-quality white powder coat/Stainless Steel #4 (Brushed Finish)
BA-PFI is a great choice for installation in almost any commercial building, including:
Airports
Stadiums
Hotels
Hospitals and Medical Labs
Skyscrapers
Universities and Schools
Restaurants and Retail Spaces
Prisons and Correctional Facilities
The BA-PFI model has variations with a wide range of uses to match your requirements to the door that you need. Meet BA-PFI's specialized models:
BA-PFI-GYP: The BA-PFI-GYP is designed for drywall-covered fire-rated walls. Get a beautiful finished look by applying drywall compound to the corner bead flange leaving only the door itself visible. The self-locking and self-closing features include springs that link to the panel's backside once the installation is complete. This feature enables it to meet fire certification requirements.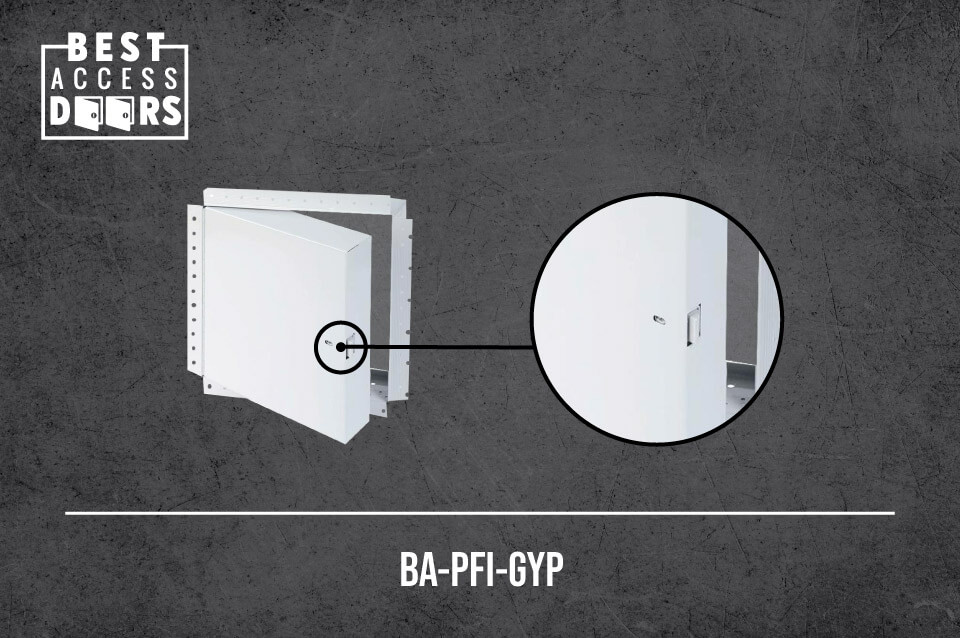 BA-PFI-HS: The BA-PFI-HS High-Security Access Door is excellent for fire-rated walls and ceilings inside facilities that require extra security, like detention centers. It includes a one-inch flange for effortless flush installation on most surfaces. It comes with self-closing and self-locking features in compliance with UL and NFPA requirements.
BA-PFI-PLY: The BA-PFI-PLY is an excellent choice for fire-rated plastered walls and ceilings. The 2 3/4" lath flange will vanish once plastered, keeping only the door panel exposed. This access door also has the self-closing and self-locking feature, according to UL requirements, after the completion of the installation. It comes with an attachment of springs linked at the back of the panel.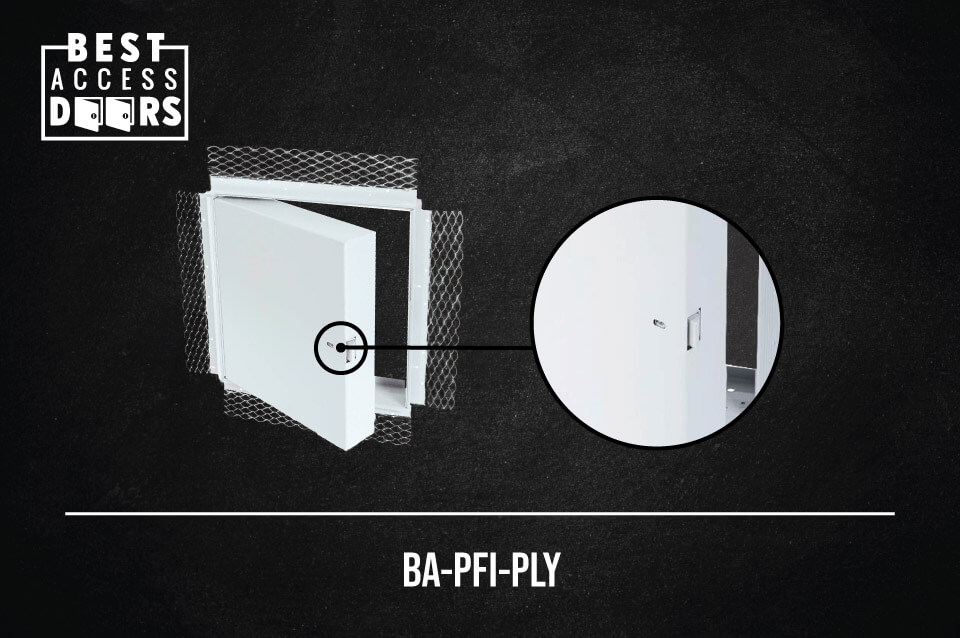 BA-PFI-SS: The BA-PFI-SS is a stainless steel access door for fire-rated plaster walls and ceilings. The 2 3/4" lath flange disappears once plastered, showing only the door panel. This access door will be self-closing and self-locking, according to UL requirements. Once the installation is complete, you can link the provided springs to the back of the panel.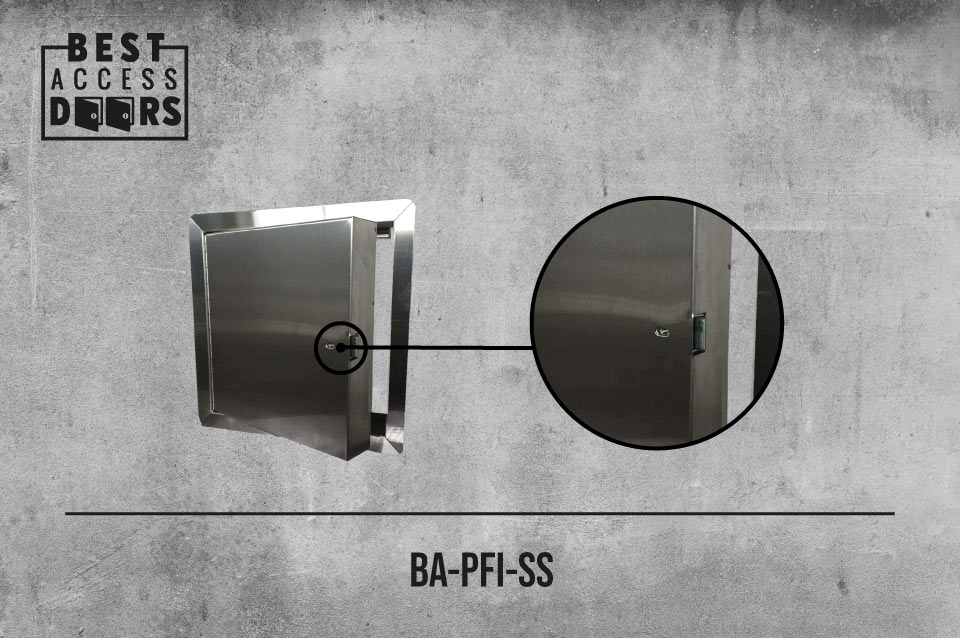 Why Choose Best Access Doors?
Best Access Doors is a company with a reputation and drive to deliver high-quality products and high-end service from specialists who know the industry and our products. We offer a diverse range of access doors, floor panels, and roof hatches, all acclaimed for their unique design and exceptional craftsmanship. We have lots of sizes and we can customize our products to your exact specifications. We pride ourselves in providing you with the best access doors available on the market, manufactured to ensure functionality, robustness, and longevity. We aim to meet and exceed our clients' expectations. When construction professionals see the quality we bring to the table, they know they are getting the best there is. We help you build better!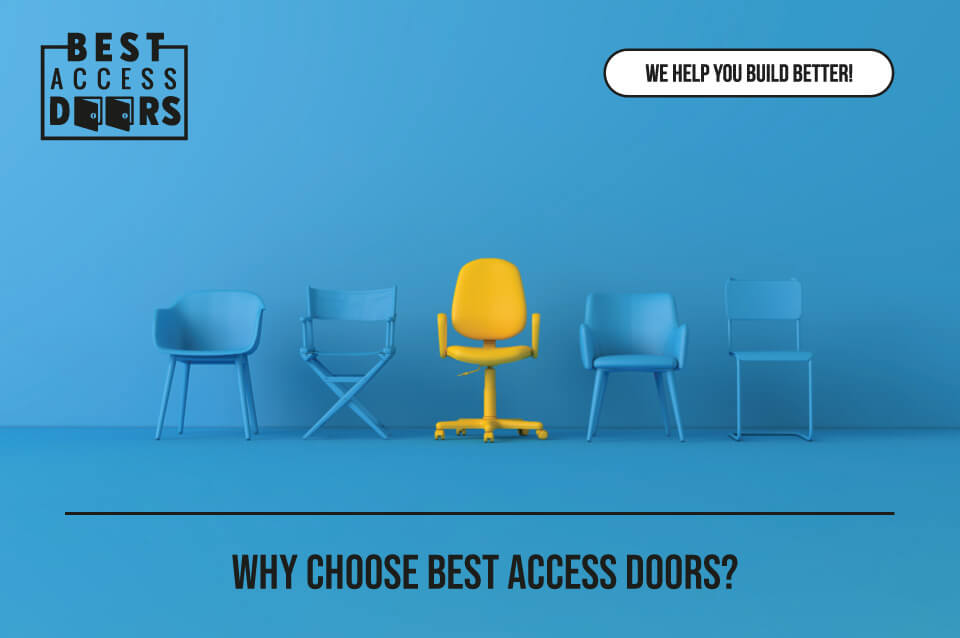 Our Partners
The North American commercial building sector needs the most durable, long-lasting products. General contractors partner with businesses that provide quality, durability, ease of installation, customization, and value for access doors. We invite you to partner with us too!
Aside from developing trust and a long-lasting bond with our customers, we also seek the same for the many people we work with or partner in the construction industry to provide the best service possible. Some of our partners include:
General Contractors
HVAC Installers
Architects
Project Managers
Electricians
Plumbers
Drywallers
Best Access Doors has partnered with commercial construction professionals like you for 17 years and counting! We are the go-to supplier for high-quality access doors, floor panels, roof hatches, and more in the commercial construction industry. If you have an idea to discuss, call our product experts anytime to discuss. We're ready to connect with you 24 hours a day, seven days a week!
Put Our Customer Service Team to Work!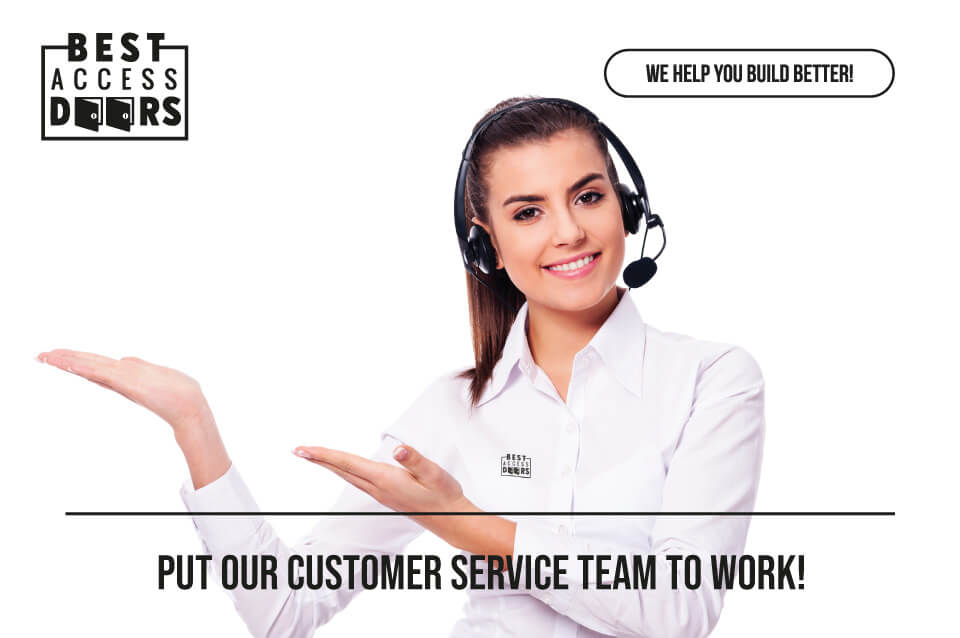 When you work with Best Access Doors, you'll find that our rates are reasonable, our shipping is prompt, and our customer service is courteous. We deliver 17 years of hands-on expertise, exceptional industry knowledge, and a speedy, professional, and simple purchase process, all from product experts.
Whenever you request a quotation from one of our product specialists, we start working right away, and you'll receive your quotes within thirty minutes! It includes product suggestions at different price points, so you'll get all the information you require to make an informed selection.
Check out our website today with 22 distinct product categories, including drywall access panels, fire-rated access doors, and more. You can also read our blogs with hundreds of professional articles on topics relevant to the commercial construction sector.
Have you found something you like? Expect your purchase to arrive within five days! Meanwhile, customized ones may take 7 to 10 days. If you need shipping choices not shown on our website, get in touch with us to find an answer that matches your needs.
Call Us Anytime!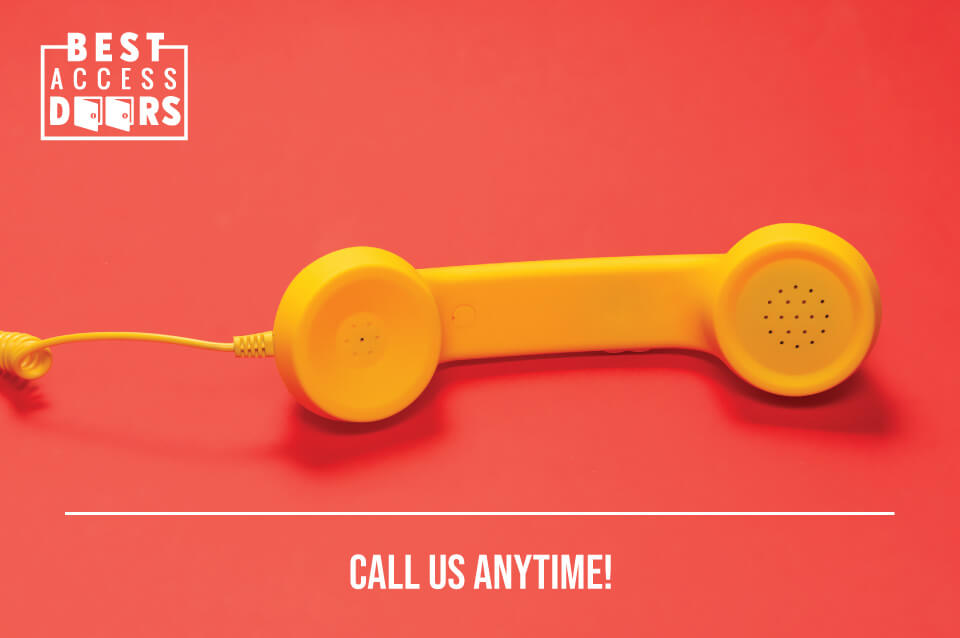 Trust us to offer the best-personalized answer for your next project with over 17 years of hands-on expertise! Thanks to our extensive product knowledge and excellent customer service, we have the solutions to your concerns. We can assist you in determining the right product for your needs, including ceilings, walls, roofs, and the other requirements of your commercial building. Whether you're a contractor, roofer, plumber, HVAC specialist, electrician, or architect, we can help you find the perfect products for your endeavor.
Best Access Door can help you improve accessibility, boost security, enhance fire safety, and maximize the utilization of tight spaces in your commercial buildings by providing the finest quality products and services. Our access doors, roof hatches, floor panels, and other unique items developed for the commercial construction sector offer adaptability and customization.
Partner with us, ask questions, request quotations, or pick up the phone to speak with a product specialist at (800) 483-0823. We will assist you in the best way possible and give you the excellent service you deserve. Your overall satisfaction matters significantly for us, and we are eager to form a lasting bond with you!
Share our story - get our 2022 Catalog for FREE!