Posted by Best Access Doors on 18th Apr 2022
Every commercial facility has different safety precautions and procedures to follow in the case of an accident. One common hazard that worries many business owners is when a fire breaks out. Fire incidents are hazardous and costly, with damages amounting to 14.8 billion and an estimated 108,500 building fires reported every year in the United States alone.
Governing institutions such as the National Fire Protection Agency (NFPA) strictly regulate the safety of buildings and their occupants. In addition to local and national codes, various fire-safety devices and features are available to add more protection.
Our fire-rated access doors, such as BA-PFI, are ideal for areas that need additional fire protection. Once installed throughout your commercial building, there are several essential benefits you will enjoy!
Benefits of Installing the BA-PFI Fire-Rated Access Door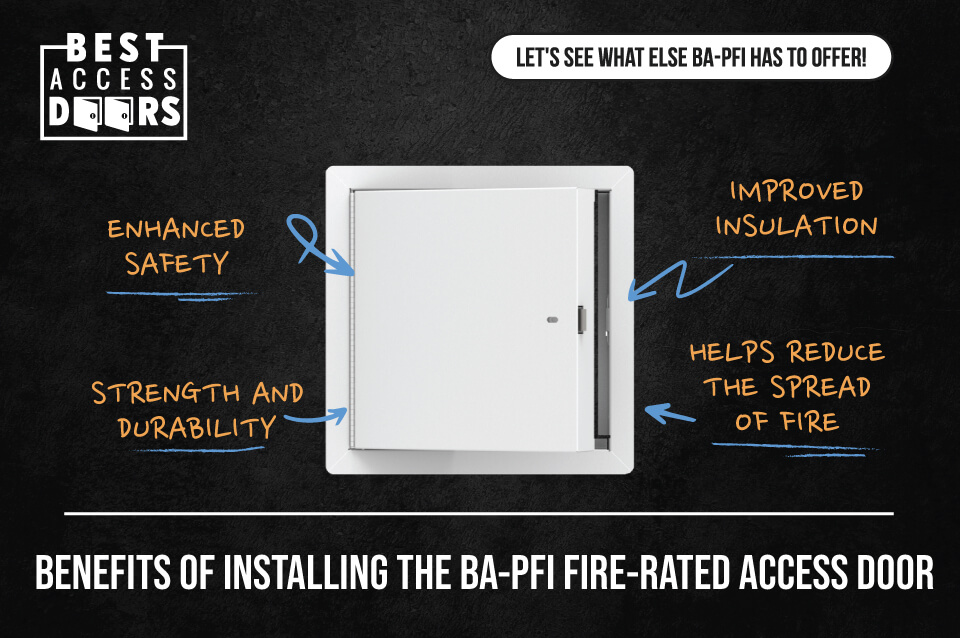 Strength and Durability
The BA-PFI access door has an impressive line of qualities that are effective in wall and ceiling applications. Manufactured with a 16-gauge cold-rolled steel frame and a 20-gauge galvanneal steel door, the unit offers supreme durability.
BA-PFI access door's exceptional features and sturdy hardware make it a sturdy, reliable door that industry professionals trust. It is also available in a plaster flange model.
Improved Insulation
The product also comes equipped with a full two-inch mineral wool insulation that is significantly thicker than most access panels, making it widely sought-after.
Let's see what else BA-PFI has to offer!
BA-PFI is an access door powerhouse widely used by the North American construction industry. This product is an excellent addition to your building's fire-safety devices. Here's why:
COMPLIANCE
At Best Access Doors, we emphasize always complying with building codes. Our most trusted fire-rated access panel, BA-PFI, is designed to align your facility with fire safety standards. Following the UL and NFPA standards, the unit's door automatically closes and locks on its own after the springs hook to the back of the panel during installation.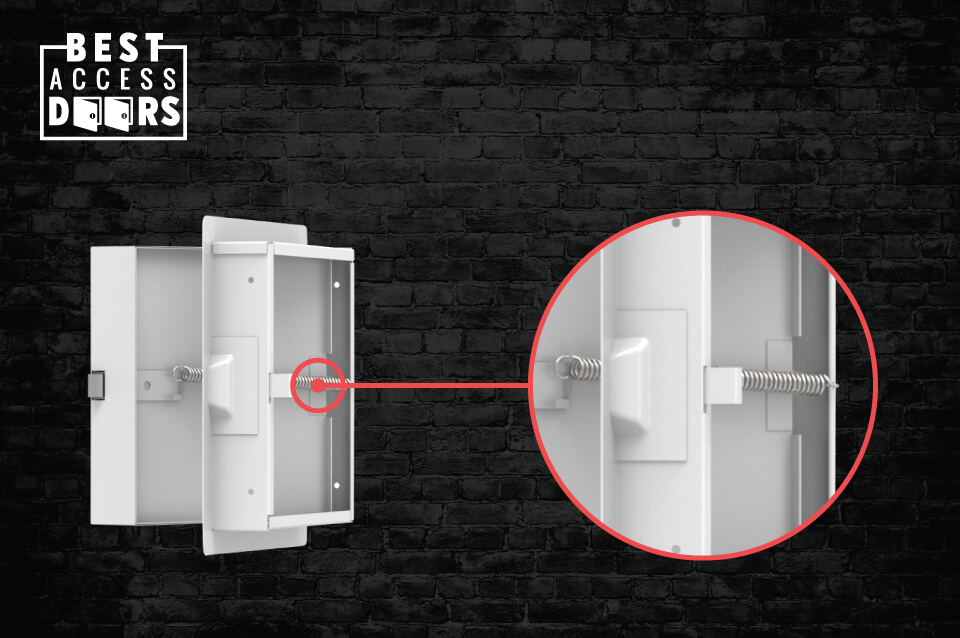 Furthermore, the insulated BA-PFI model offers larger-sized units for vertical and horizontal installations with temperature rise. The sizes include: 48" x 48" and 24" x 36" (or 864 sq inches).
PROTECTION
Another benefit of BA-PFI is that it protects critical building components such as electrical, HVAC systems, plumbing, and gas lines by helping to reduce the spread of fire for a limited time so that occupants can exit the building before firefighters arrive.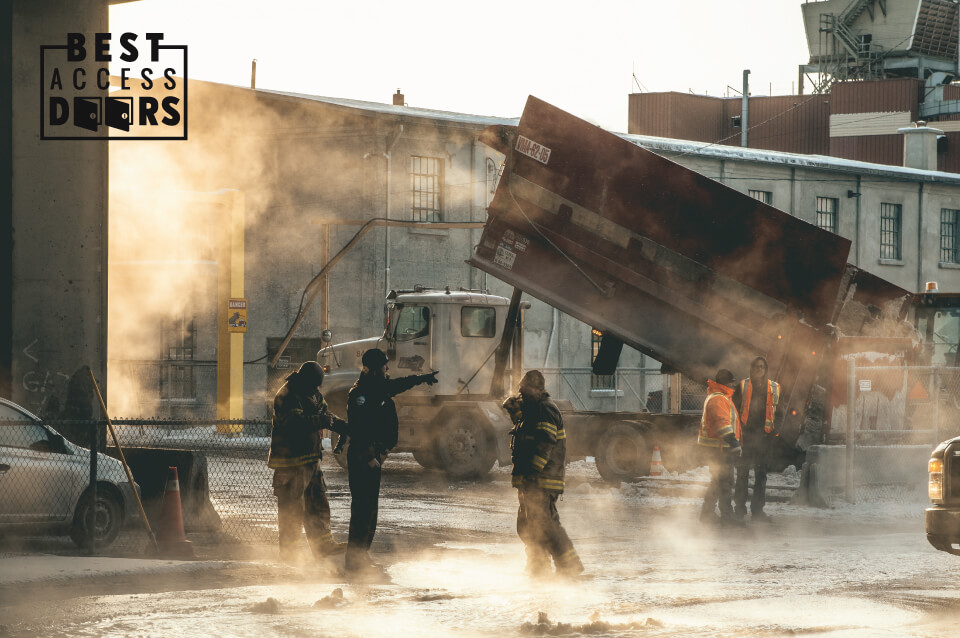 Additionally, the BA-PFI is built with an active latch bolt to withstand the immense pressure from the flames. Discrepancies in handling pressure can cause non-latch access doors to open, allowing the fire to spread.
Aside from its latching mechanism, the unit also has an airtight feature critical to preventing air from passing through. This feature also prevents smoke from spreading and prevents drafts from the ceiling and attic during the cold season.
ACCESSIBILITY
The general purpose of access doors is to provide convenient access to building components installed behind walls and ceilings. The BA-PFI expertly performs this functionality with the added benefit of being fire-rated.
Moreover, this model helps you get LEED-certified, enabling the facility to become more efficient and environmentally responsible, reducing energy costs and additional profit for your business.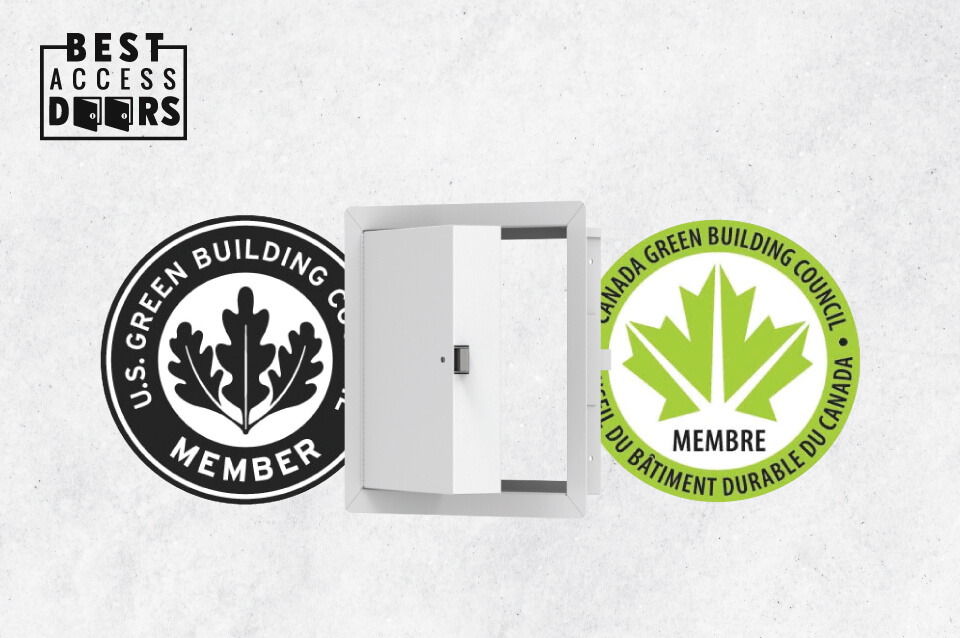 BA-PFI Fire-Rated Insulated Access Door Complete Specification List
Material: 16-gauge cold-rolled steel frame and 20-gauge galvanneal steel door
Insulation: 2" mineral wool
Hinge: Continuous piano hinge
Lock/latch: Self-latching tool-key operated slam latch or ring operated slam latch, both included
Inside panel release: Included on all slam latch fire doors
Automatic panel closer: Standard on all doors
Finish: DuPont high-quality white powder coat
Installation: Suitable for walls and ceilings surfaces
Sizes: Ranges from 8" x 8" to 48" x 48"
Take a closer look at the specification sheet!
The product also comes with various customizable options, such as:
• Mortise deadbolt lock
• Hex head slam latch
• Handle operated slam latch
• Mortise preparation for cylinder (cylinder optional)
MATERIAL: White powder coat finish #4 (brushed finish)
MASONRY ANCHOR: Available in all sizes
Why Are We the Top Choice for Access Doors?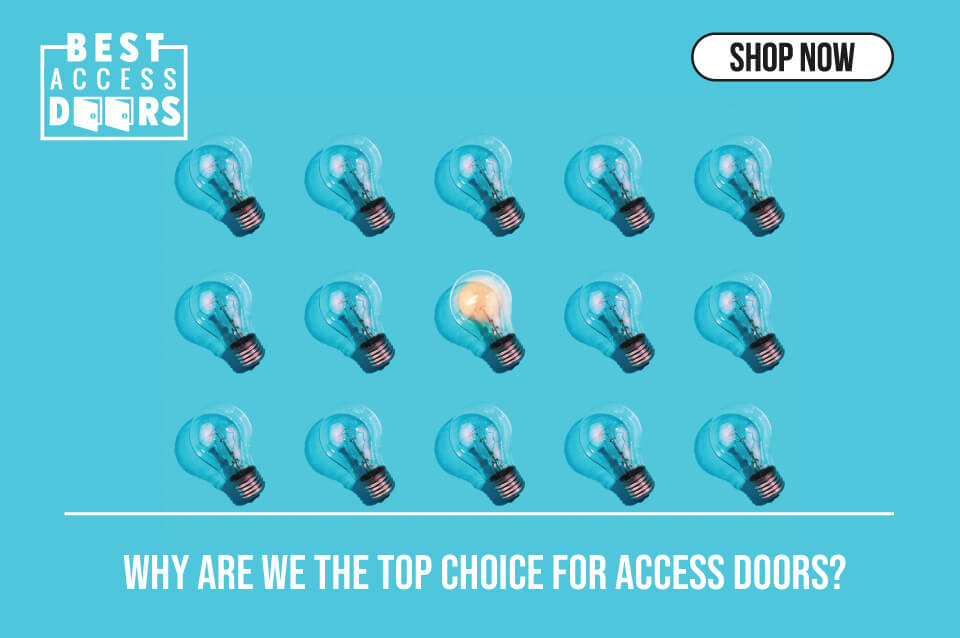 There is a reason why Best Access Doors has continued to succeed in the commercial construction industry for over 17 years, and it's due to our excellence and passion for delivering high-quality products and providing world-class customer service on every occasion. Our 5-star customer reviews are a testimony to our dedication! We actively observe the latest industry trends and standards to ensure that we only supply your construction projects with innovative access panels.
We are also thrilled to offer you our extensive collection of access doors, floor panels, drywall access panels and doors, and roof hatches, all recognized for being among the best for their exceptional design and reliable functionalities. Our products are available in various sizes and have unique customization options to suit your specific needs.
As you work with us, you will see our dedication in action. Our commitment to our valued partners motivates us to offer only the best products made from high-caliber materials to ensure their effectiveness, resilience, and longevity to fulfill our customer's expectations. With over 30,000 construction professionals served, you can trust us to provide hands-on professionalism and product mastery on your every purchase!
Guaranteed World-Class Customer Service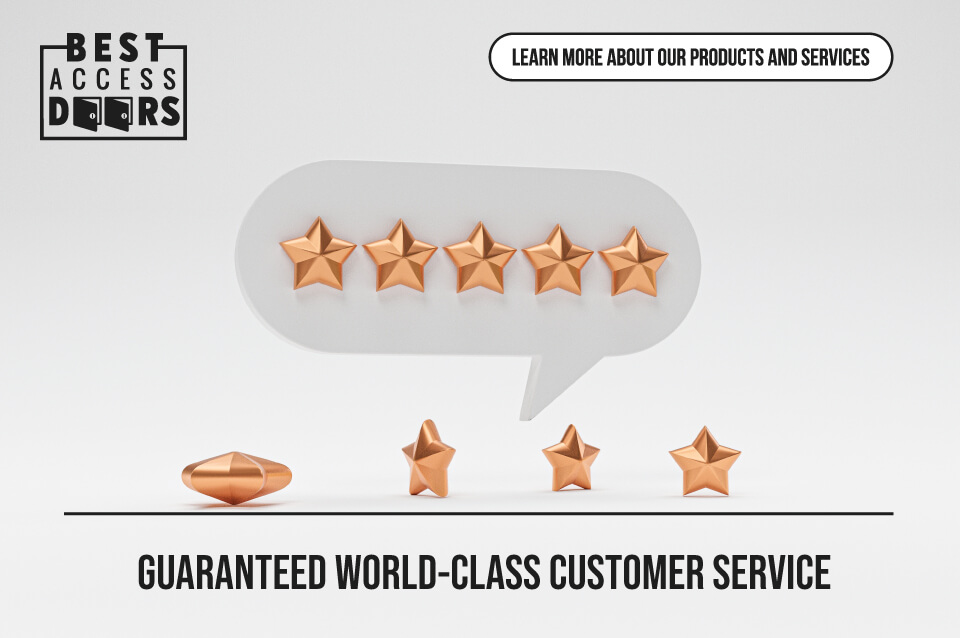 You will benefit from our construction knowledge, product expertise, and amazing customer service when you trust Best Access Doors. Request a quote from our product specialists on a specific model number, and you'll hear back within 30 minutes!
In addition to an outstanding customer service team, we also have a reputation for delivering products on time. Your purchase will leave our warehouse for delivery within five days of placing your order - even when you order customized items, in most cases, they ship from our warehouse within 7 to 10 business days!
If you're looking for something specific, explore our collection of 22 categories, including drywall access panels, fire-rated doors, roof hatches, and many more! Moreover, we continuously update our blog with handly articles with installation tips, how-tos, top 10 lists - all related to the commercial construction industry!
Talk to Us!
With almost two decades in the business of providing industry-leading access panels, you can rely on Best Access Doors to offer expert and practical solutions to your access door concerns. We can assist in determining the products that are most suitable for your specific needs; whether you are a general contractor, roofer, plumber, or architect, you can expect to receive expert recommendations from our seasoned product specialists.
We have an impressive project list! Along with providing high-quality products, we enjoy helping businesses address accessibility issues, improve insulation, strengthen security, and enhance fire safety by supplying the construction industry with superior access panels. We develop our extensive products with factory precision and exemplary craftsmanship to tailor-fit your needs.
If you wish to become our partner, receive a quotation, or learn more about our products and services, call us at (800) 483-0823. Your business and partnership matter to us, and we are looking forward to doing business with you soon!

Share our story - get our 2022 Catalog for FREE!