Posted by Best Access Doors on 18th May 2022
Properly servicing building systems and components such as plumbing, electrical, and HVAC ensures that your commercial facility runs at optimal performance. Improving productivity and enhancing security relies not only on your employees or your products but also on the efficiency of these systems.
To provide convenient access to these systems and components, we proudly offer a wide selection of products that make repairs and maintenance much easier! While this is all about function and practicality, you don't have to sacrifice visual appearance or aesthetics. Best Access Doors offers virtually invisible flush access panels that blend seamlessly once installed, leaving only a minimal reveal between the frame and the door. Let's look at some creative solutions for concealing your wall or ceiling access door.
TIP#1: Purchase a Seamless Access Panel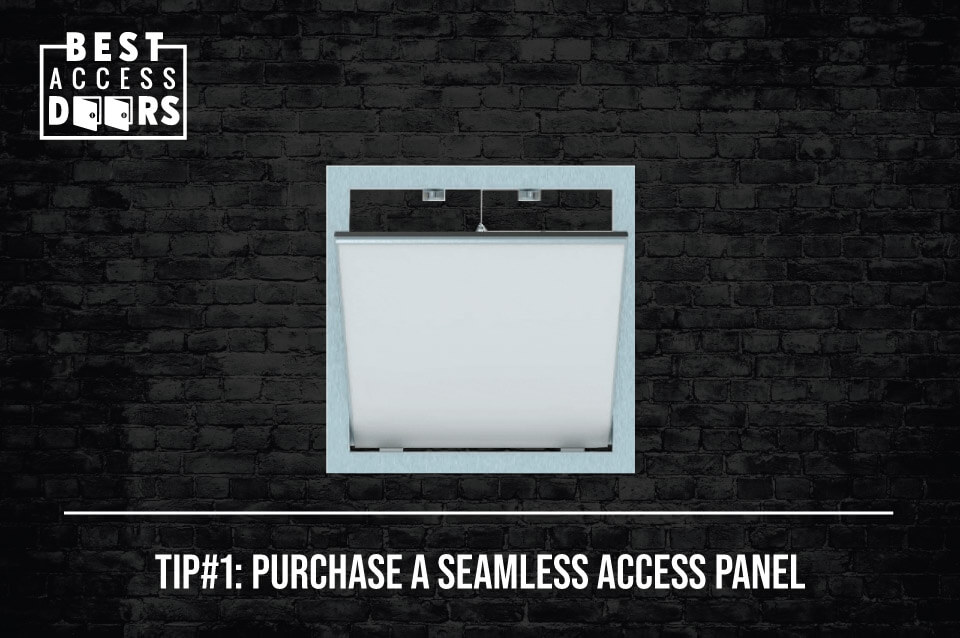 When it comes to a flawless flush installation, nothing beats the BA-F2A Drywall Inlay Panel. With a discreet finish, leaving a tiny 1/16" (1.59mm) seam between the frame and the door, this is built for durability with a strong aluminum frame and highly resilient gasket.
Additionally, the BA-F2A has a unique touch-latch feature. The latch is pressure-sensitive, so you only need a light touch to open the panel. It is easy to install, and the door stays in place with a non-snag safety cable that prevents the door from accidentally opening. With its remarkable features, it's no wonder why the product consistently receives 5-star ratings from our returning clients!
What else can improve the aesthetics and conceal your access panel?
TIP#2: Cover with a Well-Placed Décor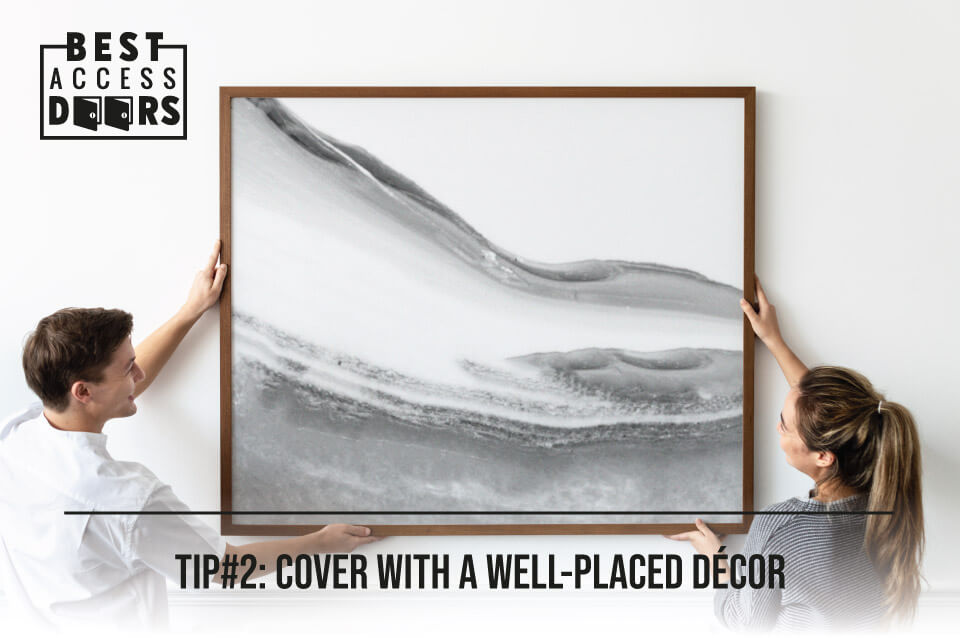 If you have an access opening that you want to conceal, try placing a decorative item such as a potted plant, a painting, or a lightweight shelf in front of the door. Get creative, and work with different placements to find a look you like! Remember that the item should be easy to move when you need to access components behind the door.
TIP#3: Match the Finish to the Surface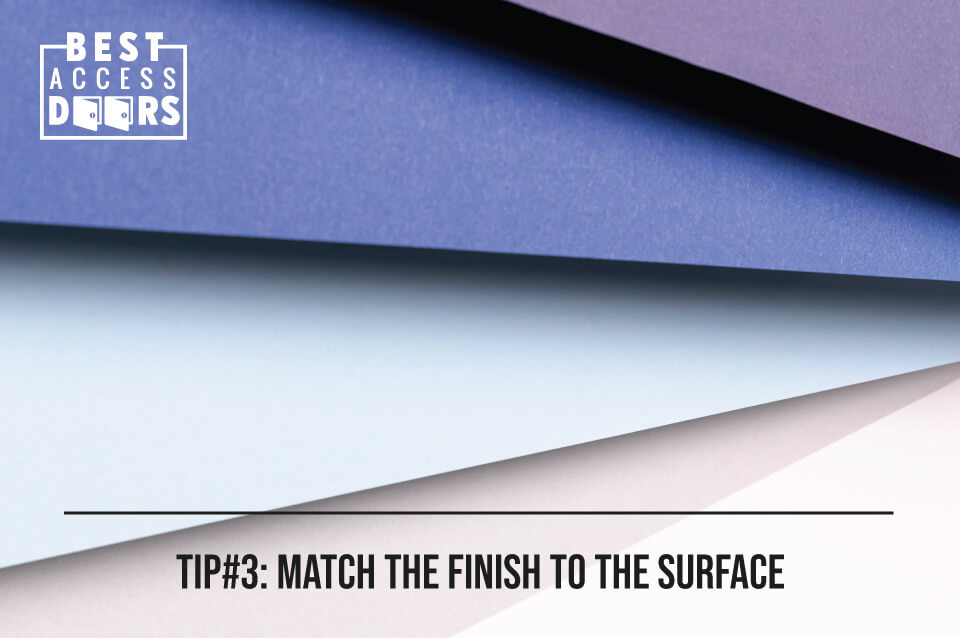 When choosing an access door, consider the product's finish or coating. Depending on the installation surface, you can find stainless steel, plastic, and doors with powder or aluminum coatings and some that are recessed tile or drywall. Also, some panels are ready-to-paint to match the color of the surrounding surface so the door will visually blend in. If you want to create a conversational piece or transform your workspace, why not creatively cover the panel with a mural?
TIP#4: Add an Air Return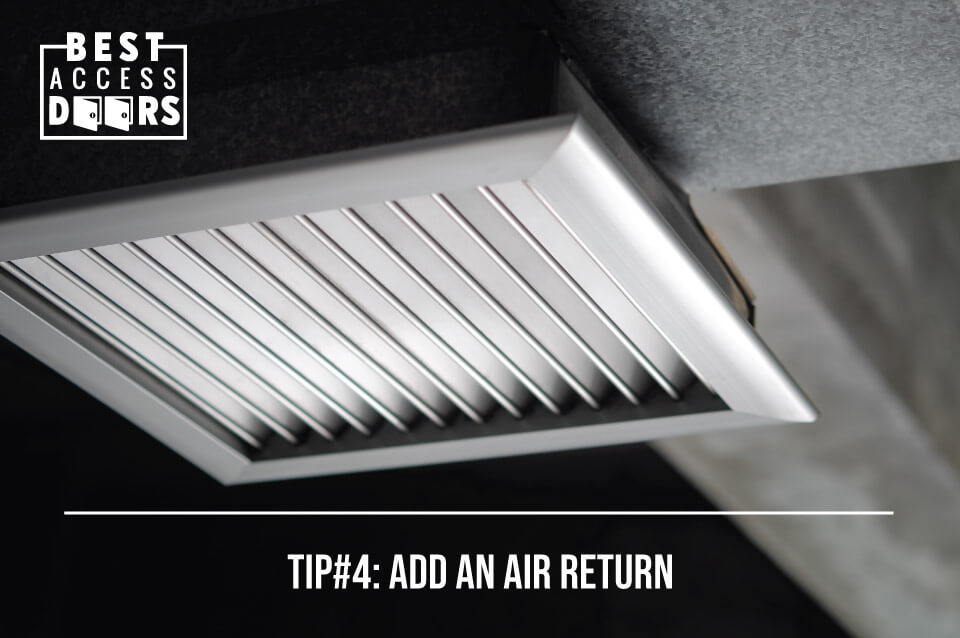 Furnishing your wall access doors and panels using a frameless louvered air return passage can give the door a multi-functional purpose. Adding a ventilation feature is highly recommended to improve indoor air quality in your commercial space.
You can also incorporate an access door as part of your interior design. For example, a domed roof hatch with skylight (a form of access door) gives you safe access to the roof and allows natural light inside the property for added ambiance. Natural illumination is also an effective way to reduce power costs.
TIP#5: Put the Access Door in the Ceiling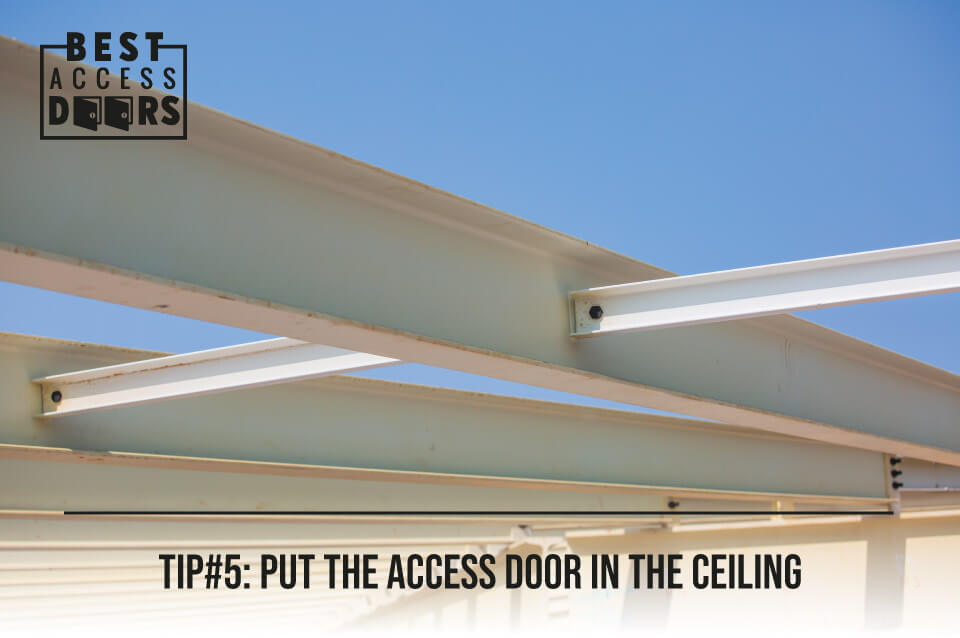 Ask the contractor to locate the components inside the ceiling or below the floor for new construction. Doing so prevents the whole process of adding furniture or an art piece to cover the access panel. Ensure that the technician can easily access the opening for maintenance or repair for efficiency and accuracy with their work.
TIP#6: Build a Cabinet Over the Access Panel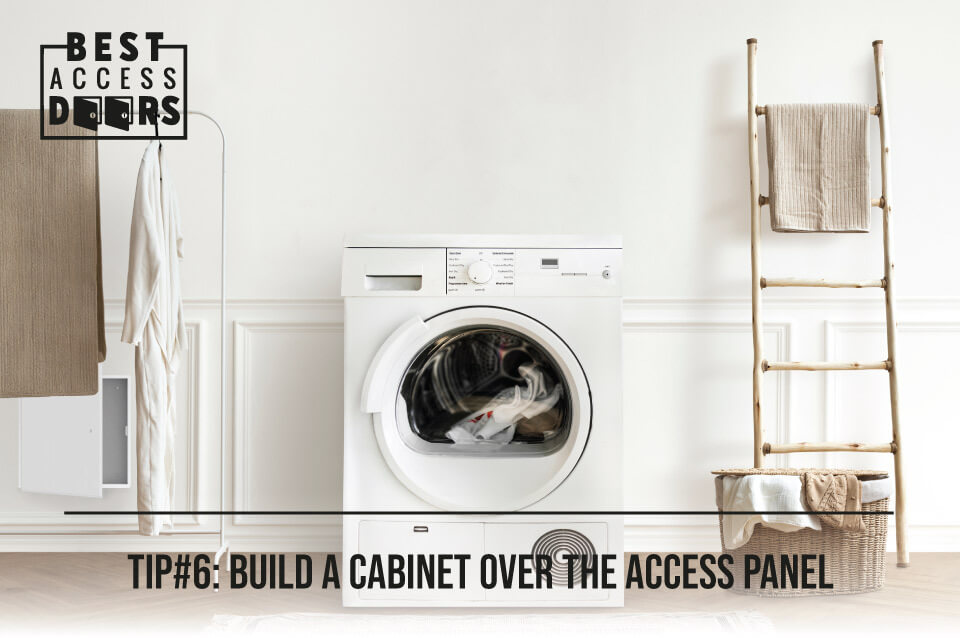 You can also consider building a cabinet over the opening to conceal valve wall access panels in certain spaces like bathrooms, kitchens, or laundry areas. It will help discourage unauthorized tampering since it keeps the door hidden inside the cabinet.
Various pre-built units are available from your local hardware store, which can be customized by removing shelves and cutting out the back for quick access.
Get to Know Best Access Doors – The Best in the Industry
Access panels are an essential part of any commercial building, and there are many creative and cost-effective ways to conceal them from public view in high traffic areas. These ideas are easy to apply and will not hinder your panel's function and purpose!
With over 17 years in the access doors business, Best Access Doors offers industry-leading products backed by first-class customer service. Our access door specialists are ready to help with options that fit your budget and personalized quotations that address your requirements.
We also have a user-friendly product catalog that is easy to navigate and always up to date! Explore our vast collection of drywall access panels, fire-rated panels, roof hatches, grease duct access panels, and more! In addition, we continuously share industry news and construction-related articles to keep you up to date with trends. Follow our blog for installation tips and new product information for commercial construction professionals like you!
Find out why our customers consistently give us 5-star ratings! Call us at (800) 483-0823 to get started.
We Help You Build Better!
Share our story - get our 2022 Catalog for FREE!