Posted by Best Access Doors on 30th Nov 2022
When it comes to drywall access panels that offer a flush installation, you can count on the BA-DW-5040 Flush Access Door with Drywall Bead Flange! It provides a seamless finish after installation, additional security to building components, and is also virtually appealing. No wonder it's favored by the North American construction industry!
A Closer Look at the Best BA-DW-5040 Drywall Bead Flange
The BA-DW-5040 access door's immense popularity among business owners and builder professionals is due to its high-quality materials and superior features!
20 gauge galvanized-textured steel door panel formed with multiple bends boosting its strength
Four-sided flange-built door flange with perforated taping bead and pre-punched holes to enhance rigidity
Uniquely and elegantly concealed hinge
Tape and jointing-friendly beaded edge
Available in standard latch and optional latches/locks
Finished in satin and white baked-on coat, which undergone a five-stage iron phosphate preparation
In addition, you can purchase the BA-DW-5040 in different sizes that you can choose from according to your commercial business needs. Check out its complete specification list.
Why Install the BA-DW-5040 in Your Building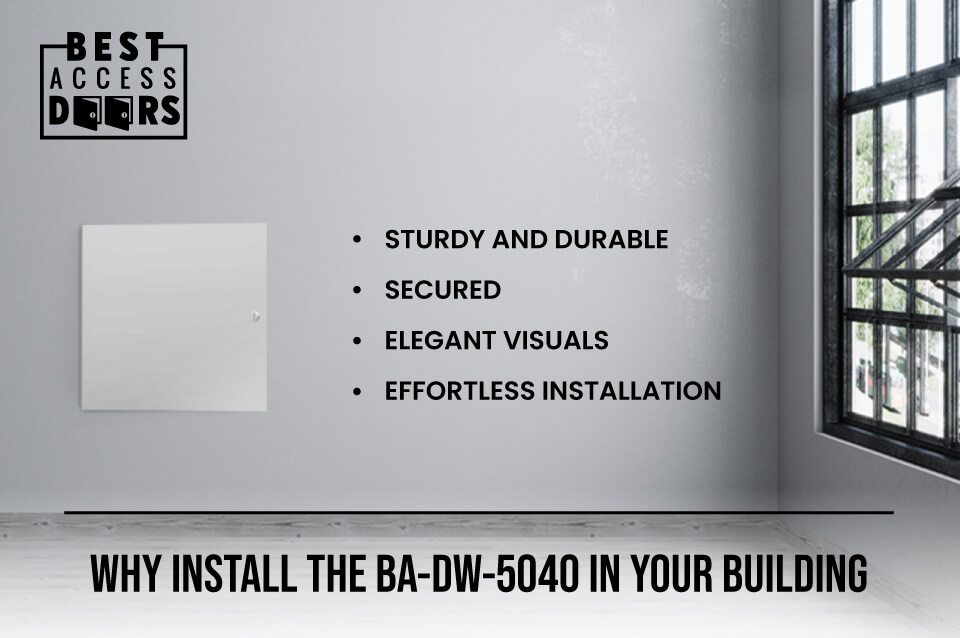 The BA-DW-5040's innovative design and superior engineering come with various benefits for your business. Here's why!
Sturdy and Durable: Built with stainless steel hardware containing robust materials like a 20-gauge galvanized formed door panel and a 26-gauge galvanized frame, construction professionals can guarantee that BA-DW-5040 is highly durable.
Elegant Visuals: One of the BA-DW-5040 flush access panels highlights its aesthetically pleasing function. It consists of steel materials famous for their easily paintable elements allowing a smooth and paintable finish. No need to worry about your existing wall paint!
Effortless Installation: This access panel is also unbelievably easy to install. Shanks to this metal access door's beaded edge, contractors can instantly install the unit using its seamless taping or on-site jointing.
With a single purchase of the Best Access Doors' BA-DW-5040, you can ensure safety, design, and durability. If the presented advantages can solve your concerns, then it's time to add them to your cart now! Don't forget to check out our shipping terms to estimate how much you'll spend.
How to Install the BA-DW-5040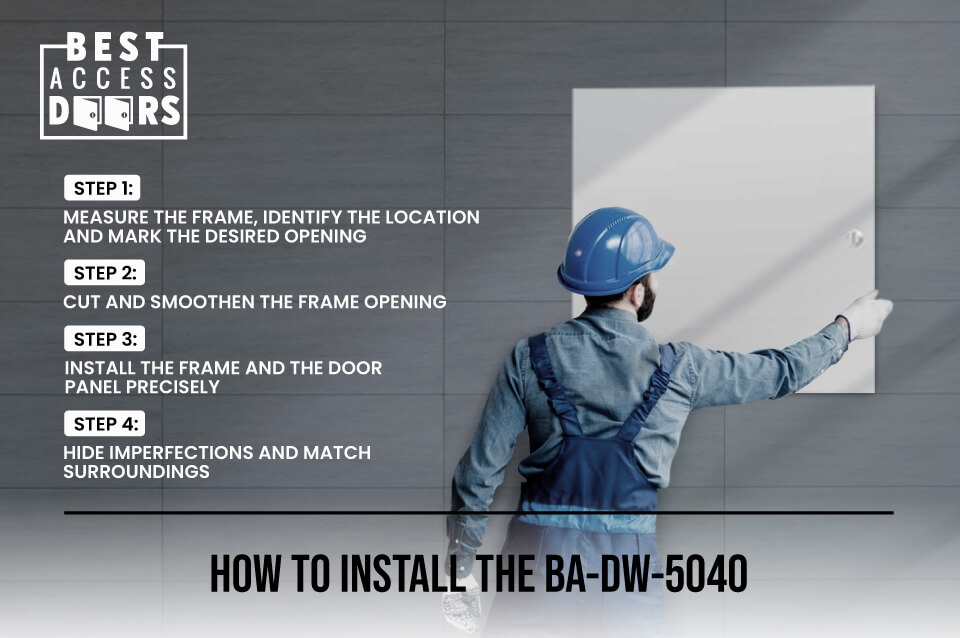 As long as you have the right tools, the BA-DW-5040's application procedure is surprisingly easy. Here's what you need:
Pencil or Marker
L square
Drywall saw
Rotary cut-out kit
Paintbrush
Sandpaper
Electric Screwdriver
STEP 1: Measure the frame, identify the location and mark the desired opening
Measuring the door frame is one of the first things you need to do when installing BA-DW-5040. Once you take note of its height and width, you can take out your pencil or any marking tools to help you draw out the access doors' entry point. Prepare your L square as well, as it will aid you greatly in creating a perfect line following the suggested opening measurement.
Remember to draw your opening 3/8 inches larger than the door size. At the same time, you must keep a minimum clearance of 1/2 inch from each surrounding stud. Accurate measurement and marking are significant in creating an impressive panel square opening.
STEP 2: Cut and smoothen the frame opening
You must follow the traced line and carefully trim the excess drywall with a drywall saw or a rotary cut-out kit and set it aside. Afterward, you can sand the uneven edges using sandpaper to ensure everything else is smooth and neatly fits.
STEP 3: Install the frame and the door panel precisely
Before you proceed with the installation, you must double-check that the door frame and panel's accurate measurement fits first, ensuring no awkward gap or similar issues. Once all's well, you can attach the bracket behind the drywall wall or ceiling opening and pull it firmly back.
Remember to position the concealed pin hinge area on the top-left corner of the entry point. Bring out the self-tapping screws included in your purchase and utilize an electric screwdriver, if available, for a more seamless application.
Drive the screws through the drywall into the frame every four inches to securely attach the panel afterward. Optionally, you can also cover the screw ends with caps.
STEP 4: Hide imperfections and match surroundings
After installation, it's now time to make the flush access door visually appealing to every visitor's eyes. Get a drywall compound, apply it directly around the perimeter, and wait for it to dry.
Once dry, it would help if you sand smooth every nook and cranny and coat its ready-to-paint door leaf to match the color of its environment.
The BA-DW-5040 is a robust panel companion for every commercial project as it answers various construction concerns - from durability, security, and aesthetics. Ensure neat and safe storage for your critical building components.
Only the BEST from Best Access Doors!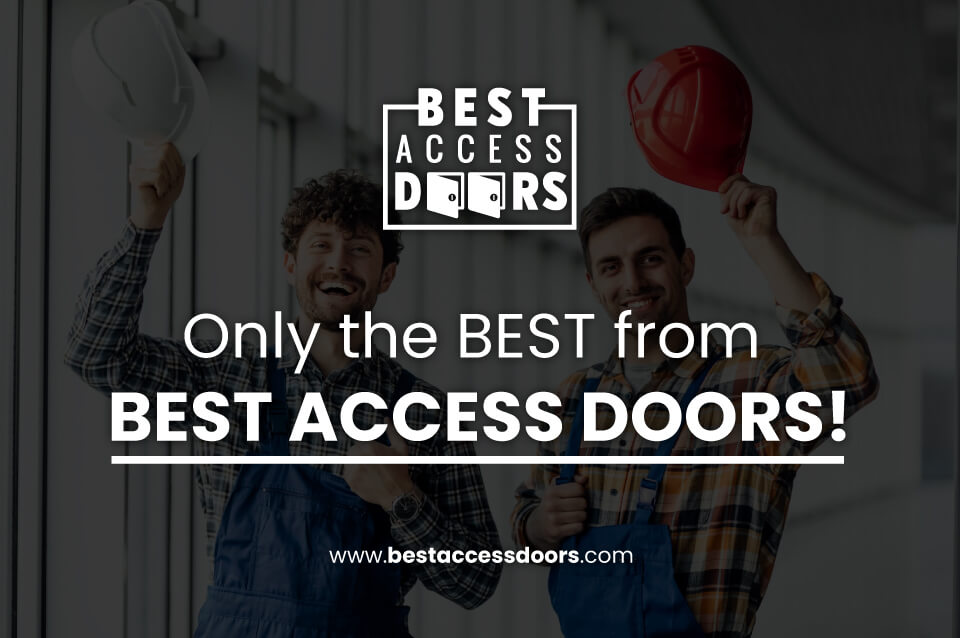 Best Access Doors is your most trusted store of flush drywall access doors and panels. Hurry up, browse through our vast panel catalog, and immediately add your access necessities to your cart! Don't let your commercial buildings miss out on this panel's impeccable features and grab yours now! Contact 800-483-0823 to order or request a personalized quote.
Share our story - get our 2023 Catalog for FREE!