Posted by Best Access Doors on 4th Aug 2022
Access panels are a standard feature in office buildings, retail stores, and warehouses designed to protect delicate components while providing convenient access for maintenance and repairs. In more formal settings, you may need more than practicality and function. You might need an access door that is aesthetically pleasing and can blend with your decor.
Invisa Hatch™ is ideal for high-profile locations, including hotels, high-end condominiums, formal dining rooms, lounges, and upscale establishments. Once installed, the door blends seamlessly for a virtually invisible finish!
Why Choose Invisa Hatch™?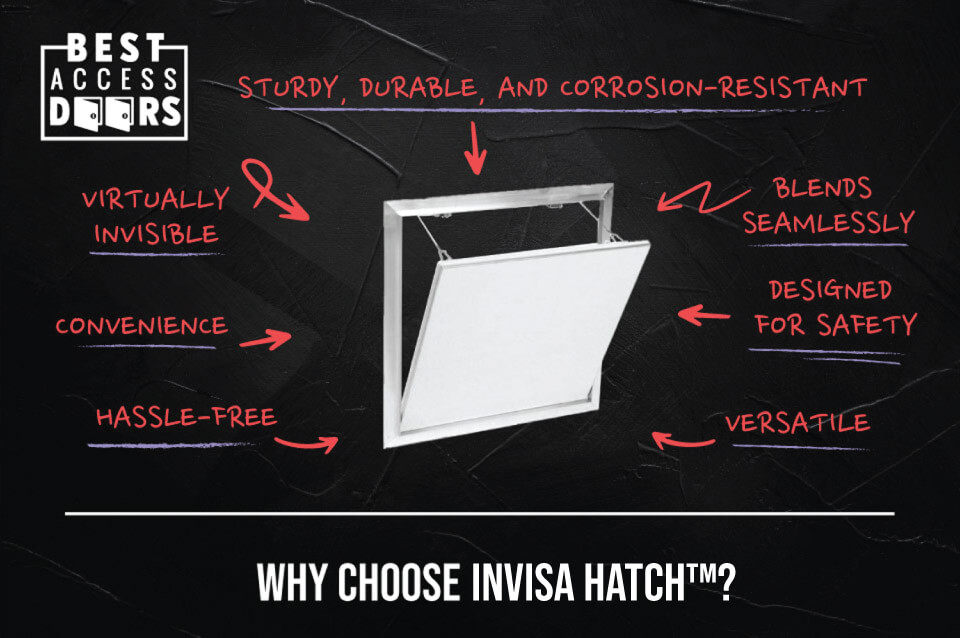 Invisa Hatch™ is our latest solution for upscale interiors where architects, designers, and building owners desire the concealment of required access doors. Hardware sits behind the drywall inlay; once installed, the door blends seamlessly into the drywall. This door is completely removable and provides unobstructed access to non-rated walls.
Versatility: Invisa Hatch™ is suitable for flush installation on all non-rated walls and ceilings. Even where space is limited, the detachable hatch pops off when you apply pressure to the touch latches, eliminating the need for space to open on a hinge.
Blends Seamlessly: Invisa Hatch™ is recessed to receive drywall in your choice of two thicknesses designed to match the drywall surface on which the door mounts. Once installed, paint the surface to match!
Sturdy, Durable, and Corrosion-Resistant: This door is made from high-grade aluminum and welded together using a one-of-a-kind procedure that joins the outer and inner frames. It is an excellent investment because it won't corrode or fade over time.
Designed for Safety: For sizes over 12" x 12", Invisa Hatch™ has a safety mechanism and a detachable non-snag cable to prevent accidental opening. If you take the hatch off, remember to reattach the safety system.
Virtually Invisible: Once installed and finished, Invisa Hatch™ is practically invisible as the concealed frame, latch, and hinges only reveal 1/16″ (1.59mm) between the frame and the access door.
Convenience: Accurately measured for quick-and-easy installation on non-rated walls.
Hassle-Free: Provides easy access for hassle-free maintenance and protects building components.
Review the specification sheet for Invisa Hatch™ to take a closer look!
Invisa Hatch™ comes in a full range of sizes, or ask for a custom fit for your exact measurements.
Installation typically takes about thirty minutes or less. Follow these handy instructions to make the job even easier! Proper installation will ensure product performance. Regular maintenance will keep it operating safely and reduce the need for repair or replacement. Review the benefits of proper access panel installation for more great suggestions.
Ready To Order?
Invisa Hatch™ checks all the boxes:
Superior engineering and innovative design
Quick and easy installation
Removable
Safety system
Ready-to-paint
Flush installation
Invisa Hatch™ is a great door to stock up on - it works in many upscale settings and provides a clean final finish. Ask about possible discounts on bulk orders!
Get your project started by calling 1-800-483-0843, or you can create a custom quote request, and you'll hear back in 30 minutes! It's as easy as that!
Share our story - get our 2023 Catalog for FREE!