Posted by Best Access Doors on 9th Aug 2021
Is your website geared toward commercial builders, contractors, and renovators? Then our drop ship program may be a great fit! Best Access Doors is happy to provide you with high-end services and products backed by years of experience. We offer a large selection, a wide range of sizes, and custom configurations as one of North America's best brands for access doors, roof hatches, wall, ceiling, and floor panels.
Getting Started Is Easy!
Wait for your application approval.
Start right away once your application gets accepted.
What is Drop Shipping?
The Short Version:
In basic terms, drop shipping lets you sell our products on your website without having to keep an actual product physically in your inventory. We work hard to get things from our warehouse to your clients as quickly as possible.
The Long Version:
Drop shipping is a type of retail operation in which a seller accepts client orders but does not have the actual products in stock. Instead, it passes the requests and along with the shipment data to the manufacturer, another retailer, a wholesaler, or a fulfillment house, which then ships the goods directly to the client as part of supply chain management.
What it Does for You
* Boosts your average order value
* Expands your inventory and product catalog
* Reduces the cost of additional storage space
Wait, There's More!!!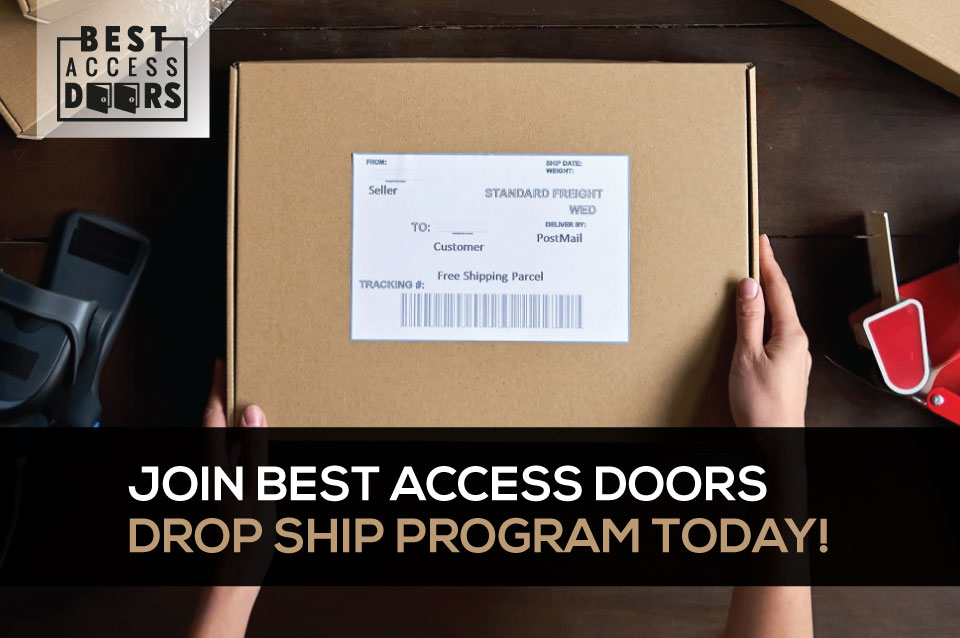 Improve Your Average Order Value (AOV)
Upsell and cross-sell associated access door items from the numerous categories we offer to enhance consumer spending through focused product recommendations.
Team Up with Your Favorite Access Door Manufacturers
Sharing the access door brands you love with your clients has never been easier. You'll have complete control over your store, allowing you to generate new and growing revenue opportunities!
We Will Handle Inventory and Fulfillment for You!
You may benefit from the advantages of a drop shipping arrangement without the risk or expense of a long-term commitment. Production, inventory management, bulk buying, and shipping access door items are all taken care of for you.
What Your Customer Gets From It
Your consumers will be able to choose from a more extensive selection of materials, sizes, products, and designs that they will surely enjoy.
The Guidelines for the Program
* Our drop shipping program is open to North American vendors. During this time, there is no way to accept international drop ship orders.
* You must have an established website with a target market similar to Best.com to become a drop shipper.
* As a drop shipper, you'll promote Best Access Doors items on your website, collect orders, and send them to us.
* Best Access Doors will then complete the order and dispatch it to your customer directly.
* You will have the responsibility of billing your clients as a drop shipper.
* You will receive a bill that includes the retail price plus the delivery fee, minus the drop ship discount.
* Customers of the drop shipper must be from North America.
How Does it Work?
1. Your customer goes to your website, orders something, and pays you.
2. You place the identical order with us and earn from it.
3. We drop ship the goods to your customers without the customer realizing it.
The Guidelines for the Program
Step 1: Choose the products you'd want to purchase on your customer's behalf from our catalog.
Step 2: Fill in the details for your customer, including their mailing address.
Step 3: When there's a confirmation for payment, we will promptly ship your products to your customer!
Product Images and Descriptions
We ask that you base your product descriptions on the information in ours. To avoid search engines (Google, Bing, etc.) penalizing your site, please do not copy and paste.
You are welcome to utilize our website's product photos and spec files.
Join Our Drop Ship Program Today!
To apply for membership, call 1-800-483-0823, and one of our Product Experts will be more than happy to assist you.
We'll notify you as soon as your account is ready after you've applied.
Then it's time to get started!

Share our story - get our 2022 Catalog for FREE!