Posted by Best Access Doors on 14th Sep 2022
Want to know the key difference between a BA-BP-58 access door from a BA-BP-II-58 access door to make a more informed choice? While they may look the same at first glance, there are significant differences between the two that make them more suitable for different construction applications. Both doors offer a near-invisible finish. Take a deep dive to discover the main feature that could make the difference in your choice:
The BA-BP-58 Access Door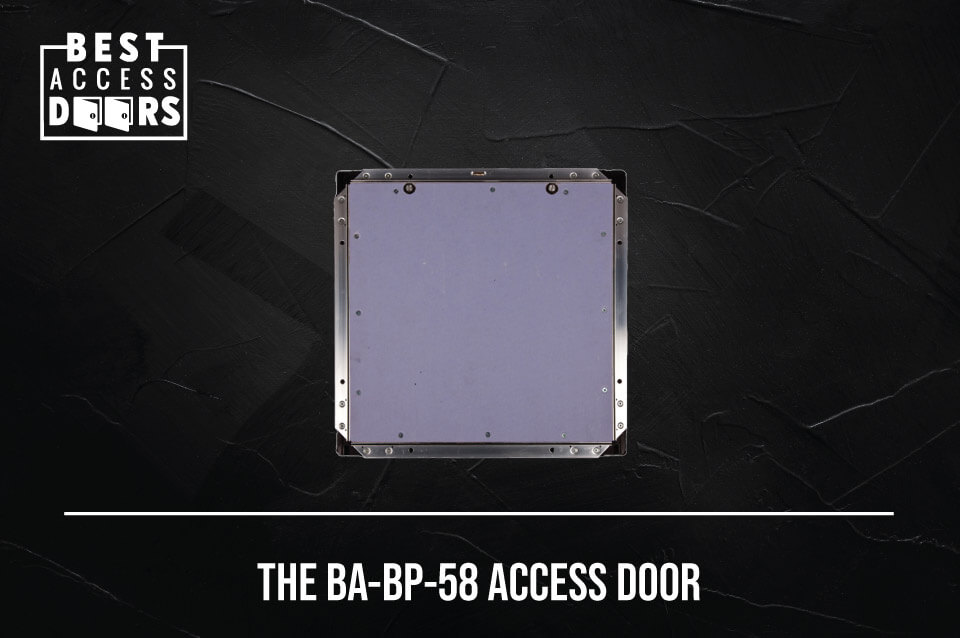 The first of its kind, BA-BP-58, is functional and aesthetically pleasing with a removable door panel. This access door blends perfectly with the existing surface with a concealed hinge and ½" drywall layer. It features sturdy and durable recessed aluminum extrusion and a unique concealed non-corroding two-point pin hinge, which you have the option of removing.
Latch options include:
Screwdriver-operated cam latch
Torx head cam latch
Cylinder style lock and key
Touch latch (concealed)
Check out our BA-BP-58 Access Door for a reliable solution in your commercial building!
Key Benefits of BA-BP-58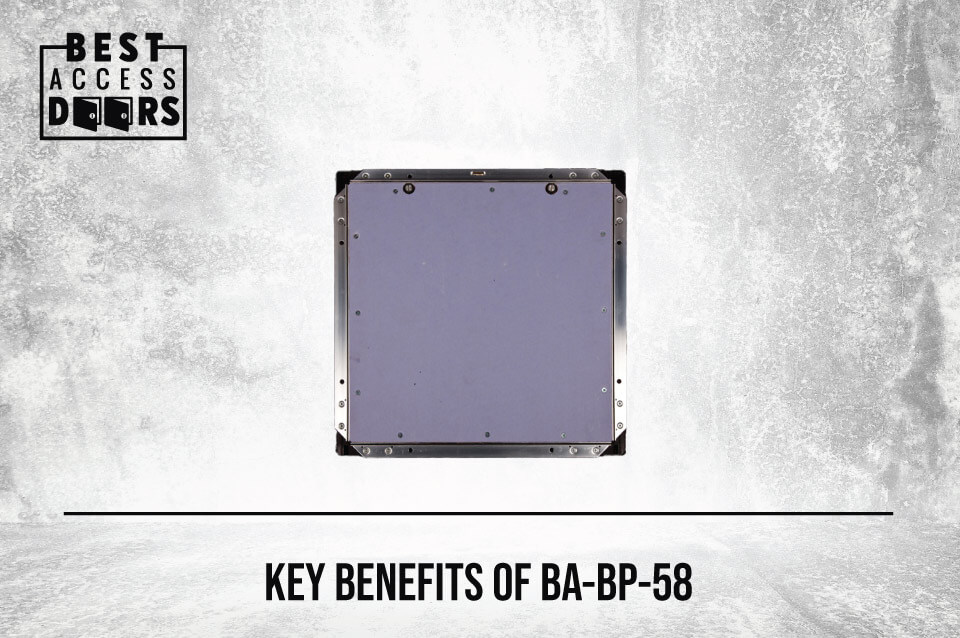 Easy Installation
Available in standard and customized sizes, BA-BP-58 is favored by construction trades because it's so quick and easy to install.
Durability
Like most of our doors, BA-BP-58 is known for its durability. Despite the seamless finish and the easy installation, this type of access door is resistant to moisture, corrosion, and mold.
Functionality
While this access door is ideal for wall installations, it also works on ceilings. It is best suited to applications requiring hinges. The concealed hinge is removable where maximum door clearance is needed. It comes in varied sizes and latches according to your needs.
The BA-BP-II-58 Access Door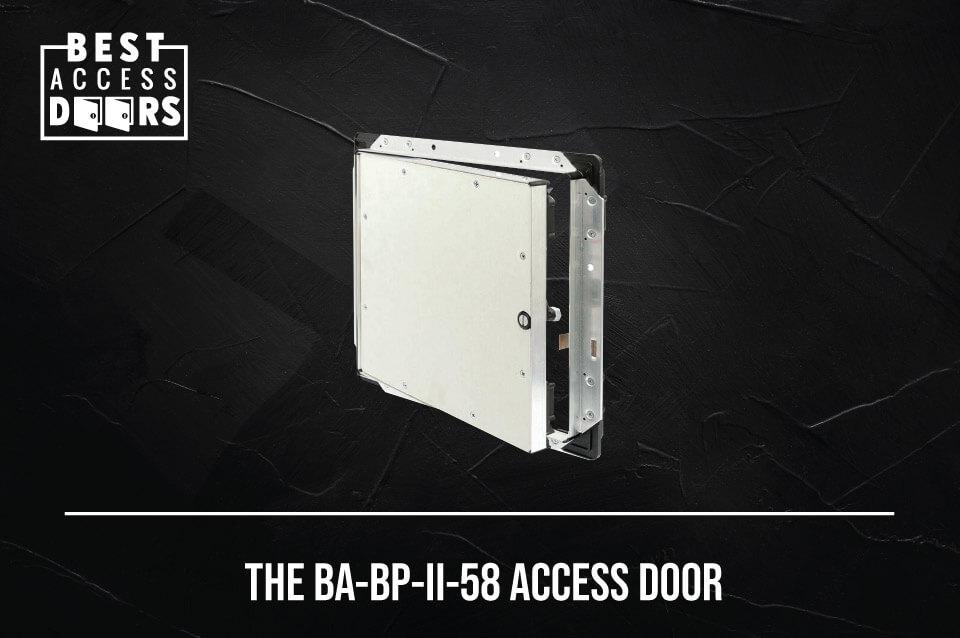 Like its predecessor, the BA-BP-II-58 is also known for its invisible finish. But while the BA-BP-58 is ideal for walls requiring hinges, the BA-BP-II-58 is suitable for all types of walls and ceilings, including drywall, plasterboard, wallboard, gypsum board, sheetrock, or even gyprock.
Known to be innovative and economical, having a BA-BP-II-58 access door installed offers guaranteed acoustic integrity bought to it by its continuous perimeter gasket; it is also moisture resistant. Its perimeter gasket ensures that the door is air and smoke tight. (Not fire-rated).
Also made of recessed aluminum extrusion, the BA-BP-II-58 Access Door comes with a frame that acts as a finishing edge. Its doors have safety cables to ensure security and a standard concealed touch latch. You can choose different latches:
Cam Latch
Tamper-resistant cam latch
Key lock
Key Benefits of BA-BP-II-58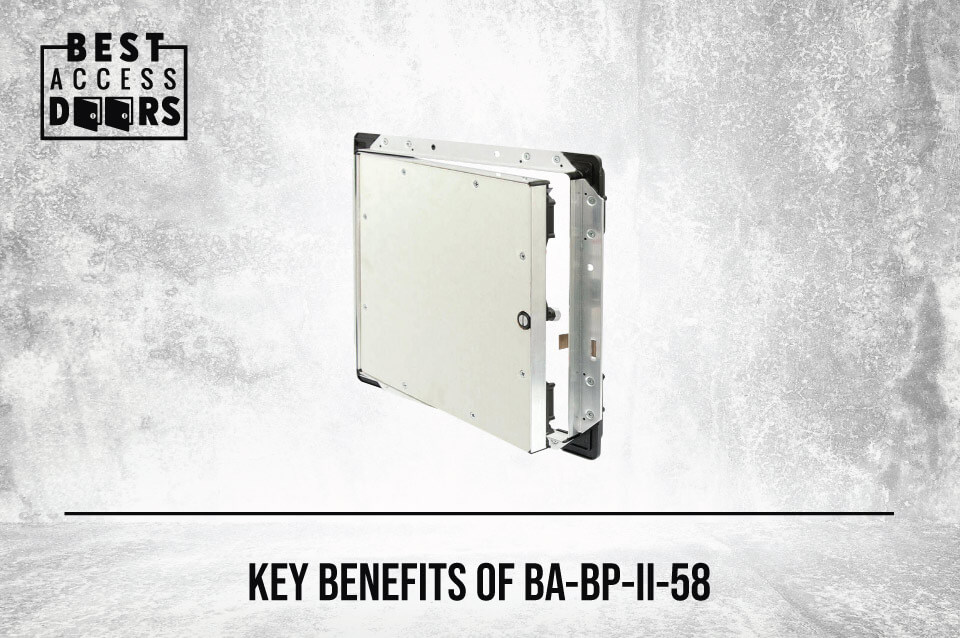 Acoustic Integrity
Soundproofing with the use of gypsum is a very well-known innovation in the construction trade. Depending on the thickness of the gypsum wallboard (GWB), BA-BP-II-58 provides acoustic integrity, preventing sound transmission through the frame.
Adaptability
The BA-BP-II-58 virtually invisible panel is also known for its adaptability. Install on all kinds of walls and ceilings with different surfaces like drywall, plasterboard, and wallboard. The door comes with safety cables for maximum security. You can opt for a free pivoting hinge or simply remove the door.
Seamless Finish
Just like its predecessor, this access door is nearly invisible when installed. You can add surface treatments to match the surroundings.
Choosing an access door doesn't have to be complicated; with the proper comparisons and knowing your needs, you will find one that is perfect for you. For a more straightforward comparison between the BA-BP-58 and the BA-BP-II-58, review the table below and choose. While both offer countless benefits, you should choose the one that most closely meets all your needs.
BA-BP-58

BA-BP-II-58

Application

Ideal for walls (can be used on ceilings)
Preferably surfaces that need hinges
Designed for drywall

Perfect for walls and ceilings
Designed for drywall, plasterboard, wallboard, gypsum board, sheetrock, or gyprock

Door

⅝" drywall inserted into door panel
½" also available

Moisture resistant GWB inlay
Lift-out doors with safety cables

Frame

Recessed aluminum extrusion with an edge comparable to drywall bead.

Recessed aluminum extrusion
Frame acts as finishing edge- 1/16" (2mm) gap between frame and door

Hinge

Unique concealed non-corroding two-point pin hinge

Free pivoting hinge
Door can be removed for maximum clearance

Material

Strong concealed aluminum extruded frame and hardware

Finish

Mill finish
Can match the surrounding drywall surface

Apply your choice of surface treatments to the door

Latch

Screwdriver operated cam latch
(Optional): Tamper-resistant Torx head cam latch, cylinder lock, and key, concealed touch latch

Concealed touch latch
(Optional): Cam latch, tamper-resistant cam latch, keyed lock

Additional Features

Functionality and aesthetically pleasing
Easy installation

Perimeter gasket (air & smoke tight)
Acoustic integrity with its continuous perimeter gasket
Place Your Order!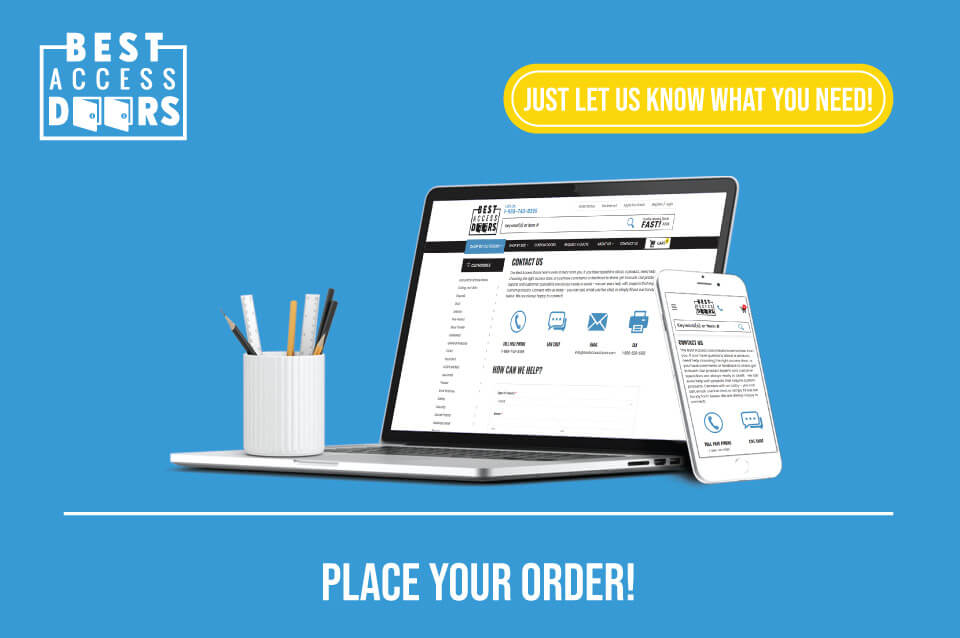 The BA-BP-II-58 provides additional features and benefits compared to its predecessor, which makes it ideal for new construction, repairs, and industrial, commercial, and residential projects. The BA-BP-58 is a great choice where the added features of BA-BP-II-58 are not required.
Call us at 1-800-483-0823 if you have more questions or want to place your order. Remember, both doors can be customized - just let us know what you need!
Share our story - get our 2022 Catalog for FREE!