Posted by Best Access Doors on 24th May 2023
If you're an RV enthusiast, you already know how essential regular scheduled maintenance is to the lifespan of your motorhome. According to some estimates, scheduled maintenance and repair by qualified and licensed technicians can mean a difference of up to 100,000 miles! 
Finding a reliable, highly trained RV service and repair technician to keep your camper in working order is a worthwhile investment. Installing the right RV access panel can speed up the process, reduce costs, and make the job much easier.
With these points in mind, we are excited to share details about our #1 recommended RV access door for RV service and repair technicians:
Meet Your Best PAL!
BA-PAL is our #1 best-selling RV access panel for good reason! It provides a premium access point for RV maintenance and repairs. Comprised of lightweight aluminum, this RV access panel is corrosion-resistant and ideal for repair technicians working out of a truck, making emergency house calls, or in the shop. First and foremost, this model is always in stock and easy to order. It is so economical, some professionals like to stock this access door in the shop warehouse. It's also lightweight enough to bring it along on service calls. 
A Versatile Solution for RVs
Typically, RV maintenance includes checking hoses, belts, brakes, and tires, testing the propane system, and checking for signs of deterioration, corrosion, and rust. It may also involve checking wiring, plumbing, and HVAC systems. An RV access panel like BA-PAL provides convenient access for your technician to check each component while concealing these systems from view (which also helps to prevent tampering). You can also opt for specialized locks so only the keyholder can open the panel, limiting access to those you trust. If you're away from the campground and need to call for service or repair, a mobile RV service technician can also perform their tasks through the access panel without you being onsite. 
Easy to Transport
Mobile RV service technicians working out of their trucks can also install access panels for their customers. Having lightweight, multipurpose, economical access panels on hand means fewer trips back to the shop, saving time and travel costs.
Easy to Install
BA-PAL Insulated Aluminum Access Door is also easy to install! Our favorite RV access door offers a streamlined installation process – With a 1" exposed flange and 2 1/2" frame, BA-PAL is easier to fit and install, so you can spend less time on installations and more on maintenance.
Regarding security, BA-PAL comes with a standard key-operated cylinder and cam-latch. Three optional locking mechanisms include:
A screwdriver-operated cylinder cam latch
Mortise slam latch preparation (cylinder optional)
Handle-operated cam latch 
For more technical details, check out the spec sheet, or watch it in action!
Easy to Operate
BA-PAL's Insulated Aluminum Access Door continuous piano hinge makes it easy to operate with smooth opening and closing; it's highly durable and can stand up to frequent use. BA-PAL provides streamlined access to electrical utilities while concealing circuit breakers, fuses, wiring, or other electrical components. Whether you are performing routine repairs on camper trailers and fifth wheels or looking for ways to cover components, BA-PAL is an excellent RV access panel! 
Use It Inside and Out
You can install this door on the exterior of a motorhome – it features durable construction and a weathertight design to hold up against rainfall. BA-PAL has 1" thick fiberglass wool insulation enhanced by a neoprene strip gasket for improved energy efficiency!
Along with giving you access for exterior maintenance and repairs, BA-PAL's universal design makes it just as versatile for interior installation. Use it to protect internal components from moisture, water, dust, and debris and prevents sound transfer between partitions. It also gives you access to plumbing fixtures inside the trailer since it's moisture resistant. 
Many customers ask for RV storage solutions - BA-PAL is a great way to add extra storage space behind walls using available space that's otherwise inaccessible. 
We'll Get You on Your Way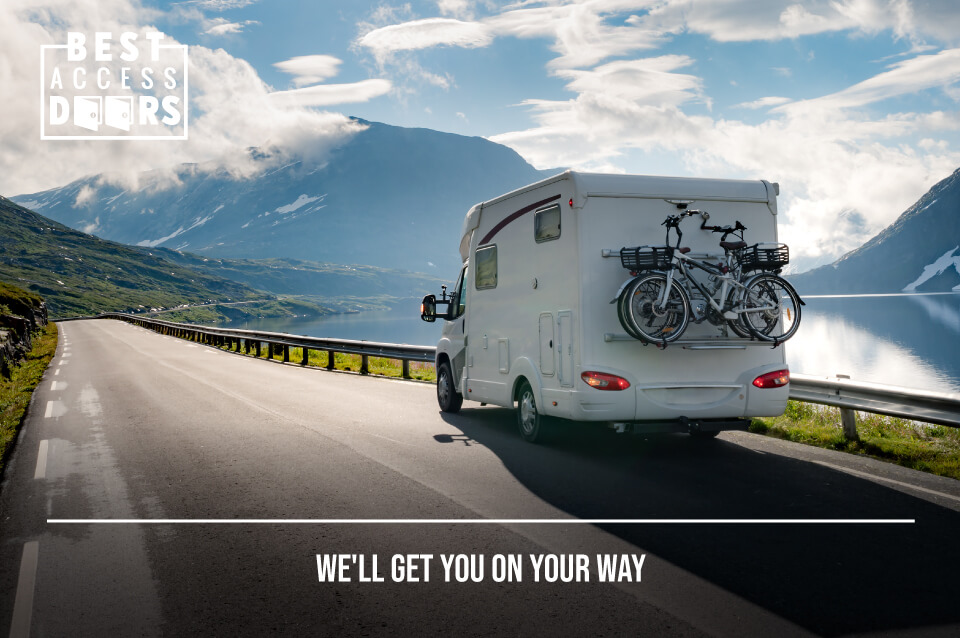 We recommend BA-PAL Insulated Aluminum Access Door as our #1 RV access panel solution for many reasons. Of course, other RV access panel options exist, some explicitly designed for exteriors or constructed from plastic, but we prefer BA-PAL because it works just about anywhere! With a versatile, universal design, aluminum structures that resist corrosion and oxidization, flush-to-frame profile, economical price, and professional finish, BA-PAL is the right access panel solution for RV service and repair technicians!
If you have questions, reach out to our product experts at 1-800-483-0823. We'll help you find the right size, explain custom options, and get you on your way!
Share our story - get our 2023 Catalog for FREE!