Posted by Best Access Doors on 10th May 2023
Recreational vehicles, more commonly known as RVs, are widely popular, especially among North American campers. To enjoy a comfortable, personalized, and smooth-sailing trip, many RV service and repair technicians find equipping RVs with the right access panels as one of the critical factors. In this blog post, you'll discover the significance of RV access doors, some product recommendations, and a detailed installation guide to help you install panels much more accessible.
Five essential benefits of RV access doors
1. Boosts comfort and convenience
Recreational vehicles often grant you additional compartments, baggage spaces, and storage areas within the trailer. This way, you can comfortably organize your necessities and other kinds of stuff to avoid clutters.
Moreover, it also makes storing and retrieving much easier, as owners don't have to roam around their camper truck to find a specific item they need. With an orderly RV, owners can have a quality and relaxing trip.
2. Ensures safety and security
As campers stroll around different places, it's critical to heavily design their RVs with safety and security features that can discourage forced and unwarranted entries by unauthorized personnel. The RV access panels can providethe security level to satisfy the owners and make them feel at ease.
The most recommended RV doors by RV service and repair technicians focusing on security purposes are our BA-PAL lightweight insulated access door, which provides a standard cylinder lock and key.
Furthermore, it offers three other locking mechanism options to increase security around your recreational vehicle— screwdriver-operated cylinder cam latch, mortise slam latch preparation (cylinder optional), and handle-operated cam latch. Check out its product specifications to learn more about its impressive features.
3. Additionally contributes to RVs strength and durability
When exploring different locations, it is highly likely that campers who own RVs will come across the most challenging weather conditions. Therefore, it is essential for RV owners to equip their trailers with durable access panels manufactured by reputable RV manufacturers, ensuring they can withstand intense heat, rain, snow, wind, and other severe weather changes.
The RV service and repair technicians' most favored companion to fight these concerns is our BA-PA-3000 which features a high-impact styrene plastic with UV stabilizers, preventing moisture from penetrating your camper van and enhancing its life span. To learn more about the specific product, email us at info@bestaccessdoors.com, and one of our customer sales representatives will get back to you.
4. Make the trailer energy-efficient
Poor sealing around your fifth-wheel trucks can cause air leaks and lead to high energy consumption. As campers, good energy management is critical so campers will have enough energy to use along the way.
Thus, RV access panels have a significant role in concealing the opening holes and entry points to avoid substantial energy costs. Our BA-MX is sealing and weatherproofing popular RV panels to use by RV service and repair professionals.
Its double-seal design guarantees tight-fit concealing that can hamper water penetration and air leakage. Thanks to its textured finish, the BA-MX's door leaf is scratch-resistant and can stand firm in long hours of UV rays exposure. Add one to your cart now before our stocks last! Remember to review our shipping terms before proceeding with the purchase.
5. Effortless usage and maintenance
What's great with our RV access doors is that they are all easy to operate. Campers can naturally open them just like how they open a traditional door. Some door leaves are entirely removable, so technicians can freely move around and do the necessary task. With proper maintenance and prompt repairs, owners enhance the functionality of their camper vans and increase their long-lasting value.
Now that you're familiar with the advantages of RV panels to fifth-wheel vehicles. We can now proceed to discuss the installation tutorial. Make sure you fully understand the initial step before continuing to the next, and you need to be crafty and meticulous, as one mistake can lead to disaster.
Step 1: Prepare the following tools
Caulk or Sealant
Cutting tool or saw
Gloves and safety glasses
Level
Measuring tape
Screwdriver or drill
Step 2: Identify the access door locations
Before you cut out or install anything, you must look at your camping truck and determine the areas that require access panels. In RVs, you will often have to place it in baggage spaces, compartments, or storage areas, where you can store camping necessities.
Step 3: Purchase the most-fitting access panel
When picking among a wide range of RV access door options, you should consider these factors, and the panel that addresses many of your concerns is the best for your area.
Installation purposes
Functions and features
Standard and customization sizes offered
Model shape
Product price
Specific area requirements
We at Best Access Doors gladly accept custom-size order requests, just provide us all essential dimension details, and we'll have the custom-made door delivered to your place.
Step 4: Create the opening
You must first measure the vital door frame and leaf dimensions to create an opening. Once all are ready, you can bring out your saw or cutting tool to make the opening. Strictly follow the access door manufacturer's instructions to avoid mistakes and inaccuracy.
Step 5: Access door installation
After successfully creating the opening, you can install the RV access panel you bought. Lay down all the screws, bolts, and other door components needed to attach the door frame and follow the installation guide carefully on which tool to insert.
Step 6: Operation test
Once you've ensured that everything's in place, the last thing you have to do is test all of its functions and see if they're correctly working as stated. Close and open the door to see if it moves swiftly and closes tightly. Look out for any leakage or gap, especially at the edge, and apply appropriate adjustments if needed.
If these processes overwhelm you, be bold and call for professional RV technician help. For any product defect concerns, feel free to read our returns policy so you can plan your actions efficiently.
Entrust Best Access Doors for all your access panel necessities!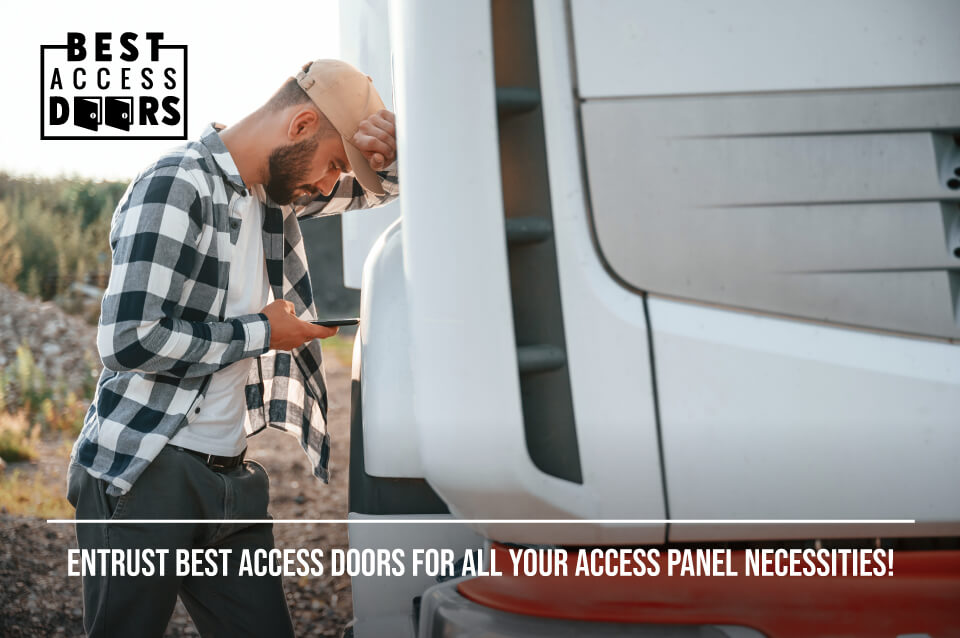 Explore our best sellers page to discover our most sought-after access panel products. We guarantee to provide the best functionalities, durability, and aesthetic features in the industry, significantly contributing to the establishment's long-term value. Call us at 800-483-0823 to inquire about a specific product or request a personalized quote when ordering in bulk. We'll happily assist you anytime!
Share our story - get our 2023 Catalog for FREE!