Posted by Best Access Doors on 20th Jul 2022
Fiberglass is a robust and resilient material used to strengthen other building materials and as insulation in commercial structures. Many Best Access Doors products have fiberglass insulation, but before we get into that, let's look at what fiberglass is and discover why it's so popular.
What is Fiberglass?
Fiberglass consists of spun molten glass coated with a liquid binder. As the glass fibers cool, they drop into a tangled jumble on a moving conveyor belt into curing ovens.
After completing the process, the machines chop the batts to the correct length and width. If the finished product is loose fill, no binding agent is required.
Fiberglass-reinforced plastic, known in the industry as glass fiber reinforced plastic (GFRP) or glass-reinforced plastic (GRP), can be flattened into a sheet, distributed randomly, or woven into a piece of fabric.
Many products, like the GFRG access door series, rely on the unique qualities of fiberglass because it is lightweight and moldable to many shapes, depending on the specifications.
Fiberglass acts as an insulator in construction, slowing the transfer of sound, cold, and heat by trapping air pockets, which keep spaces cool in the summer and warm in the winter. By managing the air entering and leaving, the temperature stays comfortable.
Fiberglass restricts airflow but does not eliminate it. When used for insulation, it provides a layer of protection against harsh and changing conditions.
Fiberglass Insulated Access Doors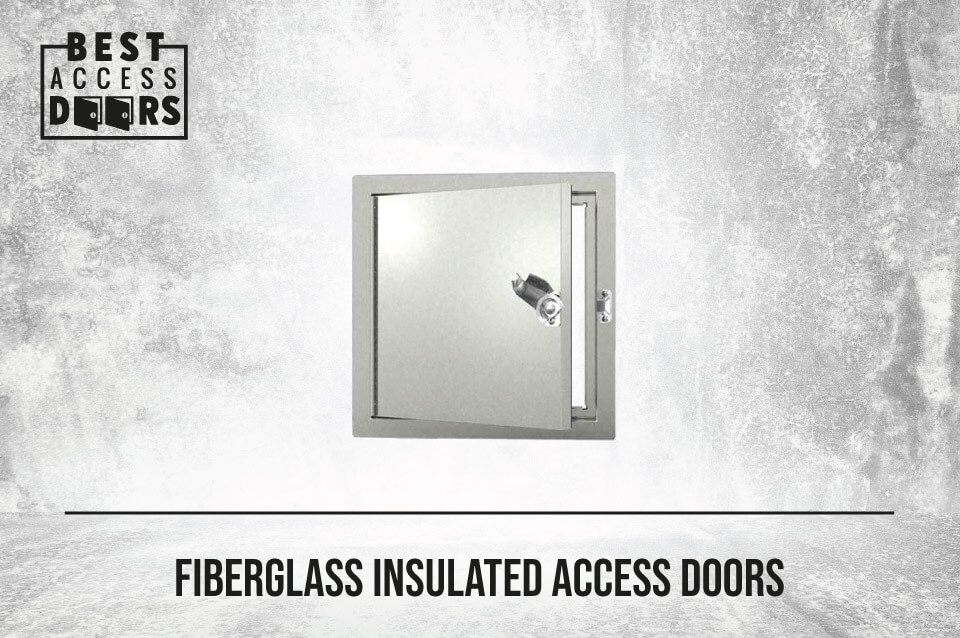 The most typical type of insulation utilized for access doors is batt insulation. The materials used for batt insulation can either be fiberglass or mineral wool (also called rock wool). Manufacturers used to make batt insulation in rolls, but they now do it in precut sizes to meet industry standards.
Contractors utilized batt insulation in almost any kind of insulation project. Ceilings, attics, floors, and walls can all benefit from batt insulation. It also applies to various construction products like access doors because it gives them insulating properties that prevent the external conditions from affecting the internal components.
Benefits of Installing a Fiberglass-Insulated Access Door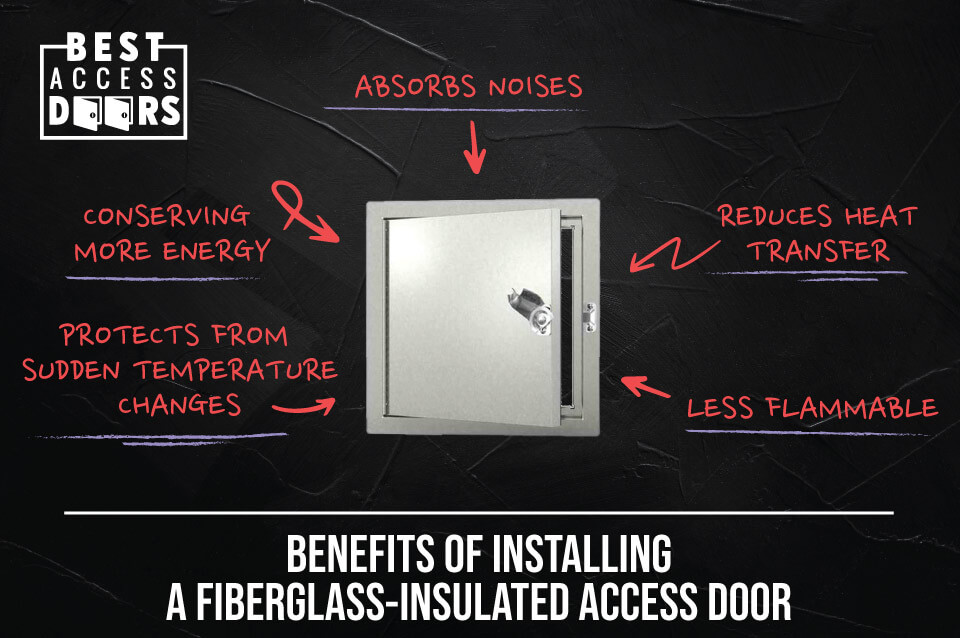 Fiberglass insulation protects from sudden temperature changes. A fiberglass-insulated access doorconceals building components behind walls and ceilings to keep extreme temperature drops from compromising electrical systems, meters, and gauges that can't withstand extreme temperatures. It also prevents moisture from accumulating to further protect sensitive elements behind the door.
Fiberglass is less flammable than many other types of insulation as it's composed of sand and recycled glass, but remember, it can melt, and paper and foil backings are flammable.
Fiberglass insulation reduces heat transfer, conserving more energy. Insulated roofs need an insulated access door to maximize energy efficiency (leaving no gaps for compromise).
Fiberglass absorbs noises. Its fluffy characteristic enables it to absorb noises better, making it an excellent choice for music studios.
Order Our Fiberglass Insulated Access Panel Today!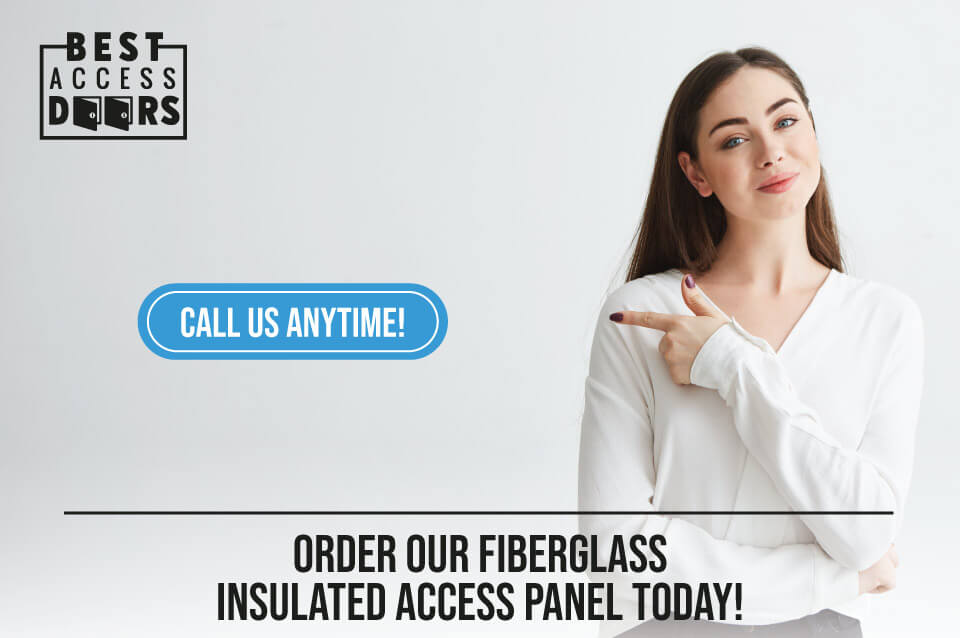 Fiberglass is a widespread material for insulation widely used in commercial construction. BA-PAL is our fiberglass-insulated aluminum access door - it's lightweight, corrosion-resistant, and comes with 1" fiberglass insulation and neoprene gasket ideal to reduce sound and air transfers between partitions. The robust all aluminum construction allows its use in large wall or ceiling openings where corrosion and moisture are a concern.
To answer your questions about fiberglass insulation or to find out more about BA-PAL, call our team at (800) 483-0823. We're happy to help!
Share our story - get our 2022 Catalog for FREE!