Posted by Best Access Doors on 22nd Feb 2023
A Japanese construction technology company has recently promoted and advocated a modern standard to break through old and conventional construction practices called the Construction Revolution. As ambitious as it can sound, these current structure approaches focus on two main objectives: form new construction culture with minimal environmental effect and ensure property and society's safety.
Hence, the experts in this construction tech company have developed five principles of construction that are essential for professionals, especially general contractors—who oversee and run the entire project—to familiarize themselves with and apply to the next building or infrastructure work they're planning to work on.
The Five Construction Principles
1. Environmental Protection
Following the presented modern construction practice's environmental objectives, one cultivated principle concentrates on protecting the environment against the harsh impacts that a structure project can cause. The contractors are responsible for ensuring their construction's minimal effect on the environment. In line with this, here are some ways to make the project environmental-friendly:
Cut down fuel consumption: Transporting building materials back and forth and heavy machinery usage inside the construction site requires tons of fuel. As many know, fossil fuel burning is one of the damaging causes of climate change. Hence, whether small or big, contractors must badly consider a reduction. One way to do it is by opting to use gas-electric powered trucks. Nowadays, there are also electric vehicles that you optionally buy instead of diesel-driven and fume-belching machinery.
Design and build environmentally-conscious structures: Going green starts early in the design stage. If the client is eager to build a sustainable building, such as a modular home, the contractors' team can start presenting recycled or natural building material options that produce less CO2 at the planning stage. Considering the installation of energy-saving features, like solar panels and windows for natural light, is also thought of at this phase. Furthermore, adding intelligent appliances that help significantly reduce energy consumption in the building, including thermostats or HVAC systems, should be considered. Partnering these facilities with our HVAC access panels will help lessen energy usage further and boost the structure's lasting value.
Think of effective waste disposal methods: Based on the waste statistics reported by the Environmental Protection Agency (EPA), the construction and engineering field significantly shares 530 million tons of waste every year. Sadly, most of these are left piled up at the landfill. To help curtail these massive numbers, project contractors must learn to reuse and recycle certain waste materials, like concrete and steel.
Always opt for sustainable building materials: Sustainable-produced materials can make the entire structure eco-friendly. There are lots of environmentally efficient materials that you can utilize as an alternative to harmful ones:
Plastics
Aluminum
Steel
Glass
Concrete
Timber
Plaster
Fibreglass
Bamboo
Clay
We at Best Access Doors offer a wide variety of high-quality LEED-certified access doors and panels that can directly contribute to a project to achieve LEED certifications impressively. Check out our catalog's specifications to know the best-fitting panel for your construction work.
2. Safety
General contractors should equip the building team with the necessary gear and tools to guarantee the safety of their workers and the whole construction site. Contractors must make the proper wearing of Personal Protective Equipment (PPE) a strict safety measures rule, including the following:
Hard hats
Safety glasses
Hearing protection
Safety gloves
Safety boots
Reflective clothing
Moreover, when climbing on elevated locations, they should be protectively accompanied by ladders and safety rails to ensure safe task performance. Our experts have developed special ladders and safety rail and gate systems as builder's sturdy companions to access the highest point of the building project.
3. Speed
As much as possible, contractors should aim to finish the construction project on or before the stated deadline. To accomplish this, general contractors should ensure that the crew can complete tasks on time. However, certain circumstances will challenge contractors in meeting the deadline, but with professional preparation, they can surpass them beforehand. Some of the challenges you can anticipate are:
Material and supply issues: Getting the exact quantity of materials needed in the project as scheduled is honestly easier said than done, especially with statistics showing that about 25% of all incomplete construction projects are due to late material deliveries. Hence, contractors need to find the best supply or manufacturer partner to do last-mile delivery so a reliable supplier can rescue them and finish the task on time whenever the team's short of a specific material.
Poor risk management: Contractors should anticipate and plan as a construction project is a work surrounded with risks, such as:
Construction errors
Harsh weather conditions
Changes in client demands and expectations
4. Economy
Contractors have a budget to work on. Aside from materials and equipment quality, they need to consider the cost of every item they purchase. Get a good quality product at a low-cost price—this is the economic mentality of every contractor. To ensure that the team is constantly working within the budget, you must follow these tips:
Identify project scope: The first step in ensuring you'll work within the proposed budget is determining your project's range. This step will help you to calculate precise initial cost estimates, allowing you to adjust or remove elements that exceed the financial allocation.
Establish consistent cost reporting: The contractors' team should schedule regular cost reporting so everyone knows the current financial situation and avoids overspending. When presenting cost reports, take note of these sections specifically:
Site maintenance
Material orders
Subcontractors
Payroll
Find cost-efficient alternatives: If a material is on-demand these days, causing its price to surge, you should look for its cheaper but still highly functional option. For instance, if buying heavy machinery is too much for your budget, you should find a budget-friendly rental store that allows you to utilize the latest models available.
Best Access Doors is your best source for finding supreme quality and budget-friendly access doors and panels. Explore our 2023 Catalog to discover panel types that work on your project's budget. Have certain products in mind? Submit essential information and request a free quote. We can respond as quickly as 30 minutes!
5. Aesthetics
With the time spent planning, designing, and constructing, contractors should guarantee clients that the finished structure appears architecturally pleasing. Our aesthetic door with hidden flange is ideal for installation in establishments with a clean, elegant, and professional look that can blend seamlessly with its surroundings. What's catch is that it requires no mud and plaster, saving contractors from further labor costs.
Trust Best Access Doors With High-Quality Products!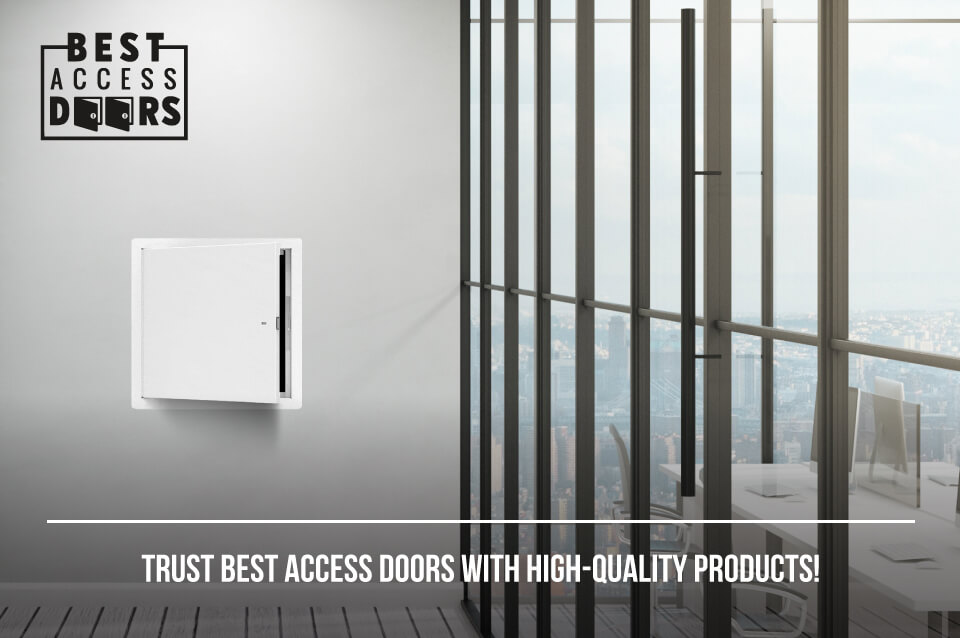 Visit and explore Best Access Doors for superior quality products matching your building facilities' needs and wants. We guarantee to give you the most sought-after functionalities and aesthetic features that can significantly contribute to your building's lasting value. Call us at 800-483-0823 to inquire about a specific product. We're always happy to help 24/7!
Share our story - get our 2023 Catalog for FREE!