Posted by Best Access Doors on 25th Jan 2023
Architects' role in every construction project often centralizes design and planning. They often work jointly with other construction professionals, such as civil engineers, professional landscapers, contractors, and many more, in building architecturally pleasing, at the same time, safe establishments. Visit the blog post about the architects' tasks during construction to learn more about architects' crucial roles.
Moreover, this development position mostly focuses on ensuring the structures' aesthetics, feel, look, and functionality. Hence, the Universal Access Panel (BA-UAP) from Best Access Doors are their most favored choice regarding access doors. Devote some of your time and read through this article, discerning some reasons behind the products' popularity among architect experts.
BA-UAP at a glance
Best Access Doors BA-UAP gets into the architecture industry's sweet spot primarily because of the state-of-the-art features it exhibits towards its plans and universal designs, such as:
16 gauge cold rolled steel material with a sturdy concealed pin hinge that can firmly prevent the sagging and warping -of the panels' door leaf. Optionally, you can exalt the material with stainless steel. Check out our BA-UAP-SS to learn more about the flush universal access panel's best features.
With a 1" flange and high-quality white powder coat, the access door can give off a neat and aesthetically-pleasing appearance.
It comes with a standard screwdriver-operated cam latch. For more locking mechanism options, you can freely upgrade to key operated cylinder cam latch, pinned or simple hex head cam latch, 4" handle-operated cam latch, or mortise preparation for the cylinder, improving the security of the BA-UAP panel.
This universal panel from Best Access Doors is available in various sizes to perfectly fit architects' universal design building standards. Read through this compilation article of the most uniquely designed structures in the world and take some inspiration. Give BA-UAP's complete specification sheet a visit if you're already in love with its surface-level features.
Need more convincing reasons to purchase? Hear out the universal access panels' best features!
Five robust functions of BA-UAP treasured by numerous professional architects
1. Versatility
Many construction experts, especially architects, love this universal access door for its multi-purpose powers. You can use BA-UAP on any commercial building area, from non-rated vertical to drywall-based horizontal facades or other wall and ceiling material types.
You can refer to our BA-UAP-DF Universal Access Door with Exposed Flange model number page to discover more feature information. Many recommend this BA-UAP access panel type specifically if you're targeting better insulation in your entire building.
2. Smartly built with durable elements
With the 16-gauge cold rolled steel surrounding the BA-UAP access panel and neatly hidden pin hinge, the changes of sagging are now much lower, and more importantly, it will require fewer locks, saving you from extra latch purchasing. Experts built Best Access Doors' UAP intelligently with users' installation ease in mind.
Hence, the panels can easily attach to your chosen establishment area. This universal access door will lay flush quietly into the surface, which passersby will hardly notice, preventing unauthorized or accidental opening. Find an architect or make your 3D animation to bring life to the architectural designs you have in mind to plan the best location for the BA-UAP carefully.
3. Practical
The BA-UAP is also architects' most economical choice, particularly for their large universal design architecture projects that need many access doors to install. Some commercial or industrial structures that utilize this panel type are airports, hotels, stadiums, and other spacious manufacturing facilities. Before proposing a construction design to a client, look into these outstanding architectural structures and get some ideas on making your building project exceptional.
4. Operate easily
Your purchase of Best Access Doors' BA-UAP comes with a key-operated cam latching mechanism system that you can easily install and operate on non-rated vertical and horizontal drywall-built surfaces without breaking a sweat.
If you're looking for access panels that guarantee your facilities' security alongside ease of use, look no further. Skim through our BA-UAP-PF's model number page and see its amazing set of functions that will make you instantly add the universal access panel with plaster flange into your cart.
5. Directly contributes to LEED certification
Installing BA-UAP in your building walls and ceilings can significantly increase your project's chance of achieving a LEED certification. Structural projects that meet or even exceed the standards for LEED certification ensure low maintenance of the establishment with less waste production, completely abiding by the environmental responsibility of companies.
As an architect expert, you should know every small and big detail that your construction plan must conform to. This way, you can ensure smooth-sailing development for everyone involved in the project. Jot down some helpful architectural task tips and make them work to your advantage.
Count on the architect's universal choice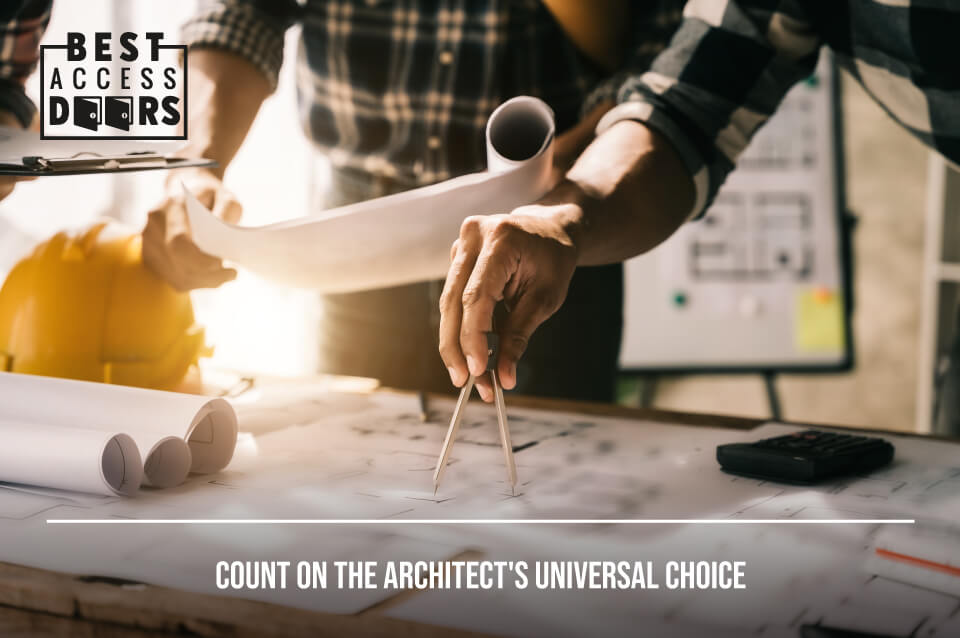 The Universal Access Panel (BA-UAP) from Best Access Doors are architects' best solution to address various building concerns—ease of use, versatility, durability, aesthetics, and LEED certification. It's an all-around utility in which you can confide your complete trust because of its high-quality performance, boosting your projects' lasting value.
Entrust your universal needs with us!
Best Access Doors are your best partner in finding the safest, easiest, most versatile, secure, and architecturally-pleasing universal access doors and panels to install on your commercial buildings.
Trust our products to give you the most sought-after features, ensuring first-rate service in your establishments. Reach us at 800-483-0823 for any query, or check our shipping terms before finalizing your cart. For any product concerns or issues, kindly review our Returns Policy.
Share our story - get our 2023 Catalog for FREE!