Posted by Best Access Doors on 28th Apr 2022
Protect your critical components installed behind walls and ceilings with the BA-PFI Fire-Rated Access Door. This new addition to your existing fire prevention system acts as a barrier to protect critical components from exposure to external elements and unauthorized access.
These doors are a crucial part of a commercial building's passive fire protection system as they help contain fire and smoke. These impressive features make the product an ideal component of your fire safety system. But the question remains - do fire-rated access doors STOP fires?
Understanding Fire-Rated Access Doors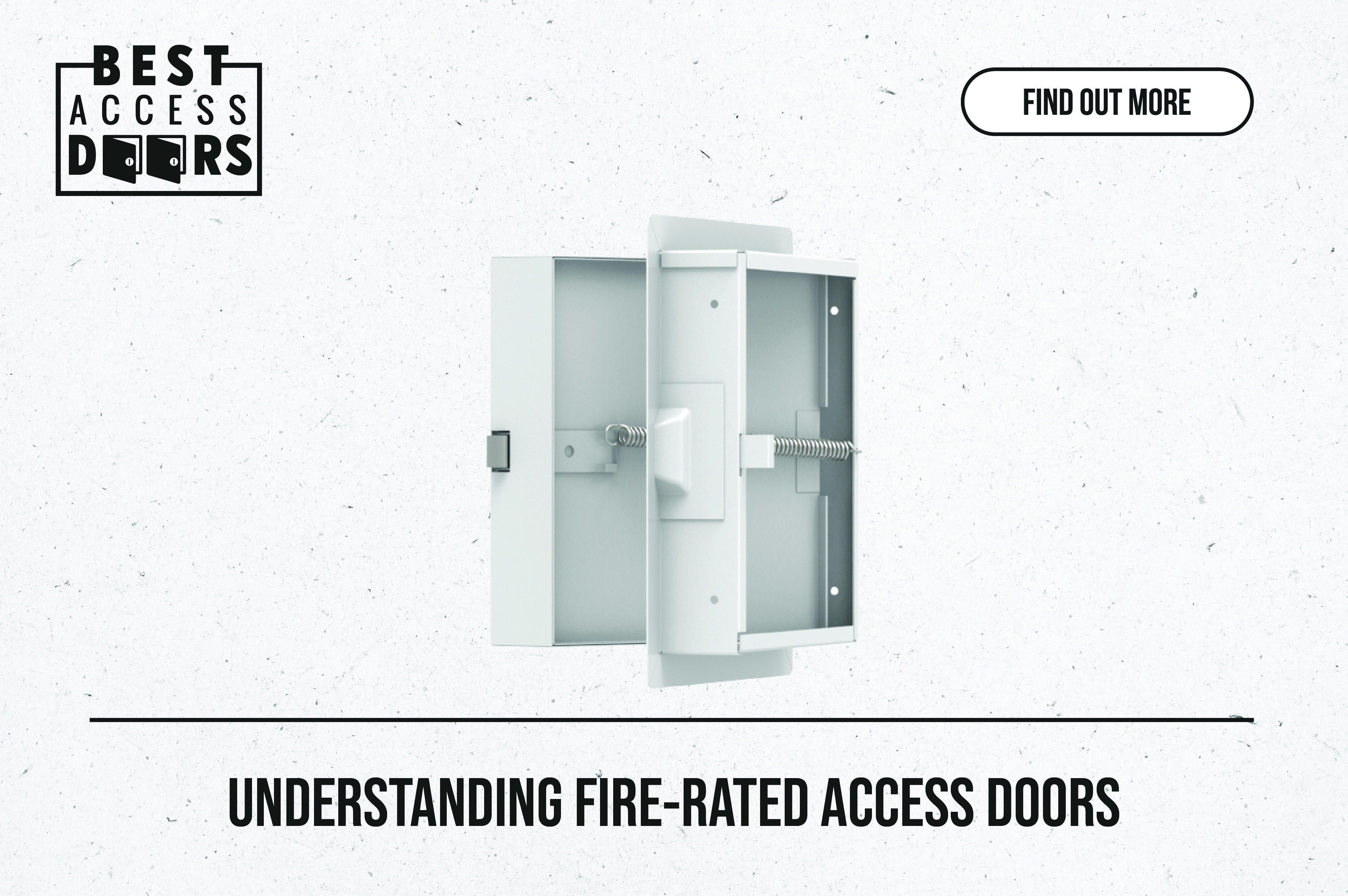 Establishing whether a fire-rated access panel can extinguish fires starts with understanding its features, functionalities, and the materials used to manufacture the product.
BA-PFI is one of our most trusted and leading fire-rated access doors because of its basic functionality that includes reliable protection for your plumbing, gas lines, wiring, and HVAC systems. It's crafted from durable all-stainless steel hardware and a one-inch plaster flange for easy installation on any fire-rated surface.
Government institutions such as the National Fire Protection Agency (NFPA) mandate specific safety standards and instructions for access doors in the NFPA 80. If you need an additional device to comply with the NFPA, you can rely on the BA-PFI to add fire safety features to your property. After installation, it will provide a self-closing and locking door in compliance with the UL and NFPA standards.
Finally, the BA-PFI fire-rated panel comes with two inches of mineral wool insulation, which is thicker than most access panels. Due to its active latch bolt, the door is conditioned to withstand immense heat and pressure build-up from the flames.
Although fire-rated access panels cannot extinguish fires like water sprinklers or fire extinguishers, they are still highly beneficial for your commercial building. To fully appreciate its value, here's an explanation of its fire ratings and their significance to your business.
Fire Ratings and Safety Codes
Fire ratings and safety codes are significant in commercial buildings for compliance to ensure the overall protection of your property and its occupants. Fire resistance, in general, refers to the materials used for the product's components, such as the door, frame, insulation, and latch.
The critical requirements for fire-rated access doors include:
The door's fire rating (20/45/60/90/180 minutes) must be certified by a third-party testing agency and labeled on the product.
The door must have a self-closing mechanism and positive latching.
The fire rating of the wall must be similar to the door's fire rating.
Fire-rated door assemblies must meet the requirements of the applicable building or fire safety code, such as the NFPA 80, NFPA 101, the International Building Code (IBC), and the International Fire Code (IFC).
The BA-PFI achieved a rating of 3 hours for vertical drywall assemblies with neutral or positive pressure. The door can last for up to 3 hours in non-combustible construction and 1 hour in flammable areas for horizontal assemblies. The ratings mean that the product can last for up to the specified time before expiring. In addition, the door also received various certifications from the UL 10B, NFPA 252, and ASTM E119.
To receive such certifications means that the access door has undergone a series of rigorous tests such as the material's durability and resilience, how long it can contain the fire within the confined area, and if it can limit the temperature rise on the door.
The rating and certification provide users with the guidelines needed to address fire safety issues. They are instrumental in determining whether a particular access door is sturdy enough to prevent the fire from spreading, allowing the people to evacuate and firefighters to extinguish it before the unit collapses.
Importance of Fire Safety For Your Business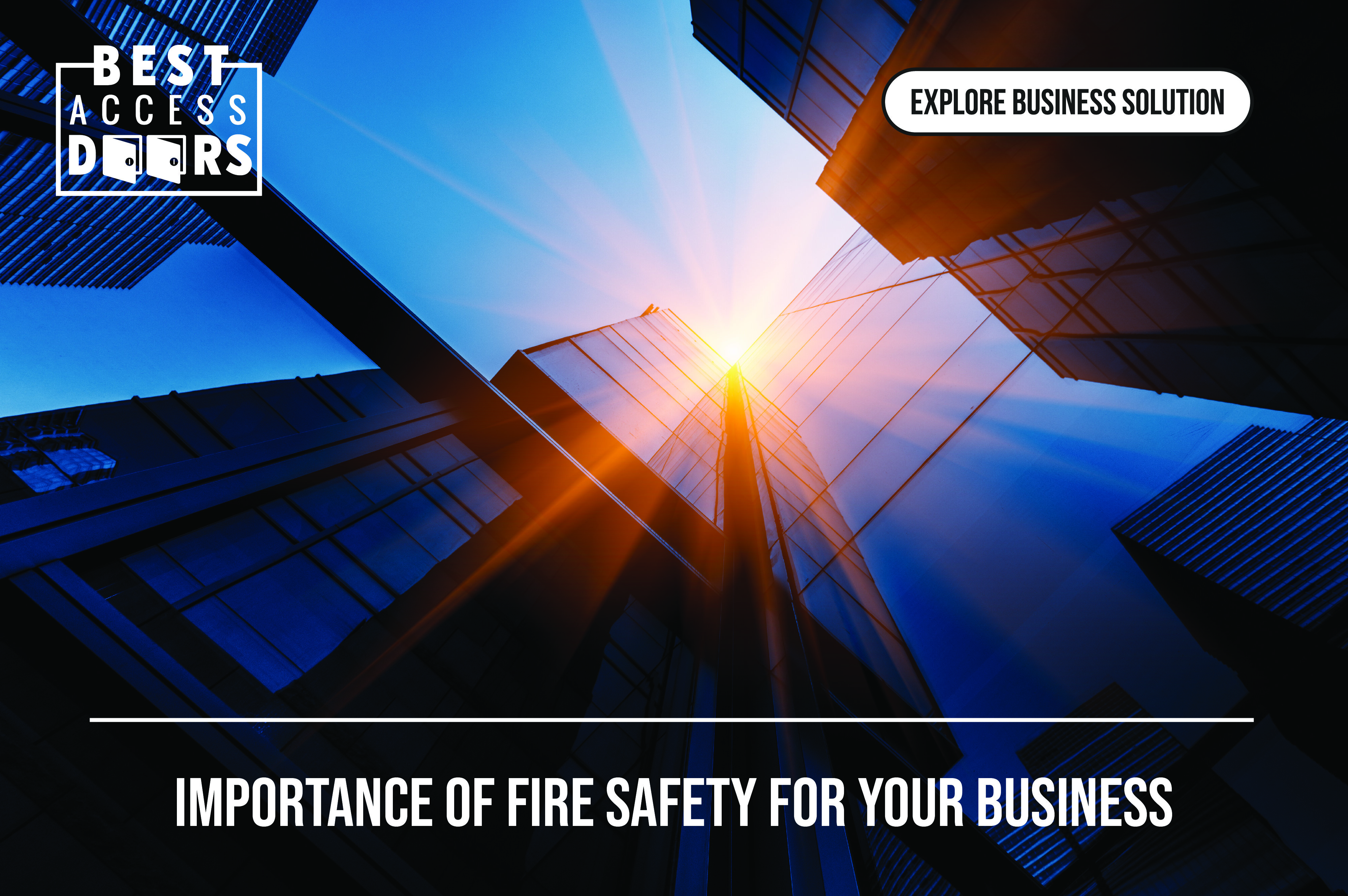 Fire poses a significant threat to any establishment, whether residential, commercial, or industrial. It's crucial to have effective fire strategies to safeguard the occupants of your commercial property and valuable assets, equipment, and documents when it comes to protecting your livelihood.
During the last quarter of 2021, the NFPA disclosed an alarmingly high rate of fire incidents that local fire departments have responded to in the United States. The collected data revealed that in 2020, around 1.4 million fires in the country resulted in thousands of casualties and injuries and $21.9 billion in direct property damage.
The key to reducing fire incidents is a reliable prevention plan to support your existing fire suppression devices. As a business owner, it is your responsibility to establish safety drills, awareness training, and install appropriate fire-rated equipment such as the BA-PFI access door to help secure your business and the security of your employees.
Here are other ways to protect your business from fire:
Install and maintain fire control and suppression systems such as water sprinklers, fire alarms, and smoke detectors.
Create and promote a fire evacuation program by mapping an evacuation route with several alternates. Ensure that the employees or building occupants are familiar with the plan.
Identify to reduce the hazards associated with electrical equipment such as faulty wiring, frayed or exposed cables, and overloaded sockets.
Ensure that your power strips and extension cords are grounded, insulated, and UL-certified.
Practice extra caution when handling and storing combustible materials. Do not store them in boiler rooms, mechanical rooms, or exit points inside the building.
Do not store gas cans or fuel-burning equipment indoors.
Maintain accessible exit routes. They should be clear of any obstruction and can be easily seen from a distance.
While suppression devices are set in place to ensure safety, being proactive regarding employee awareness and organizing drills are also necessary for your business. Combine active and passive fire systems to provide the highest safety standards in your building.
Are Fire-Rated Access Doors Necessary?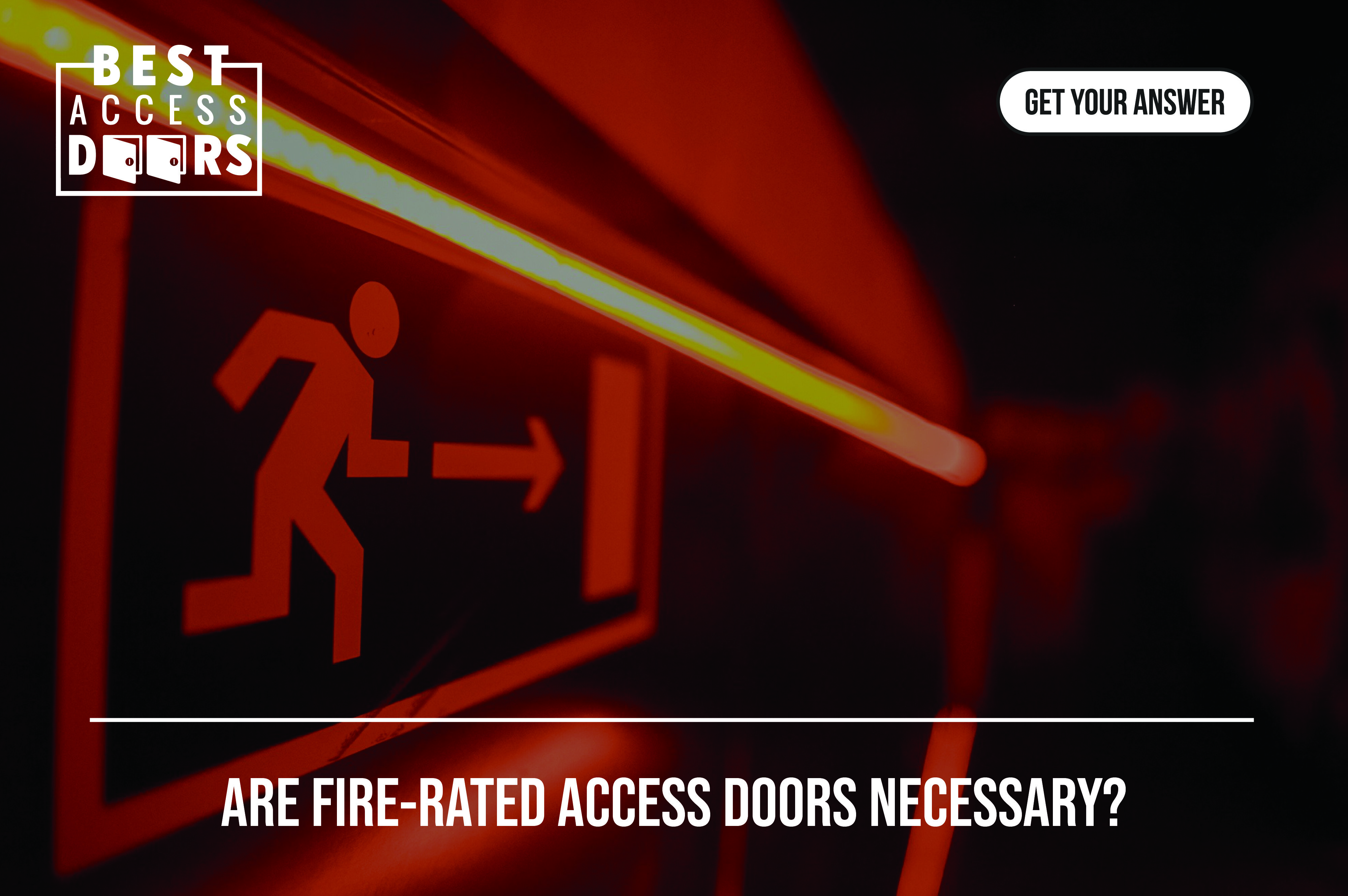 Even though the BA-PFI is not an extinguishing fire safety device, it is still an essential part of your commercial building. It holds its ground as one of the best fire-rated doors in the industry as it provides safe and convenient access to hidden components behind walls, ceilings, and attics. Its remarkable versatility allows you to install the door on any fire-rated surface.
The BA-PFI is also essential during maintenance and repair services. Most contractors prefer working with an access panel instead of breaking a hole into the wall, which is time-consuming and costs more. If you need a larger door, the model also comes in 48" x 48" and 24" x 36" sizes.
The high level of threat that fires bring necessitates fire prevention systems and regulations. Although insulated fire-rated access doors do not put out a fire, they play a vital role in preventing the spread of fire and smoke for a limited period until everyone is secured and safe.
Talk to the Experts!
For over 17 years, Best Access Doors has maintained the same level of expertise and excellence through industry-leading access panels and world-class customer service. You're important to us, and we offer nothing but full-service solutions for your every purchase or inquiry.
Installing our products can help you achieve LEED certification, comply with fire standards, and strengthen your fire safety system with our superior fire-rated access panels. We deliver the service you deserve, whether for a new building or renovation. Just give us the particular model number you wish to purchase, and we will provide you with a personalized quotation in 30 minutes!
Learn more about the BA-PFI and our comprehensive collection of access panels now! Send us an email anytime or call us at (800) 483-0823. Our proficient product specialists are waiting for your call right now!

Share our story - get our 2023 Catalog for FREE!