Posted by Best Access Doors on 12th Apr 2022
All commercial buildings are responsible for establishing the safety of their occupants by adequately designing, installing, and maintaining their protection systems, including fire safety devices. There are various types of fire safety equipment, such as smoke alarms, water sprinklers, and fire extinguishers, to name a few.
Aside from security systems, commercial facilities have many individual components that require regular maintenance. While you can install a standard panel to access the concealed wires or valves behind walls and in ceilings and attics, why not choose a product that can give you convenience and additional protection?
We are delighted to introduce the industry-leading BA-PFI Fire-Rated Access Door from Best Access Doors. Our product is the leading choice for fire-rated walls and ceilings in the construction industry with its effectiveness and reliability. Its groundbreaking features include two inches of mineral wool insulation, thicker than most panels, and resilient stainless steel hardware.
Although the BA-PFI's trademark qualities are enough to convince property managers to include it in their building's fire protection system, we highly recommend a complete understanding of the product's capabilities and benefits when installed.
Here are the five commonly asked questions regarding the BA-PFI and in-depth answers to each to help you recognize its full potential.
Question #1: What is a Fire-Rated Access Door?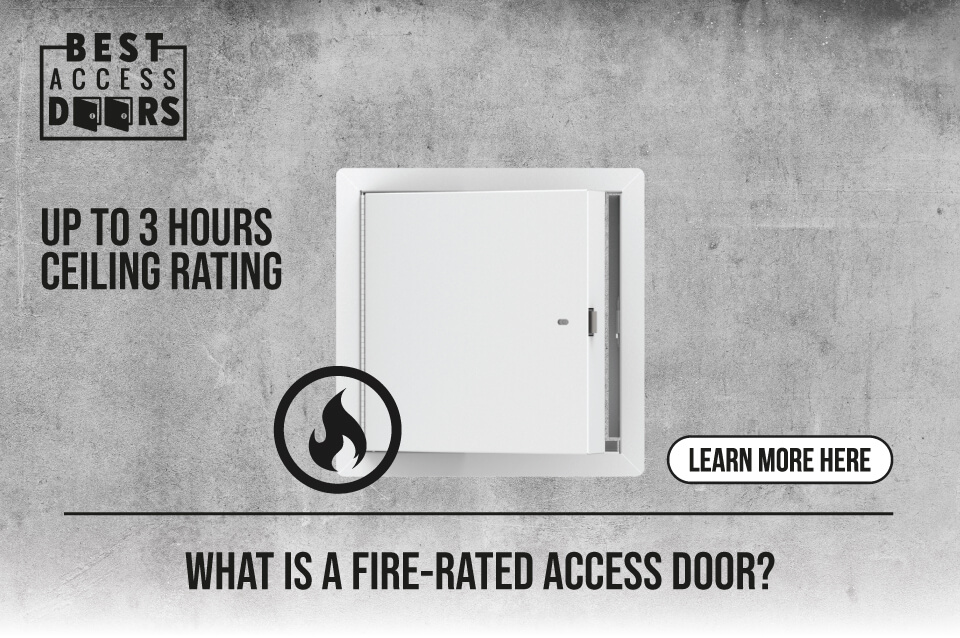 General Purpose access panels typically have the same purpose — to provide a convenient and direct entry point to access components concealed behind walls and ceilings. They make it easier to inspect, maintain, and repair these components, making them a critical part of every commercial building.
On the other hand, the BA-PFI is one of our most trusted fire-rated access panels with superior mineral wool insulation. It is thicker than most panels and has a reliable self-closing mechanism - a sought-after feature in fire-rated products. But what exactly is a fire-rated access door?
The term "fire-rated" generally means that an access door comes with a fire-resistance rating as part of a passive fire prevention system to mitigate or control the spread of fire and smoke between individual compartments in a building. Ideally, an access panel must support an existing fire-rated wall or ceiling; that is why it's vital to consider the material of the installation surface before deciding on which unit to purchase.
The insulated BA-PFI is the top choice among industry professionals because of its ability to help your business comply with fire standards. In line with UL and NFPA standards, its door will self-close and self-lock once the installation is complete and the springs provided are in place.
Question #2: How Does the BA-PFI Fire-Rated Access Door Work?
If you're wondering how the BA-PFI panel works, you must first identify its role in fire safety. Fire-rated access doors are part of a building's passive fire protection system (PFP), which are components that impede or reduce the spread of fire without system activation or movement.
Our BA-PFI effectively contains fire and smoke with the assistance of fire-rated walls and ceilings to allow occupants to escape and get to safety. Aside from the heat, smoke inhalation also causes significant health issues and limits visibility, which can sometimes be fatal.
Our product also has durable all-metal hardware, specifically, 16-gauge cold-rolled steel for its frame and a 20-gauge galvanneal steel door classified as a fire-rated access panel.
It has mineral wool insulation and airtight properties, intended to prevent the spread of fire throughout the building. Finally, the unit has a plaster flange which provides ease of installation.
One thing to remember about fire-rated panels is that although they help contain fire and smoke, they do not entirely prevent both from spreading. Instead, the rated doors will withstand fire for a specific period depending on their fire rating certification. In addition, they do not extinguish fires, unlike water sprinklers.
Question #3: Why Do Fire Ratings Matter?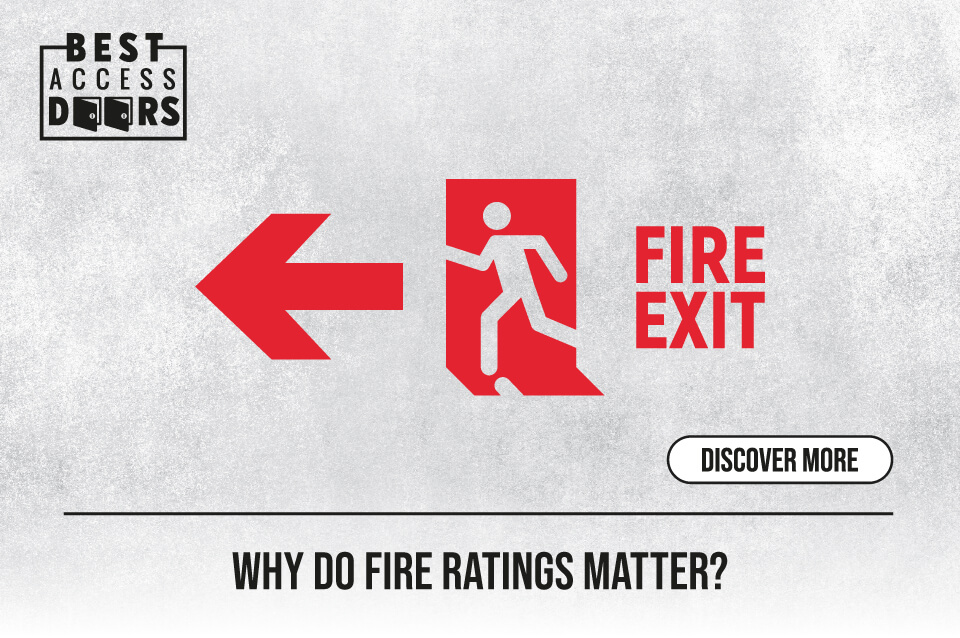 Whether it's for new installation or replacement, most localities mandate the use of fire-rated doors to serve as additional components of the building's existing fire protection system. We have established earlier that these doors reduce the spread of fire and smoke to allow people to get to safety when necessary.
However, their resilience against immense heat only lasts for a specified time, depending on their fire rating. So what exactly are fire ratings, and how are they relevant to the safety of commercial buildings?
Like the BA-PFI, all access doors must observe the proper commercial door hardware requirements to qualify for the appropriate rating. The NFPA 80 2022 revision specifically lays out the necessary procedures to ensure safety. Some of the most relevant regulations include:
Access doors must be able to self-close and self-latch.
A person who enters a concealed space through a self-closing door must operate from inside without using the key or other tools.
Install the access panel according to their listing.
A horizontal access door used in fire-rated floors or ceilings must be tested in the same position under the methods indicated in ASTM E119 or UL 263.
The access door installed on fire-rated floors or ceilings must be tested and listed as an assembly component.
Vertical access panels need to have a fire rating of ¾ hour, 1 hour, or 1 ½ hour.
The institution's standards are set in place to regulate the installation and maintenance of fire-rated access doors used to protect the wall, floor, and ceiling openings from the spread of fire and smoke.
Access door manufacturers develop fire-rated panels to resist high temperatures for a specific amount of time until it succumbs to the blazing fire. The fire rating varies depending on the components used for the door assembly tested together to achieve the designated rating.
Question #4: How Do I Choose the Right Fire-Rated Access Door?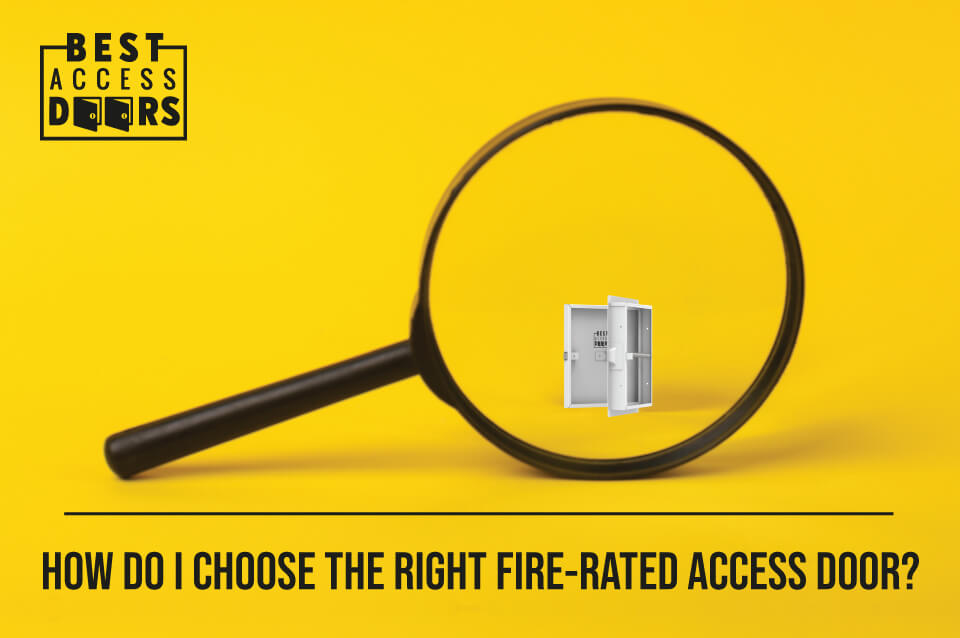 Ensuring the safety of your occupants in your commercial building and protecting your livelihood from fire is a serious matter. Carefully review a product's specifications before purchasing, especially when choosing a fire-rated access door. (Review BA-PFI's specifications).
Here at Best Access Doors, we understand the significance of fire-rated panels and their role in fire and smoke prevention. Here is a comprehensive buying guide when choosing which commercial fire-rated door to install in your building.
1. Consider Your Application
One of the most integral aspects to consider when looking for a fire-rated panel is identifying the installation surface's location and material. For example, the LEED Certified BA-PFI applies to all surface types for fire-rated walls and ceilings.
In addition, determine the type of facility to identify your access needs. Although all commercial facilities require fire protection systems, you may need to consider their distinct functionalities since some may require more security while others may require airtight access panels.
2. Purpose and Size
Your purpose for buying a fire-rated access door will solely determine the size of the unit. Some panels are used for personal access, while larger sizes allow equipment access. Luckily, the BA-PFI model comes with various customizable options.
Look for an access door with insulation and gasketing to protect critical building components and interior spaces from smoke for additional fire safety. Choose a spring loaded panel with automatic closing and latching properties to ensure safety and security against unauthorised access.
3. Quality is Important
Fire-rated access doors compartmentalise the fire and smoke in the affected area. Its specific functionality allows people to escape and protect building components from the ravaging fire. Always choose a premium and highly recommended fire-rated panel, such as the BA-PFI unit.
Our product has reliable and thick mineral wool insulation that effectively suppresses fire and smoke for a specific amount of time. Mineral wool is a dominant material in the construction industry since it is the top material used for thermal insulation, water filtration, or soundproofing.
Describing this material as resilient is an understatement. Choosing a fire-rated panel like the BA-PFI with mineral wool insulation provides additional protection and time to stand against heat.
Furthermore, purchasing from a reputable brand like Best Access Doors is an excellent business decision since we have seasoned specialists that can help you choose the best access panel for your specific needs.
Question #5: How Do I Maintain My BA-PFI Access Door?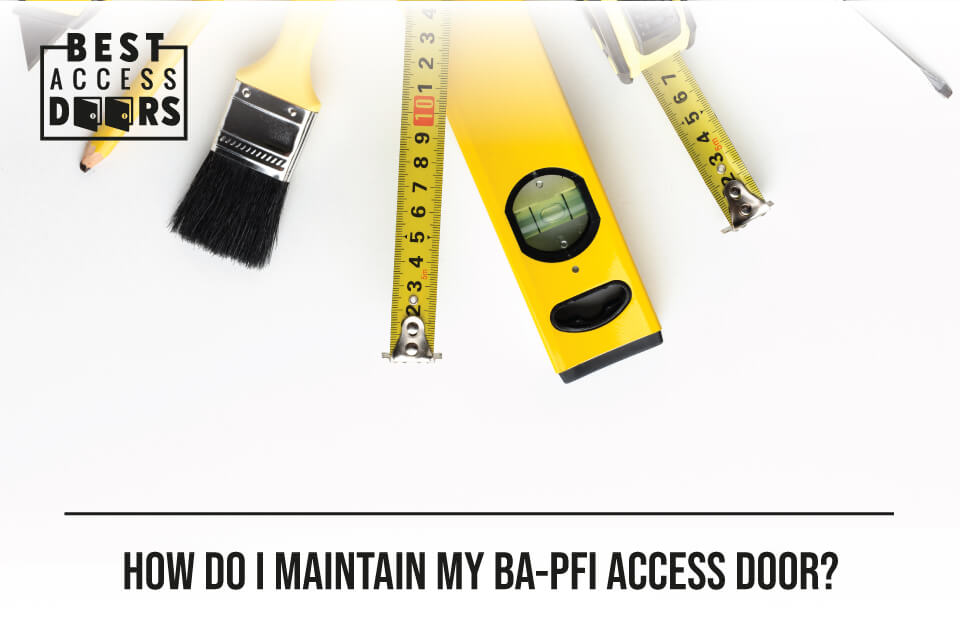 Many consider fire-rated access panels an integral building component because of their distinctive dual functionalities. They deliver an extra layer of fire safety, but they also allow workers to directly access wirings or fixtures behind drywalls and ceilings.
All commercial business owners recognize the significance of regular inspections in maintaining electrical, plumbing, and HVAC systems. Proper maintenance is vital in ensuring a system's effectiveness.
Aside from standard regulations, the NFPA 80 also indicates an inspection checklist required for each fire-rated access door. Here are some of the tasks included on the NFPA 80 checklist:
Check the door and frame to see if it has broken or missing parts.
No obstruction must be added to the frame, affecting the unit's operation.
Check for holes, punctures, and surface breaks.
Inspect the gaskets and edge seals for signs of damage.
Test the latching mechanism to ensure that the door shuts when closed.
Test the self-closing hardware to ensure that the door closes after a full-open position.
Measure and adjust the alignment of the door, frame, and hinges when necessary.
The checklist represents the minimum inspection and testing requirements of the NFPA. The agency also requires an annual assessment for each fire-rated panel, but they are not restrictive on the inspector's qualifications.
Section 3.3.96 of NFPA 80 defines a qualified inspector as someone who has earned a recognized degree, certificate, skill, or expert standing with relative training and experience with fire-rated access doors.
The Bottomline
All business owners recognize the threat that fire incidents bring. This awareness leads to fire prevention measures and regulations to reduce or prevent such incidents. Securing your building's safety starts by being critical of a product's features and specifications against industry standards.
Here in Best Access Doors, we highly recommend the BA-PFI fire-rated access door as your innovative solution for access and security. Our products are manufactured with excellence and precision as we recognize our valued customer's specific commercial needs.
Talk to Us!
We care for our partners by ensuring that our product specialists are experts in our extensive collection of access panels. When you ask for a quotation on a specific model number, we can deliver the results in 30 minutes. Experience the full benefits of our products and world-class customer services by calling (800) 483-0823!

Share our story - get our 2023 Catalog for FREE!