Posted by Best Access Doors on 30th Mar 2022
North America's commercial construction industry requires the toughest products built to withstand the test of time. When it comes to access doors and panels, general contractors build relationships with companies that can meet their demands for quality, durability, ease of installation, customization, and value. When constructing a massive structure like a hotel, airport, skyscraper, or medical facility, having a flexible, multi-purpose product that works in various settings and applications is ideal. Some settings still require specialty doors – fire-rated to exterior access panels – but when buying in bulk and purchasing at a discount is an option, that's where our general-purpose access doors and panels come into play.
One of our most popular models – BA-AHD – is also the sturdiest access door on the market. It is suitable for many settings and is one of our most versatile products. Why not take a closer look?
What Makes BA-AHD So Special?
Our BA-AHD model is one of our most popular general-purpose access doors with flanges. Designed for quick and easy installation on walls and ceilings made of almost any type of material, our flush universal access panel with exposed flange is a multi-purpose door you'll want to keep in stock.
To start, take a minute to glance at the features of our BA-AHD Flush Universal Access Door with Exposed Flange.
BA-AHD - Product Features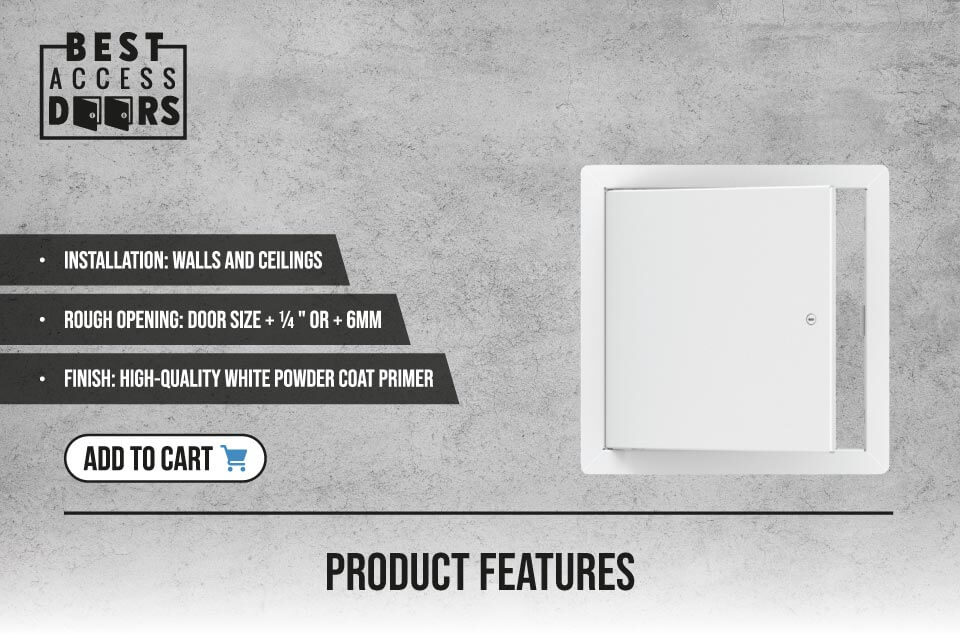 Installation: Walls and ceilings
Material: Cold rolled steel
Locking mechanism: Screwdriver-operated cam latch in cold rolled steel.
Hinge: Hot rolled and stamped steel pin hinge
Flange: Exposed flange
Sizes: Many sizes ranging from 6x6 – 24x24
Frame: 1½" in-depth
Rough opening: Door size + ¼ " or + 6mm
Finish: High-quality white powder coat primer
You can look at the specifications for more information!
You can also choose a stainless steel version or gypsum drywall access panel with mud-in-flange. Just like the BA-AHD, the concealed pin hinge and ¼" return around the door make it the right choice for a great, durable look.
Our customers really love this product and leave us many five-star reviews. You owe it to yourself to find out the reasons!
Explore the BA-AHD Difference!
Accurate Dimensions: When BA-AHD is being manufactured, we take the time to measure carefully. As the saying goes, 'Measure twice and cut once!'. Having the peace of mind knowing that your product will arrive with accurate dimensions allows you to prep for installation, so once the door comes, you can just pop it into place! (This also applies to our custom size access doors).
If you're still unsure, this installation video will take out the guesswork!
Easy to Install: BA-AHD's intelligent design makes it easy to install. You can use it pretty much anywhere - horizontal drywall, non-rated vertical, and lots of other surface types. Its continuous piano hinge and 16-gauge cold steel frame make it one of the most durable panel doors available in the industry. Compared to other flat panels, it also reduces sagging and needs fewer locks, making it hassle-free!
Easy to Use: Once BA-AHD is installed, it doesn't require rocket science to operate – it comes with a no-brainer locking system. This makes it great for conducting regular maintenance in secure areas for commercial buildings – you can also use it in residential settings!
Lots of Sizes: BA-AHD comes in a full range of sizes, suitable for industrial, commercial, or residential use, and it complies with most safety and building codes (be sure to check the specifics in your area!).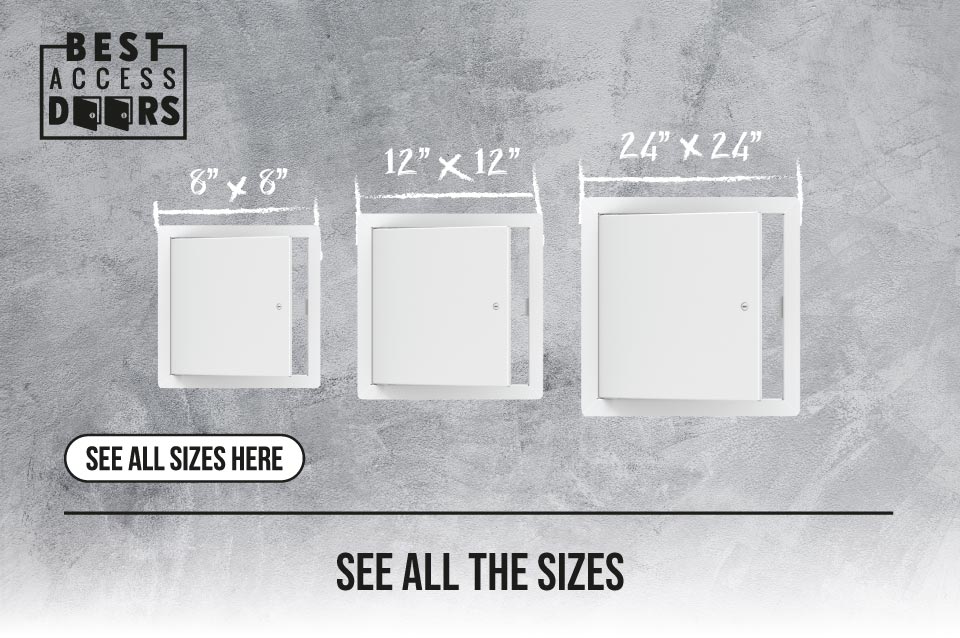 Many Uses – Many Settings: Whether you're a plumber wanting convenience when conducting maintenance, or you're an electrician looking for a way to hide away unsightly wires, BA-AHD is the right door for the job! You can install this door almost anywhere – it's great for new construction, major renovations, and in a variety of settings ranging from hotels to airports.
Economical: Being so flexible, BA-AHD is a perfect access door to stock up on. Remember, when you buy in bulk, discounts may apply, making this a great economical, rugged alternative to more specialized, high-cost access doors on the market.
Durable: Built from cold-rolled steel, BA-AHD is the sturdiest door on the market, supporting the longevity of your commercial structure. It resists sagging as compared to flat door panels and requires fewer locks. In the words of our customers: BA-AHD "arrived promptly, was easy to install and looks professional. The gauge of the metal is substantial and feels well made."
Flush Installation: BA-AHD lays flush with the surface where it's installed so that it's hardly noticeable to passersby. This is great for aesthetic reasons and discourages unauthorized individuals from tampering with essential building components.
Environmentally friendly: When you choose BA-AHD for your new construction project, remember this: This access door is LEED V4 compliant and will contribute directly to your project's ability to achieve LEED certification. Think about this attribute for your upcoming major renovation projects, school construction, and inclusion in commercial interiors.
In addition to the many benefits of installing this product throughout your existing commercial buildings – be sure to stock up for your next big build – we bring it all together with something we refer to as the ADVANTAGE.
Discover the Best Access Doors ADVANTAGE Today!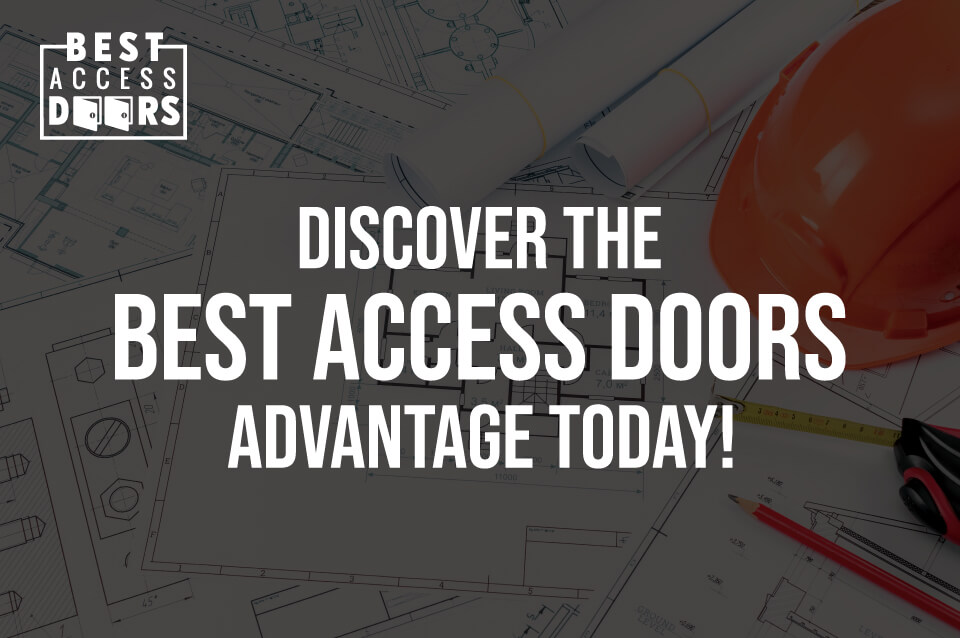 Our products are known to be the best in the industry. We are proud to offer an extensive line of access doors, roof hatches, and floor panels recognized for their innovative design and superior engineering. (This also includes exterior access panels!) We have a vast range of sizes and many custom access panels too.
Quick and easy to install, our access panels provide efficient and secure access to concealed areas, protecting components from tampering and damage while giving you easy access for hassle-free maintenance. Our general access doors and panels are constructed from the highest quality of materials for sturdiness and durability, supporting the functionality and longevity of your commercial structures.
For your peace of mind, safety is our priority. You will find that many of our doors have safety mechanisms that allow the door to open from inside for safety. Many of our access panels also feature safety systems to prevent accidental opening. (We have many lockable access panels for added security, too!).
From the moment you pick up the phone, we pay keen attention to even the smallest considerations of your project, ensuring that we find the right solution that's perfect for you!
When you request a quote from our highly trained product experts, we immediately get to work, and you'll have your quote in as little as thirty minutes! This includes product recommendations at various price points so that you have all the information you need to make the right decision.
Once you've placed your order, your shipment leaves our facility within five days. For customized products, don't worry – most custom products ship in 7 to 10 days.
We not only ship promptly, but we pay special attention to packaging to ensure that your order arrives in excellent condition directly to your job site.
Amazing Customer Support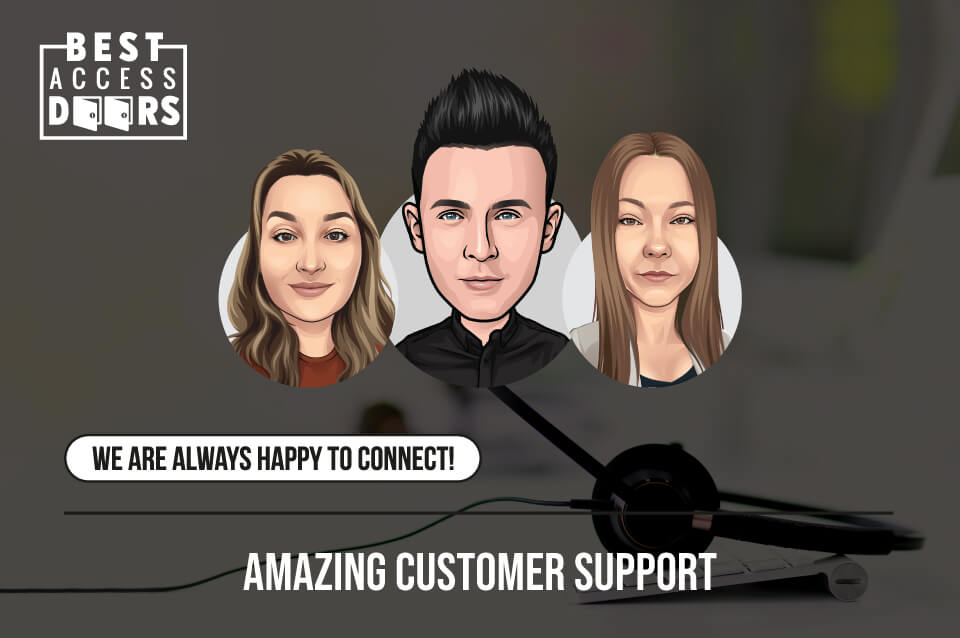 When you partner with Best Access Doors, you will realize that our prices are fair, shipping is fast, customer service is friendly. We offer 17 years of hands-on experience incredible industry knowledge, all from product experts who provide a quick, professional, and easy ordering process.
If you prefer to shop online, you will enjoy exploring our 22 unique categories of products – fire-rated access doors and drywall access panels are just the beginning! If you are looking for shipping options beyond what you see online, be sure to call in, and we will find a solution that fits your requirements.
If you have tough questions, you will love our blog chock full of hundreds of expert articles specific to the commercial construction industry on topics that you care about.

Best Access Doors has 17 years of experience serving our loyal base of repeat customers (30K and growing!). We are the commercial construction industry's trusted source of high-quality access doors, roof hatches, floor panels, and so much more. Contact our customer service team anytime – we are available to assist 24/7!
Partner with Best Access Doors Today!
There are many reasons to partner with Best Access Doors on your next big construction project. Why not start now? Place your order for BA-AHD General Purpose Access Doors – they are in stock and ready to ship directly to your job site. Call us now at (800) 483-0823 – you won't be disappointed!
Share our story - get our 2022 Catalog for FREE!